Top 10 Most Shocking Money Facts of 2015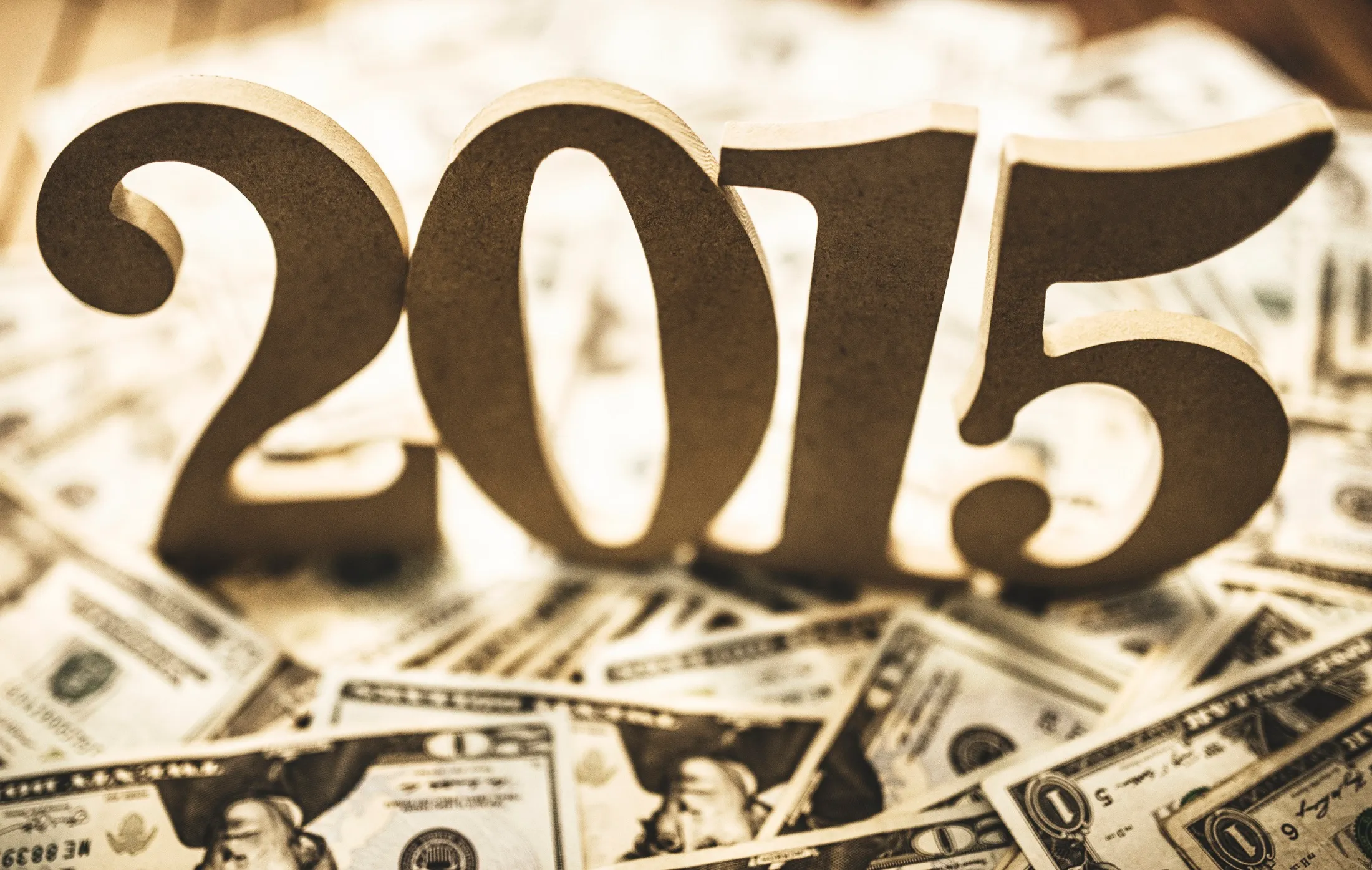 Now that the new year has begun, it's time to review some of the defining money moments of 2015. It was a big year in personal finance, and some of these events could have an impact on 2016, too. Read on to find out more about the year that was.
10. The Average Credit Score Was Higher Than Ever
One of the most encouraging money facts of 2015 was that consumers appeared to have gotten increasingly better at managing their debt. The national average FICO score hit 695, which was a record high, according to FICO. More people had a credit score of 800 or higher in April 2015 than in October 2005 — 19.9 percent versus 16.9 percent — and fewer had a score below 550 — 12.5 percent versus 14.6 percent.
Some of the decline in scores under 550 might be due to those with the lowest scores steering clear of credit altogether, but experts said it was still encouraging to see that people using credit were going about it more responsibly than in the past.
Read: 5 Ways to Make a Better Plan for Your Money in 2016
9. Many Seniors Have No Retirement Savings
A May 2015 Government Accountability Office report revealed that 29 percent of households with people age 55 or older have no retirement savings or pension plan at all. The report found that even many seniors who do have money in their retirement account haven't saved nearly enough.
The agency's findings revealed the median amount in the retirement accounts of people age 55 to 64 is $104,000, and $148,000 for those in the 65-to-74 age group. These nest eggs amount to an inflation-protected monthly income of $310 and $649 respectively, according to the GAO. The agency also found that the majority of the income for approximately half of households age 65 and older is coming from Social Security benefits.
8. Gas Prices Dropped to Low Levels
On Dec. 21, 2015, the national average gas price dropped to less than $2 for the first time since March 2009, according to the Los Angeles Times. In comparison, the national average gas price was $2.40 for the week of Dec. 22, 2014, and $3.27 for week of Dec. 23, 2013.
According to a AAA report, more than 100 million people were expected to travel during the holiday season, the largest number in years. Nearly one in three Americans were expected to travel at least 50 miles between Christmas Eve and Jan. 3, due to the lowest New Year's gas prices in seven years, higher incomes and improvements in the job market.
7. The Average New Car Loan Hit 67 Months
Consumers purchased brand new cars at near record-high levels in 2015, and a new financing trend was at least part of the reason they were able to afford this luxury. The length of the average new car loan reached an all-time high of 67 months in 2015, according to credit reporting agency Experian. The percentage of auto loans with terms of 73 to 84 months also reached a new high of 29.5 percent during the first quarter of 2015, which is a notable increase from 24.9 percent the previous year.
Loans for used vehicles with terms of 73 to 84 months also topped the charts at 16 percent during the first quarter of 2015, marking an increase from 12.94 percent in 2014 — which was previously the highest on record. The average amount financed for a new vehicle also reached peak levels at $28,711, along with the average monthly payment of $485.
6. Americans Spent an Estimated $60 Billion on Pets
Pets have become a bigger part of the family than ever, and owners spared no expense for their beloved companions. Consumers were expected to spend an estimated $60.59 billion on pets in 2015, according to the American Pet Products Association — a 25 percent increase from five years ago.
Dogs are the most common pet found in U.S. households, with basic annual expenses expected to reach approximately $1,641 in 2015, according to the APPA. Of course, no extravagance is too great for many pet parents, as things like high-tech pet activity trackers, luxury suites at kennels and even gourmet pet food have become mainstream, according to NBC News.
Related: 10 Outrageously Expensive Halloween Costumes for Pets
5. Floyd Mayweather Bought a $5 Million Car
In early 2015, Floyd Mayweather turned heads by selling his rare Ferrari for just under $4 million, but he was just preparing for a major trade-up, according to Rolling Stone. The world's highest-paid athlete purchased a Koenigsegg CCXR Trevita for nearly $5 million, which is the most expensive car in the world, according to DigitalTrends.com. Mayweather is just one of two people to ever own a CCXR Trevita, which goes from 0 to 60 mph in 2.9 seconds and has a maximum speed of 254 mph.
4. Billionaires Numbered at an All-Time High
Once upon a time, reaching billionaire status was something very few people ever achieved, but this exclusive club got more members in 2015 than ever before. In total, 290 new billionaires were minted worldwide in 2015 — including Michael Jordan — bringing the total to a record-high 1,826 people, according to Forbes.
Forbes estimated the total net worth of these billionaires at $7.05 trillion, with the top 500 on the list accounting for an impressive $4.7 trillion. Bill Gates was in first place with a net worth of $79.2 billion, followed by Carlos Slim Helú and family with $77.1 billion. Warren Buffett took third place with his $72.7 billion fortune.
3. Most Americans Had Less Than $1,000 in Savings
Having a savings account to put money aside for future goals and to fall back on in case of emergency is essential. However, a large percentage of Americans don't have much in savings, if at all. Sticking to a budget each month to even set aside money for savings is a losing battle for most people, which is one of the scariest money facts of 2015.
Earlier in the year, GOBankingRates conducted a survey asking participants, "How much money do you have in your savings account?" On a positive note, 51.3 percent have at least a little savings, but a shocking 62 percent reported having less than $1,000 tucked away. Even more alarming was that 28 percent of people admitted to having $0 in their savings account, and 20.7 percent — one in five — didn't have a savings account at all.
2. Americans Spent More at Restaurants Than On Groceries
For the first time in history, Americans spent more money dining out in 2015 than they did purchasing groceries at supermarkets. In January, restaurant sales in America totaled $50.475 billion, narrowly beating the $50.466 billion spent at grocery stores, according to the American Enterprise Institute.
This trend was largely led by millennials, as the National Restaurant Association had noted this younger demographic considers eating out a social event. Furthermore, a November 2014 Gallup survey revealed that 50-to-64-year-olds spent more on groceries than they did a year earlier, and dined out less.
1. The U.S. Homeownership Levels Lowest Since 1967
U.S. homeownership has been on the decline for years, but in 2015 it reached the lowest level since 1967, at a rate of 63.4 percent in the second quarter, according to U.S. Census data. The rate saw a slight increase to 63.7 percent in the third quarter. The 50-year average is 65.3 percent, according to CNBC.
Homeownership reached an all-time low in 1965 at 62.9 percent, and levels were at an all-time high of 69.2 percent during the height of the housing boom in 2004, according to CNBC.