East South Central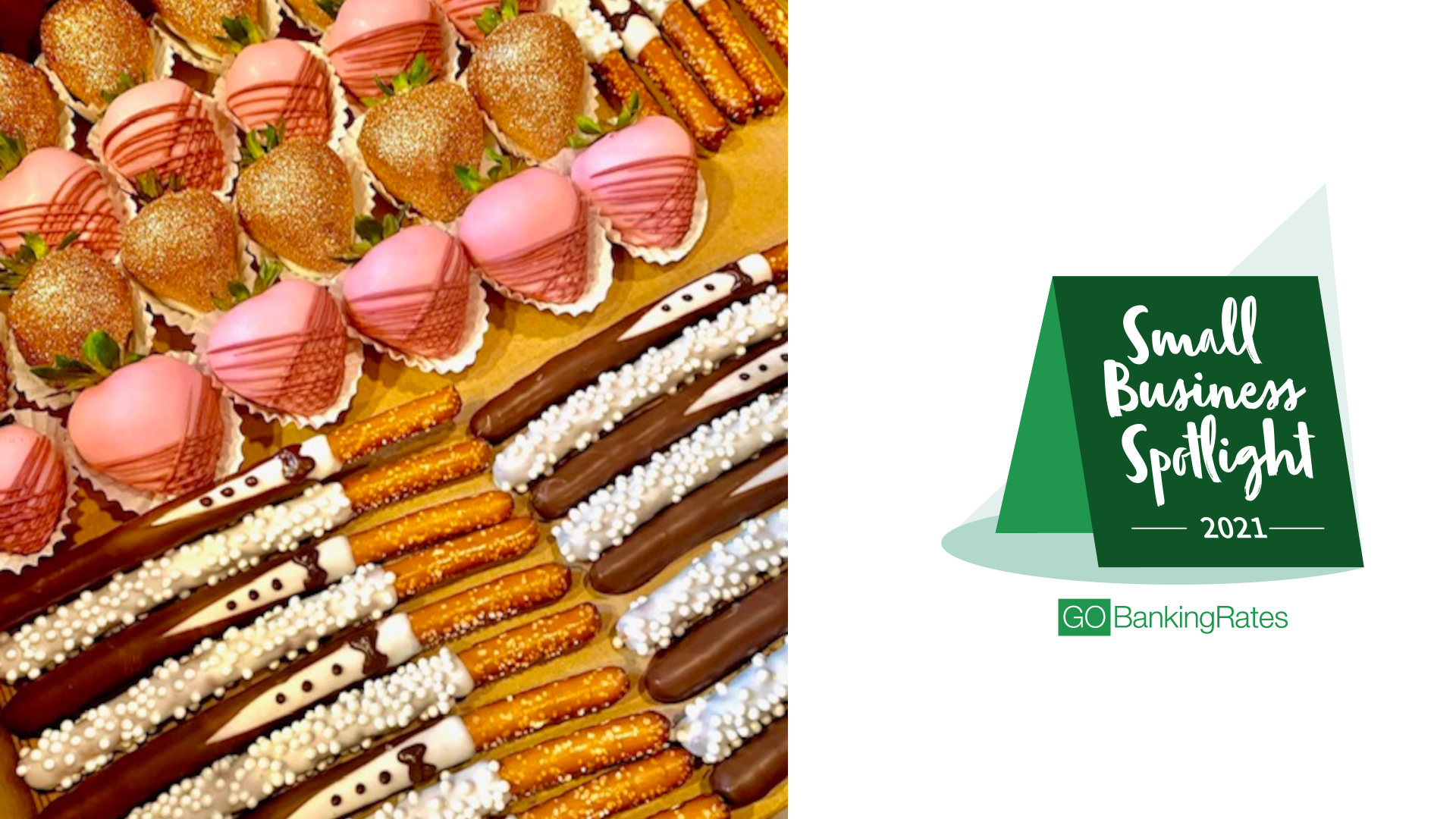 Pictured: Kim's Candies
To return to the Small Business Spotlight page click here.
The East South Central region includes small businesses in Alabama, Kentucky, Mississippi and Tennessee. In this region, Tennessee had the most small businesses nominated.
You can check out the complete list of businesses nominated for GOBankingRates' Small Business Spotlight in this region below — and read more about the region's featured nominees in the links below
Featured Nominees
Regional Nominees
Alabama
365 Jamz Entertainment (Montgomery, disc jockey services): "[During] the pandemic, they provided positive vibes for the world and uplifting messages every day."
A2Z Realty (Madison, real estate): "They have the personal touch with clients and follow up promptly on expected tasks."
Bargain Barn (Grand Bay, thrift store): "This place has chosen to work extremely hard to stay open for our community."
Blackmons Cafe (Birmingham, restaurant): "The food is cooked with love."
Blessed Hands (Mobile, caregiver)
Boston's Off the Top Barbershop (Dothan, barbershop): "The service is the best in the area. Superlative customer service is provided all while hearing an amazing New England accent in the deep South!"
C & H Discount Drugs (Fort Payne, drug store): "This small drug store has owners and employees that truly care for their customers, and will go an extra mile to help you."
Counter Tops INC (Northport, countertop fabrication and installation): "This business is owned and operated by my sister and has managed to stay open during the pandemic."
D-Tecs Detective Services (Huntsville, detective services): "The company was hit hard due to COVID-19, but is starting to rebuild slowly"
Dee's handyman services (Elmore, handyman):
More on Dee's handyman services:

"This is a great business because not only do they deal with customers on a professional level, but they also have that best friend touch as well."
Ephriam & Associates Environmental Consulting (Whistler, environmental consulting): "They care about their customers and the environment. They take pride in their services."
EveryDay People, Inc. (Huntsville, mobile medical): "EveryDay People, Inc. (EDP, Inc.) has provided legendary Professional Podiatric Medical care to Seniors for nearly 20 years." 
G's Haberdashery (Mobile, clothing store): "Great customer service. If a product is not in-store, they will find it for you. Nice selection for men and women."
Go Go Gadget Cleaning (Cropwell, cleaning services)
Janet Sales Heavenly Cakes & Pies (Athens, bakery)
Lakeside Automotive (Guntersville, car repairs): "The mechanics are hard-working and the owner runs the shop and gives everyone respect and treats everyone the same and stands behind his work." 
Love Child Music Recording Studio (Eufaula, professional production and sound recording): "It's Veteran-owned and provides jobs and services of sound recording for this small rural area in Alabama for churches, schools and other public organizations."
Maid in Heaven (Smiths Station, residential cleaning)
MAPCO (Alexander City, convenience store): "The staff is very polite and the service is very speedy."
Maymay Made It (Clanton, crafts): "This is one of the most focused small businesses with customer service beyond compare."
Phoenicia Restaurant (Birmingham, restaurant):
More on Phoenicia Restaurant:

"Phoenicia has been a pillar of our community during the pandemic. They have persevered through this crazy year to stay open and feed our community, from parents juggling to sending food to frontline healthcare workers at hospital."
Ralph Electric (Pell City, electrical maintenance): "…helped those in need after tornadoes came through Alabama."
Rogers Auto Repair (Prattville, mechanic): "There nothing he can't do … he can fix anything."
Runnels Automotive Repair (Brewton, mechanic): "They are honest, and perform quality work! They stayed open and loyal to customers during the pandemic."
SweetTreats by LaDoris (Montgomery, cakes): "Her cakes are personally made from scratch … She is very dedicated to her work."
TcprosAffiliates (Cowwarts, accounting services)
The Front Porch (Sulligent, restaurant): "Great people and family-oriented. Their food is amazing."
The Smartphone Medics (Madison, cell phone repair): "Amazing service and a great selection of quality new and used products … And with a very knowledgeable staff of young people that seem very happy to be working there."
The Warehouse Market & Bakery (Atmore, restaurant): "The food is great, service is excellent."
Kentucky
A&B BBQ (Mayfield, restaurant): "A&B will come shining through with all obstacles."
Anderson Chiropractic & Rehab (Louisville, medical care): "… this office really cares about patient well-being and overall health. The best in town!"
Attention 2 Detail (Radcliff, detailing)
Be Concerned (Covington, food and household needs): "They help people with emergency food & household items at no cost so people feel good about themselves without being embarrassed."
Carmel Home (Owensboro, nursing home):
More on Carmel Home:

"The (staff) kept all of the residents and employees safe and took proper CDC regulations that were required during COVID-19. I wouldn't want to work for any other nursing home than the Carmel Home."
Celebration Station Party and Balloons (Richmond, party supplies): "He has always gone out of his way to help. Everything from birthdays, anniversaries, weddings, prom — including tux rental — and more. Just a kind, hardworking man."
Crystal Gallery by House of Onyx (Greenville, gem stones and onyx): "House of Onyx is an older established business. They showcase beautiful Gem Stones in the Crystal Gallery … kids love to tour there with their school classes."
Dee's Diner (Owensboro, restaurant): "Dee kept open during the pandemic, not just for her customers but her employees. All of her employees are family."
Dixie Chicken (Louisville, restaurant): "The owner is very in touch with his customers and is always friendly."
Fort Mitchell Pub (Fort Mitchell, restaurant): "The Owners Mike and Sherri Hang are all in. I must say as well, the best as they come … It's like our very small town "CHEERS" bar, but it's family oriented as well."
Frontier Diner (Louisville, restaurant): "This is a restaurant that has homecooked meals! … Always super friendly and clean!"
Granny's Garden Market (Burkesville, restaurant): "The owners are the most loving and caring people you'll ever meet. Their honesty and loyalty and great homecooked food from scratch puts the icing on the great cakes they make."
Holy Smokes Bar-B-Que (Louisville, restaurant): "The best chicken wings, turkey ribs, rib tips and ribs"
JayDeez Between the Rivers LLC (Grand Rivers, home improvement and renovation)
Sacramento Deposit Bank (Sacramento, bank): "They are a great community-owned bank."
Shane Tucker's Handyman Services (Louisville, home repair): "He's always to work on time and his word is his bond. He knows what he's doing and will not stop until it's done to his standard, which is perfection."
Sisters and Friends (Kevil, antique mall): "So accommodating, but most of all, such creative uses of antiques."
Special Medical Care (Louisville, home healthcare): "We work for less money and give great quality care."
The Pharmacy Shop (Lexington, independent pharmacy):
More on The Pharmacy Shop:

"This independent pharmacy was open every day during the pandemic, delivering daily and making sure the elderly not only had medicine but also food and other necessities. These people treat you more like family than a customer."
US Awning (Bowling Green, residential shade structures): "They're true to their word (and) they will go the extra length to please."
Mississippi
Big Fix Clinic (Richland, spay and neuter clinic): "This organization supports families who cannot afford to get their cats and dogs spayed. They helps save animals lives by the thousands … Very friendly staff greet you and assist you every step of the way. … They are a very important part of the Richland Community."
Buddy's Barber Shop (Biloxi, barber shop):
More on Buddy's Barber Shop:

"Buddy's Barbershop has been around since 1963. Friendly atmosphere (and) fun energetic people who work there. When you walk in, it's almost as good a feeling of walking in your own home."
DDS Enterprises (Collins, contractors)
Front Porch (Booneville, restaurant): "They are a part of community. Always great food (and) friendly people. They've hung in through these difficult times as I'm sure it's affected them tremendously."
Ivy League Designs (Canton, hair salon): "This business is great because the owner always gives back to the community in any way she can. She's a pillar of the community … She's a role model."
Katkee Ministries Tax Services (Clinton, tax services): "This is a unique business … (it) gives needed funds to the communities that it serves, catering to the seniors and the disabled."
Kim's Candies (Gulfport, baked goods and candy making): "Kim's Candies offers beautiful custom edible treats for any occasion … (She is) very professional and takes pride in her work."
Stat Healthcare LLC (Ridgeland, nursing): "The owner is very attentive to the patients and the families."
Tater's Food & Fuel (Richton, restaurant and gas station): "The staff knows you by name … you feel like you are at grandma's house."
Tax Lady Conner's Magic Touch (New Albany, tax preparation): "This business began in 2018 with 9 clients. My wife has expanded to 40 clients and is working from home, going strong for her clients. She had a vision and has made it happen … I'm proud of her."
The Big Thrift (Richland, thrift store)
More on The Big Thrift:

"The Big Thrift supports two non-profit organizations, Mississippi Spay and Neuter and Mississippi Animal Rescue League. They are a clean, well-organized boutique-style thrift store."
The Lemon Tree (Gulfport, flower shop and décor): "They provide beautiful arrangements at reasonable prices."
Val Houston's Deli Restaurant (Clarksdale, restaurant): "The food (is) on point and always on time."
Ward's Restaurant (Richton, restaurant): "The food is great and the people who work there are kind and courteous. There is always a big line waiting, and everybody knows everybody."
Tennessee
1 Source Realty Pros (Cookeville, real estate):
More on 1Source Realty Pros:

"This is a woman-owned business … They are an awesome team of professionals trying to serve their clients and provide them (with) all of the information and help them along with the process of buying or selling a home or parcel of land. They're a very honorable company and won't stop working for you until you are completely satisfied."
Ardley's Creations (Morristown, custom apparel and keepsakes): "They make beautiful things, and their stuff really isn't too expensive."
Armour Nail Bar (Mount Juliet, nail salon): "(The) owner welcomes each customer. Customers are treated with respect and the utmost customer service. I love it and will never change."
Bella Vita Restaurant (Johnson City, restaurant): "Home of real Italian food and nothing in the area compares."
Bluewater Nutrition (Loretto, nutritional products): "Family-owned and operated providing nutritional products to our small town."
Chefleboze Mobile Bistro (Chattanooga, catering): "This chef is a genius when it comes to food because his creativity with what he makes is something like I've never seen before!"
Chou's (Cordova, gift shop): "Whenever I have to get a great gift for someone, I have always been able to find just the right gift … And they have the best jewelry and at the best prices."
Computers 4 Less (Nashville, computer recycling): "Great service with exceptional value on products sold. Dependable and reliable. Excellent customer service."
Defense Girl (Erwin, keychain sales)
Empire Reality & Construction (Nashville, real estate and construction)
Fritts Lawncare (Bristol, lawncare): "They just started last month and have busted their butts to prove themselves."
Guinn's Shoes Inc. (Paris, shoe sales): "It allows people to afford shoes that might be too expensive otherwise. It is a great place to shop."
Head To Toe Salon (Rock Island, salon)
Kitts Automotive (Knoxville, auto repairs):
More on Kitts Automotive:

"He goes that last mile with his customers. He has customers that have been with him for years … The business was built on the love of working on cars."
Lucius Complete Home (Barlett, home improvements): "This company is a first-class Roofing and Home Improvement Company that is faith-based, strictly honest and always for the customer. Thank you for being our Home Improvement and Roofing choice."
Lucky Buffet (Knoxville, restaurant): "The owner of this place is always so welcoming, and she remembers every person's kind of drink … There food is always great! Always offers to make whatever we want on buffet fresh."
Memory Lane Photography (Clarksville, photographer): "Memory Lane is a fantastic business to use for family pictures, headshots, couple pictures, etc. The head photographer is very patient with children and will work with you to get the best pictures possible!"
Naked Attire (Memphis, retail): "Designs clothing from scratch and also donates prom dresses to less fortunate families annually."
Precast Concrete (Powell, concrete products): "They are small but the work that goes into what they do is huge, and you will never catch the owner without a smile and a polite word spoken. He is a true American with a heart."
Primo's Italian Cuisine and Catering (Unicoi, restaurant): "Hard-working family restaurant. Hires students, works around their schedules. Owner is supportive and and outstanding to all customers."
Ravenwood Coffee & Creations (Clarksville, coffee shop):"This local coffee shop, known for their homemade syrups, their own brand of coffee roasted by another veteran-owned local coffee shop, and medieval ambiance, was voted the 2019 & 2020 "Best Place to Get a Cup of Coffee" in Clarksville."
Reefers CBD Dispensary (Cleveland, hemp dispensary):
More on Reefers CBD Dispensary:

"They're great because they go over and beyond to help their costumers. They have a large assortment of CBD and are very knowledgeable on the use and treatment. They also don't judge anyone for anything."
Reelfoot Quickstop (Tiptonville, bait shop): "They treat you like a neighbor or family. Always have what you need and their food is amazing!"
Rent Right (Lawrenceburg, equipment rental and storage)
Roundhouse Coffee (Chattanooga, coffee shop): "Roundhouse Coffee is an LGBTQ+ founded, inclusive coffee brand that sells products at pop-up locations and through their website. Roundhouse partners with local non-profits to raise money in support of the community. Their goal is to serve coffee for the community-focused and coffee obsessed."
Rowe's Pharmacy (Kingsport, pharmacy and drug store): "These owners take care of their clientele. They are patient, answer all questions and explain things that are new to us seniors. They care. They truly do."
Smoky Mountain Coin & Jewelry (Maryville, jewelry and coin store):
More on Smoky Mountain Coin and Jewelry:

"This is a family-owned business that retained all employees and supplied their wages throughout the shutdown. They followed state mandates and used prescribed safety measures when they reopened their business. They continue to provide essential services to our local economy."
The Big Chill and Grill (Chattanooga, restaurant): "(The owner) created this very diverse place 25 years ago … She is a self-made woman who has a huge heart of gold, and is always giving back to the community in various ways. Truly a blessing."
Timeless-toys, LLC (Stewart, toy store): "For over 15 years, they have donated every penny of sales profit to support their homeless and handicap/sick pet rescue. They give superior customer service, free shipping, free gift wrapping and gift messages and their prices cannot be beat."
Watauga Brewing Company (Johnson City, restaurant): "They have the best food and staff. Always kind and friendly, it's our favorite place to eat."
Check out all the other regions and their small business nominees:
East North Central: Indiana, Illinois, Michigan, Ohio and Wisconsin
West North Central:

 

Iowa, Kansas, Minnesota, Missouri, Nebraska, North Dakota, South Dakota
New England:

 

Connecticut, Maine, Massachusetts, New Hampshire, Rhode Island, Vermont
South Atlantic:

 

Delaware, Florida, Georgia, Maryland, North Carolina, South Carolina, Virginia, West Virginia
Middle Atlantic: New Jersey, New York, Pennsylvania
West South Central:

 

Arkansas, Louisiana, Oklahoma, Texas
Mountain:

 

Arizona, Colorado, Idaho, Montana, Nevada, New Mexico, Utah, Wyoming
Pacific:

 

Alaska, California, Hawaii, Oregon, Washington
And check out more of the featured small businesses:
To return to the Small Business Spotlight page click here.