3 Best Annuities for 2022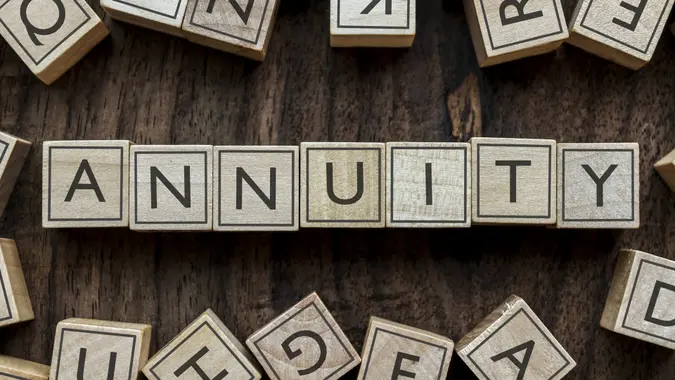 ©Shutterstock.com
No one single investment is "best" for all investors. This particularly applies to annuities, which aren't appropriate for a wide range of investors.
Explore: GOBankingRates' Best Credit Cards for 2023
Discover: 5 Things You Must Do When Your Savings Reach $50,000
In a nutshell, annuities are contracts issued by insurance companies designed to transform invested funds into fixed streams of income at some specified dates. Annuities are often guaranteed by the issuing insurance company, making the financial strength of the company a huge factor in determining what may make a "best" annuity.
Other characteristics of a good annuity include the highest rates of interest and the lowest available fees. With these factors in mind, here's a look at some of the best available annuities for 2022.
Be sure to consult with your financial advisor to ensure that annuities in general — and these in particular — match your investment objectives and risk tolerance. 
Deferred Annuity With Long-Term Care Rider: North American's VersaChoice Annuity (A+ Rated)
North American's VersaChoice Annuity is a fixed index annuity with an A+ rating from A.M. Best. The product is not for all investors, but it has a number of characteristics that are very appealing. The first is the "Superior" credit rating from A.M. Best, attesting to the financial strength of the issuer, North American. But the structure of the annuity also may appeal to those looking for a safe return with a small potential for upside gains.
Take Our Poll: How Long Do You Think It Will Take You To Pay Off Your Credit Card Debt?
The NA VersaChoice Annuity is a 10-year deferred annuity that requires a $20,000 minimum. The annuity guarantees that you will never lose your money, and it will grant you some of the upside return of the index to which it is tied. This gives you a combination of some of the upside of a stock index like the S&P 500 but a guarantee that you will not share in any of that index's losses, if any. Earnings grow tax-deferred until distributed.  
You can add a rider to this policy to get 100% of your money back with no surrender charge if you are unable to complete two of the six activities of daily living, such as bathing, dressing or eating.
American Equity's IncomeShield (A- Rated)
The American Equity IncomeShield can function as either a fixed index annuity or a straight fixed annuity with a seven- to 10-year term. The issuing company, American Equity, is rated A- by A.M. Best. 
For the fixed index annuity version, customers can choose from a wide variety of indices to track, from the S&P 500 to the BofA Destinations index, the SG Global Sentiment Index, the Credit Suisse Tech Edge Index or the S&P 500 Dividend Aristocrats Daily Risk Control 5% Excess Return Index. As with all fixed index annuities, the maximum return you can generate is capped, but your original principal is guaranteed. 
For the straight fixed annuity option, a lifetime income benefit rider is available that guarantees retirement income no matter how long you live. This LIBR has five options. The first and simplest offers a zero-fee, 15-year accumulation period option with a 4% compound interest rate. On the other end of the scale, option 5 charges a 1.2% rider fee but offers a 7% compound interest rate in years 1-10 and a 4% guaranteed minimum in years 11-15, along with a wellbeing benefit.
Athene's SPIA 
Athene offers a variety of annuities, from traditional fixed and fixed index annuities to immediate annuities, which convert a lump-sum premium into immediate cash payments that are guaranteed and last for a specified period. Athene is rated A by A.M. Best. 
Athene's Single Premium Immediate Annuity product, or SPIA, offers payments for a fixed term from six to 30 years. Athene's SPIA offers a wide range of customizable features that can make it a good fit for a variety of annuitants. For example, you can choose to receive your payments monthly, quarterly, semiannually or annually, and you can choose from any of these varieties of payment:
Life annuity, with payments for as long as you live
Life annuity with guaranteed period, in which payments last for as long as you live but for no less than a specified period of five, 10, 15 or 20 years
Installment refund life annuity, which guarantees payments for at least the minimum that you put in
Joint and survivor annuity, in which payments last until the second death
Joint and survivor annuity with guaranteed period, in which payments last until the second death but for no less than a specified period of five, 10, 15 or 20 years
Joint and two-thirds survivors annuity, in which payments may continue to a survivor in the amount of two-thirds of the primary benefit. 
More From GOBankingRates