Betterment vs. Wealthfront: Which Is Best for You?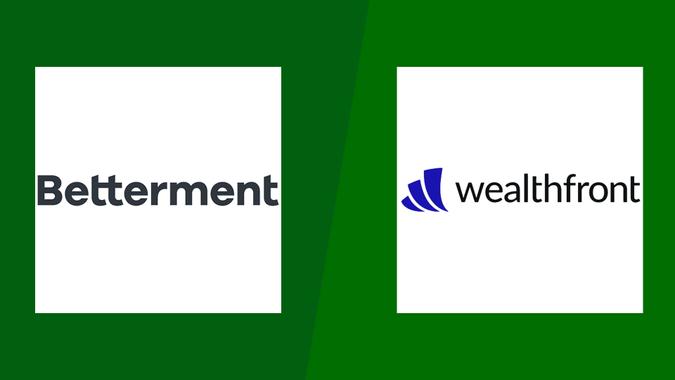 When comparing Betterment and Wealthfront, you are looking at two of the biggest names in automated, web-based, investment portfolio management. Both aim to simplify options, offering a broad selection of exchange-traded funds, and streamline investing decisions via sophisticated algorithms that allocate and optimize portfolios. This humanless process translates into lower costs for customers, making robo-advisors a popular option for beginner investors and experienced investors alike.
Betterment vs. Wealthfront: How They Work
Betterment works to provide affordable investment advisory services by prioritizing the customer experience, offering hands-off and human-led advice. The service specializes in individual retirement accounts, 401(k) retirement accounts and rollover accounts.
On the other hand, Wealthfront aims to help you save, plan and invest all in one place. The robo-advisor guides you to set goals that account for your full financial picture — and makes sure you reach them through passive investing. The set-it-and-forget-it approach will save you money while you leave your account's management to the pros.
How Do Betterment and Wealthfront Compare?
It's hard to choose between Betterment vs. Wealthfront — both are solid investing services. Take a look at the details to see how they compare.
Features
Betterment
Wealthfront
Annual Management Fees

Digital: 0.25%
Premium: 0.40%

0.25%
Minimum Initial Deposit

Digital: $0
Premium: $100,000

$500
Human Advisors
Yes
No
Tax-Loss Harvesting
Yes
Yes
Fractional Shares
Yes
No
Single Stock Diversification
No
Yes
Automatic Rebalancing
Yes
Yes
Goal Setting
Yes
Yes
Taxable Accounts
Yes
Yes
401(k) Plans
Yes
No
IRAs
Yes
Yes
Roth IRAs
Yes
Yes
SEP IRAs
Yes
Yes
Trust Accounts
Yes
Yes
529 Plan Accounts
No
Yes
Betterment has no initial minimum deposit requirement but is best for retirement planning. Wealthfront requires at least $500 to get started, but 401(k)s aren't available, although you have access to college planning through 529 plan accounts. Take a closer look at how Betterment and Wealthfront compare.
Features and Accessibility
Here's a breakdown of features of each option that are worth noting.
Betterment:
Software-only Digital service for 0.25% annual fee
No-fee cash accounts available
Portfolio line of credit, which uses your investments as collateral, available with no credit check
Premium service includes access to an advisor for a 0.40% annual fee, but with a $100,000 minimum
Digital clients have no account minimums
Mobile app available
Wealthfront:
$500 minimum deposit
High-yield cash reserve account earns 0.30% APY
Fully hands-off, automated investing
Broader investment goals, including college savings and homebuying
Mobile app available
Management Fees
If you're deciding between Betterment or Wealthfront, fees don't make choosing any easier. Both charge a 0.25% annual management fee on the amount you invest. Betterment does have a higher-tier Premium service with unlimited over-the-phone access if you're willing to pay a management fee of 0.40% per year.
Retirement Planning
Both Betterment and Wealthfront offer retirement planning and provide IRAs and rollovers. However, Wealthfront will require you to roll your 401(k) into an IRA. Betterment will make suggestions to increase your monthly contributions or make allocation suggestions through its all-technology platform. Wealthfront's PassivePlus investing approach will set up a retirement investment plan and automatically adjust it so you don't have to do a single thing.
Portfolios
Wealthfront will provide you with a globally diversified portfolio featuring low-cost index funds. Betterment's approach to ETF-based portfolios is similar, investing in a diverse range of products, including dividend, foreign and U.S. stocks and bonds. Betterment allows fractional shares, which let you invest in higher-value funds even if you do not have enough to buy one full share.
Goal Setting
Both Wealthfront and Betterment's investment services rely on goals. Betterment's four types of goals are general investing, retirement, safety net and major purchase. It handles the process for digital account clients through a series of questions on the app or website. Wealthfront's four goals are college, retiring early, time off for travel and homeownership.
Tax-Advantaged Investing
Minimizing taxes is crucial to a financial plan or the tax liability could hinder the investment's growth. Wealthfront and Betterment both practice tax-loss harvesting. Tax-loss harvesting works by selling securities at a loss to take advantage of the deduction to offset your capital gains.
Customer Service
Wealthfront offers email-only customer service. Betterment clients can reach customer service advisors from 9 a.m. to 6 p.m. ET weekdays by phone for customer service issues, but access to a certified financial planner for investment questions or advice is limited to Premium clients.
Security
Both platforms ensure your data and investments are safe on both ends. You can protect your logins and keep others out of your account by enabling two-factor authentication. It's a second layer of security that will ask you to receive a code sent to a second device by text or email. Once you have the code, you can enter it with your user ID and password to log in and access your investment accounts.
In addition, your investments are SIPC protected up to $500,000 against loss should Betterment or Wealthfront liquidate.
Betterment vs. Wealthfront: Which Is the Best Option?
Betterment and Wealthfront are both solid options if you're searching for low-cost investing long-term. Betterment may be better if you're interested in paying a bit more to have access to a certified financial planner in addition to automated investing.
Wealthfront is best for individuals who don't foresee needing much guidance and are interested in passive investing for more than just retirement. As long as you set up an automatic investment plan, Wealthfront handles the rest.
If you're wondering whether Betterment is the best option for you, the answer relies on your current situation and goals. Although both Betterment and Wealthfront only charge a 0.25% annual account maintenance fee, Betterment has no minimum balance requirement. This may come in handy if you're looking to start with less than $500, Wealthfront's minimum investment amount.
Why Invest Long-Term?

If you are looking to day trade or dabble in the market by trading stocks, an account at an online brokerage such as TD Ameritrade, E-Trade or Webull may be your best bet. Betterment and Wealthfront are more about saving for a long-term goal such as a college fund or retirement.

Setting up automatic contributions ensures that you are working consistently toward your goals. Depending on which option you choose, your money is invested in low-cost, diversified ETFs or index funds that track the stock market's performance. Tax-loss harvesting offsets capital gains to maximize the earning potential of your dollars. The approach takes time. If you're in no hurry, Wealthfront or Betterment can help you grow your money.

Good To Know

Seasoned investors say "it's about time in the market, not timing the market." Having a long-term savings and investing plan that starts now is typically more effective than waiting to get started at the "right" time. Even if you start with a few dollars today, the results in the long term could be significant.
Takeaway
Weighing the two options may come down to how wide-reaching your goals are. If you're solely interested in investing for retirement, go with Betterment. If you'd like to grow your savings, set up a 529 plan and/or buy a home, Wealthfront will be better able to service your needs.
[/tipquote]
Lauren Treadwell contributed to the reporting for this article.
Data is accurate as of July 5, 2021, and subject to change.