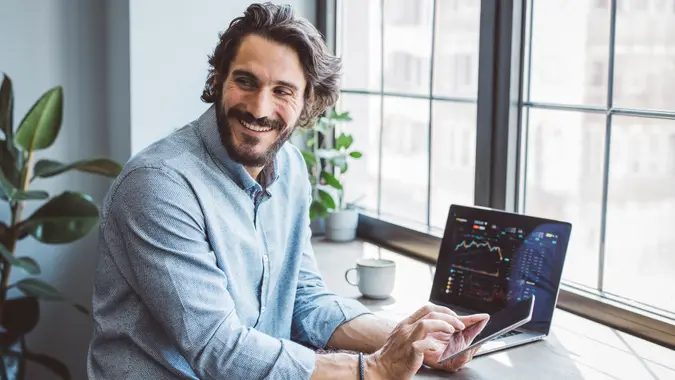 svetikd / iStock.com
As you build wealth, fees of all kinds are something to be avoided. Most wealth builders think of fees like an unwelcome vampire leeching away their potential returns. And it's true! Paying too many fees can significantly impact your money's ability to grow.
Paying attention to broker fees across all industries prevents you from overpaying for this expense.
What Is a Broker Fee?
A broker charges a fee to complete services or finalize transactions for clients. After all, it takes time to facilitate a transaction. So, the broker fee serves as compensation for the assistance.
You can find broker fees in a wide range of industries. A few include financial services, insurance and real estate.
When you want to execute a transaction in a field that has brokerage fees, it's important to factor in this additional cost before moving forward. For example, let's say that you want a broker to execute a stock trade for you. Before authorizing the action, determine the costs involved in the trade.
Mechanics of a Broker Fee
A broker fee can either be a flat fee independent of the transaction's size or a standard percentage of the transaction. In some cases, the broker fee will be a combination of both a flat fee and a standard percentage.
Regardless of the fee structure, the client should be well aware of the costs ahead of time. Typically, the broker fee isn't charged until the service is completed or the transaction is finalized.
Costs of Broker Fees
Depending on the situation, brokerage fees vary dramatically.
When it comes to real estate, a mortgage broker helps borrowers identify potential mortgage products from a big network of lenders. If the loan is finalized, the borrower will pay a broker fee for the assistance. The fee typically ranges from 1% to 2%. Another part of the home purchasing process is the real estate broker fee. On average, this broker fee amounts to 6% of the sales price of the home, according to Realtor.com. But depending on your area, you might find higher or lower real estate broker fees.
Within the financial services industry, brokers charge a fee to manage investment accounts or complete trades. You may hear these brokers referred to as stockbrokers. Here's a breakdown of two different stockbroker levels:
Full-service broker: A full-service brokerage firm offers everything that you could want in your investment experience. The platform offers advice, tax planning and research. Plus, a full-service broker can execute trades. With this extensive service available, the fee is usually between 1% to 2% of assets under management.
Discount broker: As the name suggests, a discount broker is a more affordable option. Generally, you can expect commission-free trading through a discount broker.
Although the costs of broker fees vary based on your needs, it's important to understand what to expect when pursuing a transaction with a broker.
How To Minimize Broker Fees
Now that you know what broker fees are, you probably want to avoid overpaying. After all, it's an additional cost that eats into your bottom line. The good news is that it's entirely possible to minimize broker fees or avoid them altogether for some transactions.
Here are some strategies you can implement to avoid excessive broker fees.
Do Your Research Ahead of Time
When you are considering a transaction, take some time to explore the costs ahead of time. You can plan ahead for the costs with a better understanding of what to expect.
For example, let's say you plan to work with a mortgage broker. Instead of jumping into the process, consider the costs and make sure you have the budget to enlist their help. Otherwise, you could be facing a pinched home purchase budget.
Shop Around for the Best Fees
When you want to save money on anything, the best strategy is simply to shop around. Looking into all of your broker options will give you a clear idea of the costs.
Consider what you'd like to have available through your broker. If you are OK with minimal guidance, then a discount broker is a more affordable fit. But if you want access to extensive advice and resources, then comparing costs for full-service brokers is the right move. Ultimately, make sure you are comfortable with the fee structure before signing up with any particular broker.
Want to make commission-free trades? A few examples of the best discount brokers with commission-free trading options include Fidelity and TD Ameritrade.
Limit Trades
If you are being charged on a per-trade basis for stock trades, then consider limiting your trades to limit the broker fees. Depending on your investment strategy, this may seem like a no-brainer. But if you rely on regular trading for your investment strategy, then seeking out a more affordable trading platform is the solution.
Take Advantage of Online Options
In the past, broker fees were essentially unavoidable. After all, you had to go through a broker to finalize any trades.
But with the advent of the internet, things have changed. Many online brokerages have popped up, and most have very minimal brokerage fees attached.
Bottom Line
A broker fee is an expense that you'll encounter in many industries. But it's especially common in the financial services industry. If you want to avoid a broker fee while making stock trades, it's possible through a discount broker.
FAQ on Brokerage Fees
Do you have to pay brokerage fees?

It's possible to avoid brokerage fees in some situations. In terms of trading stocks, you can avoid excessive brokerage fees by trading through a discount platform. If you want to work with a mortgage broker, the fee is unavoidable. But you could do the comparison shopping yourself and work directly with a lender without paying a brokerage fee when obtaining a mortgage.

Why do brokers charge a fee?

Brokers charge a fee because it takes time and energy to execute trades and perform services for clients. Nobody wants to work for free, and brokers are no different. If you are working with a human broker, expect to pay a fair fee for their time. If you want to cut costs, consider a technology-powered option.

Can I invest without paying a fee?

Yes, there are many platforms that offer fee-free trading opportunities. If you really want to avoid the fees, that's a possibility. But you'll need to do your research to find a fee-free platform that meets your other investment needs.
Our in-house research team and on-site financial experts work together to create content that's accurate, impartial, and up to date. We fact-check every single statistic, quote and fact using trusted primary resources to make sure the information we provide is correct. You can learn more about GOBankingRates' processes and standards in our editorial policy.