Firstrade Review: One of America's Best Brokers — and It's Commission-Free
See how this no-fee discount brokerage stacks up to competitors.
Firstrade is an online-only brokerage that aims to make trading sleek, easy and low-cost for self-directed investors. Although the firm is not backed by a bank or full-service brokerage, like some other online investment houses, Firstrade still provides research and other capabilities to help traders in their quest to generate profits. Here's a comparison of Firstrade with other popular brokers, along with a look at the firm's features and benefits, so you can decide if Firstrade is right for you.
Quick Take
Firstrade offers commission-free trading of stocks and ETFs, and that alone is enough to push it near the top of the best brokers rankings. You'll have to be a completely self-directed trader, however, if you want to get the most out of the firm, as you'll see in this Firstrade review.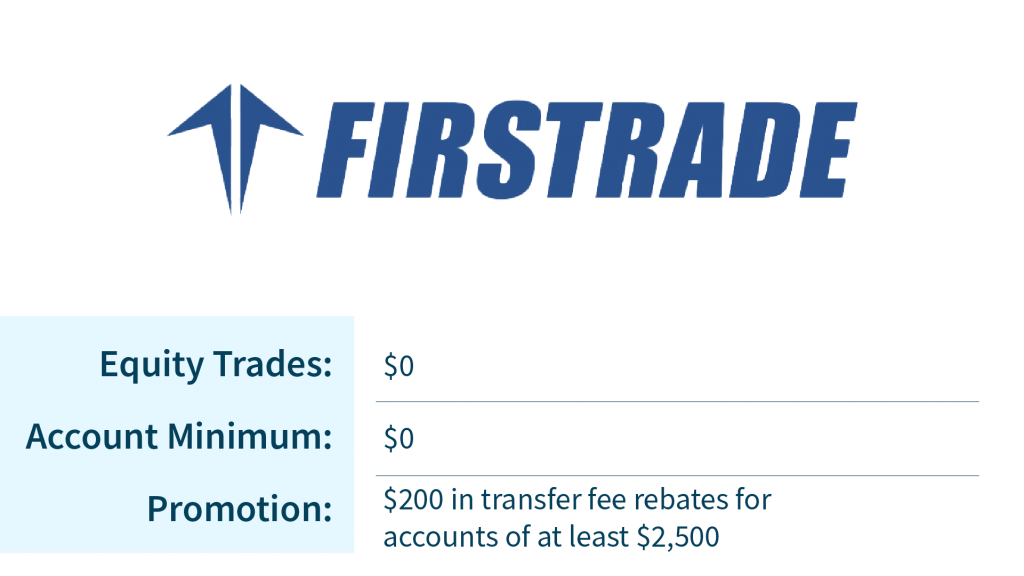 This review will provide an in-depth look at Firstrade to help you decide if this is the right brokerage for your investment dollars.
Sponsors of
About Firstrade
Firstrade was born in 1985 as First Flushing Securities before transforming into Firstrade.com in 1997, becoming one of the first online stock brokers. Throughout the 2000s, the firm won numerous plaudits for being one of the best online brokers, particularly with its fast trade execution for self-directed investors. In 2018, the firm unveiled a new, streamlined application process that allowed customers to begin trading the same day they signed up for an account. Notably, 2018 also saw the firm switch to a no-commission trading model, helping make Firstrade one of GOBankingRates' Best Brokers of 2019-2020.
Pros and Cons
For the right investor, Firstrade is a dream come true. For others, there can be some drawbacks. 
Pros
No trading commissions on stocks, exchange-traded funds, options and mutual funds
No minimum account size
$200 in transfer fee rebates
International account capability
Cons
No trading of futures, forex or cryptocurrency
What First-Time Investors Need To Know: Investing for Beginners: 
Firstrade at a Glance
Here's a quick look at the features Firstrade offers:
Firstrade at a Glance
Account Minimum
$0
Stock Commission
$0
Option Commission
$0
Commission-Free ETFs
Yes; every ETF transaction is fee-free
Zero Transaction-Fee Mutual Funds
Yes; over 11,000 mutual funds available fee-free
Investment Selection
Stocks, mutual funds, ETFs, fixed income
Customer Service
24/7 live chat; phone lines M-F 8 a.m. EST to 6 p.m. EST
Mobile App
Yes, with face ID and fingerprint recognition; advanced trading strategies capability
News and Research
Yes; partners with Morningstar
Miscellaneous Fees
$30/$50 for outgoing domestic/international wire transfers; $75 to transfer account out
Current Promotion
$200 in transfer fee rebates for deposits of at least $2,500
Sponsors of
Individual Services Reviews 
Most online brokers provide the same basic services, but they can be very different when you drill down to the details. Here's a look at the specifics of how Firstrade operates so you can make apples-to-apples comparisons with other online brokers.
Trading Experience
For most customers, the Firstrade trading interface does what it needs to do. Trades can be completed quickly and cleanly, and the dashboard, which is completely customizable, provides all relevant account information at a glance. Because the platform is entirely self-directed, with limited customer service help, it can be more difficult for beginning traders to enter complex option orders or use more sophisticated strategies, particularly on the mobile app. But those types of trades are usually best left to advanced traders who might not need as much help to complete their own trades. Overall, the platform is relatively easy to use and access. Firstrade also offers extended-hours trading on eligible stocks from 8:00 a.m. to 9:25 a.m. ET and 4:05 p.m. to 8:00 p.m. ET.
Sponsors of
Account and Investment Minimums
Firstrade has no account or trade minimums.
Commissions and Fund Expenses
In terms of investment commissions, Firstrade is tough to beat. Stock, option and mutual fund trades all cost $0. If you call in for a broker-assisted trade, you'll be charged just $19.95, plus an additional $0.50 per options contract. When it comes to the cost of trading, Firstrade has few competitors.
Trading Technology
Firstrade was originally designed for stock traders, and it understands the importance of rapid execution of trades. The company proudly touts its 0.06 second execution speed right on its website. A blind comparison report conducted by S3 Matching Technologies indicated that Firstrade had the fastest trade execution in the industry in 2018. The firm also consistently gets better prices for its customers, in what is known as price improvement. Firstrade customers placing market orders received a better price than the National Best Bid/Offer, or NBBO, 99.37% of the time.
Usability
Firstrade scores high points for usability, as customers can breeze through the online application and be up and running within minutes — seven minutes, to be exact, according to the firm itself. Options investors benefit from autofilled trade execution screens. The firm has both web-based and mobile applications to serve customers, in addition to the Firstrade Navigator, a more feature-rich platform for advanced traders. Firstrade is also one of the only firms to accept international customers from 10 approved countries.
Sponsors of
Mobile and Emerging Tech
Firstrade's mobile apps are built for speed. From the Positions page or Watchlist, you can swipe left and immediately buy or sell a position. You can use the app to fund your account, check your order history and access research or advanced charting right from your hand. The app also comes with a consolidated portfolio dashboard and an enhanced trading workflow that allows for fast options trading with advanced strategies. Face ID and fingerprint recognition help keep your account secure. 
Range of Offerings and Investment Selection
The investment selection at Firstrade is a mixed bag. On the plus side, anything that a traditional investor would want to purchase is available, from stocks and bonds to ETFs and over 11,000 mutual funds. Bonds and fixed income investments are likewise readily available and easy to trade. The firm also offers a dividend reinvestment program. 
But advanced investors might find the offerings a bit lacking. Firstrade currently doesn't offer trading in forex, futures or cryptocurrencies. 
Read: How To Decide Between Mutual Funds and Stocks
News and Research
Firstrade offers a relatively comprehensive suite of news and research options. On top of basic features like stock screeners, the firm has joined forces with independent research firm Morningstar to provide more advanced investor tools and education, including the following:
Daily, weekly and quarterly video commentary from analysts
A Market Heatmap feature showing hot and cool stock performance
A Sectors & Industries tool showing current industry trends and performance data
Daily news and events from a variety of sources
Morningstar's famous ratings and comprehensive research reports
Customers can also view a calendar of upcoming financial events, such as earnings releases.
Customer Service
Customer service is not the greatest at Firstrade. Phone lines are only open from Monday to Friday, 8:00 a.m. ET to 6:00 p.m. ET, and although Firstrade offers 24/7 live chat, responses are automated and often direct you to a portion of the firm's website. You can contact the firm via email, mail and fax as well.
Sponsors of
Security
Firstrade uses industrial-strength firewalls and encryption technology to keep client data secure. Trades are placed through a secure portion of the website using Secure Sockets Layer technology. Digital certificate services and PIN authentication provide additional layers of security. If unauthorized activity occurs in your account, Firstrade will cover 100% of any losses that occur due to that activity.
Costs
Because Firstrade has no commissions or account fees, the broker ranks as extremely low-cost overall. Fees investors might trigger include the $30 fee for sending domestic wire transfers — $50 for international wire transfers — and the $75 fee for transferring out of Firstrade. But these fees are fairly standard, and they won't be triggered by many customers. Margin loan rates are about in line with the rest of the industry as well. For the average customer who just wants to trade stocks, ETFs and mutual funds. Firstrade stands tall when it comes to low total costs. 
Best For 
Firstrade is a great broker to go with for the following features:
Commission and fund expenses
Trading experience
Account and investment minimums
Falls Short 
Firstrade does have one drawback:
More limited range of offerings and investment selection
Current Promotions
At first glance, Firstrade doesn't seem to offer the most compelling sign-up promotion, offering to cover up to $200 in transfer fees from your prior broker. However, most other firms grant free trades as a promotion, and Firstrade already has them beat in that area, offering unlimited free trades as a way of doing business. This makes the Firstrade sign-up bonus quite generous, as most other brokers don't cover transfer fees at all.
Comparison: Firstrade vs. Other Brokers
On the basis of commissions only, there's no comparison between Firstrade and most other brokers, as it's hard to beat "free." Here's a look at how much other brokers might cost you in comparison.
Broker Comparison
Broker
Stock
Commission
Account
Minimum
Promotion
Firstrade
$0
$0
Up to $200 in transfer fee rebates
Charles Schwab
$0

$0

500 commission-free online equity and options trades for two years with a $100,000 deposit
E-Trade
$0
$500
Up to 500 commission-free trades plus up to $2,500 in cash with a qualifying deposit
Fidelity
$0

$0

500 commission-free trades with a $100,000 deposit
Merrill Edge
$2.95
$0
Up to $600 cash with new account deposit
Robinhood
$0
$0
1 share of free stock when your brokerage application is approved
TD Ameritrade
$0
$0
Up to $600 in cash with new account deposit
Should You Invest With Firstrade?
Firstrade might not be the most publicized name in the online brokerage world, but it provides a compelling package for certain investors.
Unlike most of its big-name competitors, Firstrade charges no commissions on stocks, bonds, ETFs and mutual funds. That alone is enough to put it miles ahead of most competitors. This is particularly true for smaller investors, as commissions at other firms can eat up a significant portion of investment capital.
For example, imagine that you want to buy 10 shares of a $50 stock. At Firstrade, you'd pay zero commission to execute that trade. At other online brokers, you'd be charged $6.95. Now, $6.95 might not sound like a lot of money, but on a $500 trade, that's 1.39% of your capital. It's hard enough to keep pace with the return of the S&P 500 to begin with, and if every trade costs you 1.39% of your investment, you've got an even bigger hill to climb.
For most investors, Firstrade provides a complete package, with no commissions, plenty of research from respected firms like Morningstar and a mobile app for trading on the go. Firstrade's main drawback is for advanced traders. Yes, having no commissions is a huge plus for active traders, as they can save hundreds or thousands of dollars in commissions every year. But there's no trading in futures, forex or cryptocurrency at Firstrade, which can be a hindrance for more advanced traders. Also, compared to some other firms, Firstrade has more limited customer service, which can be critical if you're in the middle of placing a complex trade — or even if you need help with the most basic of issues.
All-in-all, Firstrade is not the perfect online broker for every client, but no platform is. It's hard to argue against Firstrade since its limitations won't even come into play for many users, and its no-commission platform is a dream come true for all investors. Add in the extensive third-party research database and the generous sign-up promotion for those who are transferring into Firstrade and you're left with an attractive overall package.
Check out find information on other top online brokerages, the best retirement accounts and other information on investing in these articles:
John Csiszar served for 18 years in the financial services industry, earning his registered investment adviser and Certified Financial Planner designations along the way. He now writes about investing and the markets for a wide variety of financial publications.
Disclaimer: This content is not provided by Firstrade. Any opinions, analyses, reviews or recommendations expressed in this article are those of the author's alone and have not been reviewed, approved, or otherwise endorsed by Firstrade.