Is Investing With a Discount Broker the Right Option for You?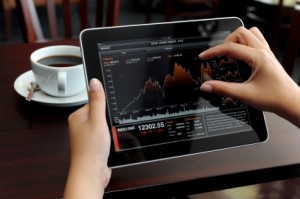 As beginner investors gain experience and become more comfortable with the different types of investing options available, their needs may become more sophisticated. However, financial institutions, insurance companies and banks can only offer a limited number of investment options.
If you're looking to diversify your portfolio, you may want to consider opening an investment account with a discount broker.
Investing for Beginners–Learn the Ropes First
Starting out investing with a personal banker is a great stepping stone for beginners because it allows you to learn about the different investment options available through an already established relationship with a personal banker.
When it comes to investing for beginners, it is always easier to start with the guidance of an experienced person.  However, once you are comfortable researching and choosing our own investments, you can start to invest online.
How to Invest Online Using a Discount Broker
A discount broker offers several benefits, including the convenience of investing online, investment portfolio diversification and access to a wide variety of different investment options, all with lower fees.
Most discount brokers offer self-service online investment accounts that allow you to buy almost any type of investment that is available on the market–from precious metals and foreign currency to mutual funds, bonds and exchange traded funds.
However, before choosing what to buy, you can track the performance of specific stocks, mutual funds, or exchange traded funds online.  Yahoo! Finance is a great financial resource that you can use to keep up to date on market movements and track the performance of specific investments.
Discount brokerage accounts are best suited for investors who:
Have a medium to high level of knowledge about investments
Prefer to research their own investment options
Do not require the advice of a professional advisor
Want a wide variety of investment options
Prefer to self-manage their investment accounts
Drawbacks to Using a Discount Broker
Although online investing with a broker account offers several benefits, there are also a few downsides to buying stocks and online investing that beginners should be aware of before getting started.
Some investors may find the self service aspect of using an online discount broker very convenient, though others may not like the lack of personal service and investment support.
There are also fees associated with each trade when trading online. The more frequently you trade, however, the more of a discount you receive on those fees.
There are also risks associated with buying stocks. Online investing may not be for you if you are not comfortable with frequent changes in the value of your investments.
Popular Discount Brokers
If you're interested in getting started investing online with a discount broker, there are a number of options to choose from–the following are popular discount and online broker options:
TD Ameritrade
OptionsXpress
Scottrade
ING Direct
Zecco
E*Trade
Charles Schwab