Avalanche (AVAX) Price Prediction 2022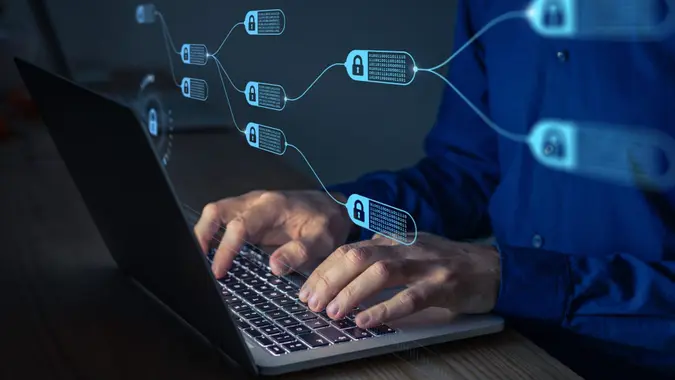 NicoElNino / Getty Images/iStockphoto
With a market cap of 5.6 billion, AVAX just misses the top 15 of the world's biggest cryptocurrencies — but market cap isn't everything.
The AVAX token debuted in September 2020 with a starting price of $4.11. Today, it's trading at a little more than four times that amount with a value of roughly $19. But between $4 and $19, there were a whole lot of ups and downs. AVAX rode the crypto boom of 2021 to soaring heights, but what went up came down hard, and those who bought it at its peak still haven't even begun to recover. 
Considering that it's an especially volatile token even by the standards of cryptocurrency, making an accurate long-term AVAX price prediction is no easy feat. But if you know what the token does, where it's been and why it's become so popular, you can get a better grasp on what it might be worth in the middle or even at the end of the decade.
What Is AVAX? 
AVAX is the native token of Avalanche, an Ethereum-rival blockchain that supports DeFi, NFTs and other smart contract applications. According to CoinDesk, many competitors have tried to build an alternative blockchain that beats Ethereum's notoriously slow transaction times and high fees, but none have matched Avalanche's success.
The Avalanche protocol processes 4,500 transactions per second (TPS) compared to Ethereum's 14.
Does AVAX Have a Future? 
Ava Labs, the core developers of the Avalanche blockchain, backs up its brag that the network is "blazingly fast, low cost, and eco-friendly" with this statement: "Avalanche is the fastest smart contracts platform in the blockchain industry, as measured by time-to-finality."
A company is only as good as its leaders, and Forbes has called Ava Labs founder and CEO Emin Gün Sirer "one of the leading intellectuals in crypto today" and said that the Turkish-American computer scientist "sits at the frontier of the next level of blockchain development and adoption."
Avalanche Is Moving in on More Than Just DeFi
Sirer is making a full-court press to become Ethereum's primary challenger in the NFT space. 
On Oct. 23, Avalanche announced that it supports no fewer than 16 of the top NFT platforms. One of them is OpenSea, the largest P2P marketplace for NFTs and other crypto collectibles. According to Blockworks, the NFT giant joined Avalanche on Oct. 11, making it one of only seven OpenSea-supported blockchains. The others are Ethereum, Solana, Klaytn, Arbitrum, Optimism and Polygon. 
As of October, OpenSea features 200 Avalanche-native collections, and more are in the pipeline. According to CryptoSlam, Avalanche is the No. 7 largest blockchain in terms of NFT sales, which total nearly $408 million. Considering Ethereum has $30.28 billion, AVAX isn't exactly kicking down ETH's door just yet, but it's certainly clear that Avalanche has a future as a fast, affordable and scalable blockchain network.
Even so, the network has faced some serious headwinds in 2022.
The Crypto Winter Was Especially Cruel to AVAX 
In the jubilant crypto heyday of November 2021, AVAX peaked at around $135. Today, it's trading at around $19. 
Industry veteran Steven Ehrlich, director of research for digital assets at Forbes, wrote for his publication that Avalanche had just been gaining traction when a $1 trillion crypto crash changed the trajectory of its meteoric rise. Its native token AVAX had shed 76% of its value — and that was on May 31, when AVAX was trading at $26.40. It still had much farther to fall. 
It wasn't just the tide of the crypto winter that caused AVAX's reversal of fortunes.
Avalanche had been collaborating with the Luna Foundation Guard (LFG). Headed by South Korea-based Do Kwon, LFG oversaw the $55 billion meltdown of the LUNA token and TerraUSD stablecoin — and AVAX got caught up in the wreckage.
AVAX Has Been in the Headlines for All the Wrong Reasons
As if spring wasn't hard enough, the summer brought even more bad news in the form of crypto tabloid drama. 
In August, a website called Crypto Leaks accused Sirer of conspiring with the Roche Freedman law firm to file frivolous litigation against industry competitors. Crypto Leaks stated that many of the 30-attorney firm's 25-plus class-action lawsuits were against Avalanche competitors and were designed to harm rivals and distract regulators.
Sirer denied the claim, but Crypto Leaks published a surreptitiously recorded video from 2019 that appeared to show founding partner Kyle Roche discussing the alleged deal, which Roche said paid him a significant amount of Avalanche equity and AVAX tokens. The ugly drama unfolded throughout the fall, with Kyle Roche withdrawing from several lawsuits and a judge removing him from another. By late October, Roche Freedman dropped Kyle Roche and changed its name to Freedman Normand Friedland LLP.
Sirer continues to deny the claims, but the tarnish of alleged corporate malfeasance has stuck. 
What Is Avalanche's Price History? 
In its exuberant early days, AVAX seemed unstoppable. It tripled in value in its first four months from around $4 in September 2020 to $12 in January 2021. Just one month later in mid-February, AVAX was trading at around $50. A 12.5x gain in less than half a year gave the crypto world its newest rising star — but AVAX was just getting started.
After shedding some of its value over the summer of 2021, AVAX caught fire and nearly tripled in value from its previous high, peaking at around $135 during the apex of the November crypto boom.
After several sharp drops and steep recoveries, AVAX entered April 2022 valued at around $100 — and then it fell off a cliff that it hasn't been able to climb back up since.
But will it find a way to recover by mid-decade? 
What Will Avalanche Be Worth in 2025? 
DigitalCoinPrice predicts that AVAX will start off 2025 at $74.14 in January. That's the average projection between a minimum of $72.45 and a maximum of $79.76. It sees very little change in store for the token throughout the year, with AVAX predicted to close out 2025 in December between $72.44 and $77.01 with an average year-end price of $75.15.
If those predictions come true, AVAX would be about where it was at the start of October 2021, just before the November boom catapulted the token to what now feels like an artificial high.
AMBCrypto predicts AVAX will rise by less, projecting the token will start 2025 at an average price of $48.95 and end the year at an average of $62.86. 
On the higher end of the spectrum, CoinPedia projects that AVAX will average $92.50 in 2025.
How Much Will Avalanche Be Worth in 2030? 
DigitalCoinPrice expects AVAX to nearly quadruple in value between its 2025 projected price and the end of the decade. It predicts that Avalanche will start 2030 with an average price of $263.55, between a minimum of $259.81 and a maximum of $270.60. It's projected to end the year in December with an average price of $261.15, which is between the minimum and maximum expected prices of $259.42 and $263.24.
AMB Crypto expects AVAX to come in lower at the start of 2030 with an average price of $188.83 before ending the year at a higher average price of $242.49.
On the higher end, Price Prediction projects AVAX to start 2030 at a bullish average of $294.68 and to close out the year at $407.72.
What Will AVAX Hit?
The crypto media has billed Avalanche as a potential "Ethereum killer." But Solana and other competitors have earned the same moniker, too.
Solana, Binance Coin, Polygon or another rival might end up beating out Avalanche to become the next great smart contract blockchain platform that goes on to rule the DeFi and NFT worlds. Or, Ethereum could find remedies that improve its sluggish speeds and lower its high fees to knock its competitors out of the running. 
If not, however, and Avalanche's lighting-fast transaction times and bargain-basement costs propel it to become the decade's leading smart contract blockchain, then anything is possible. 
Trading Education predicts that by 2030, Avalanche will be the home platform of some of the world's biggest multinational corporations and that AVAX will be trading above $2,900, with maximum projections easily breaching $3,000. Crypto Prediction and Trading Beasts have both made similar predictions — but it's all contingent on Avalanche muscling out Ethereum to become the king of the smart contract hill.
Takeaway
The AVAX historical price chart looks a lot like that of most other major cryptocurrencies. There were sharp ups and downs in the beginning, and then — just like ethereum, bitcoin and the rest — a massive upward spike in November 2021 before a vertical dropoff.
Despite all its potential to become a dominant force in the DeFi and NFT spaces, and despite all the legal drama and wild price predictions, AVAX is just another cryptocurrency. Treat it with the same analytical and skeptical eye that you would any other blockchain investment.
Information is accurate as of Oct. 31, 2022, and is subject to change.
Our in-house research team and on-site financial experts work together to create content that's accurate, impartial, and up to date. We fact-check every single statistic, quote and fact using trusted primary resources to make sure the information we provide is correct. You can learn more about GOBankingRates' processes and standards in our editorial policy.