10 Best NFT Marketplaces of 2023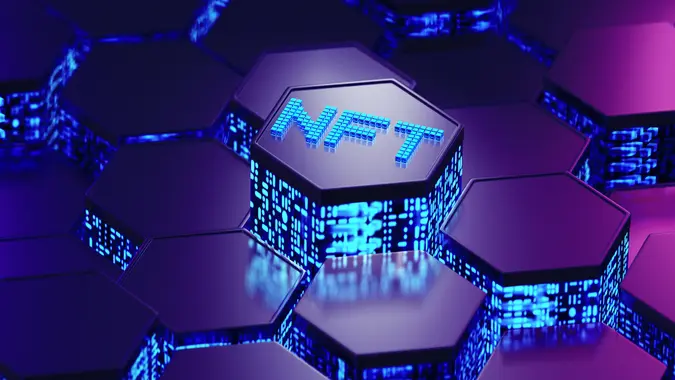 BlackJack3D / Getty Images/iStockphoto
Non-fungible tokens exploded in popularity in 2021 and continued to make headlines last year, but over the past few months, they seem to be cooling off. Even so, some industry pros say they aren't going anywhere. But where are investors buying these assets? Due to the popularity of NFTs, numerous marketplaces online sprung up — selling everything from virtual collectibles to digital art at every price point imaginable.
What Are the Best NFT Marketplaces?
Here are some of the leading platforms you can use to partake in NFT assets:
OpenSea
CryptoPunks/Larva Labs
Rarible
SuperRare
Mintable
MakersPlace
Solanart
Nifty Gateway
ThetaDrop
Foundation
1. OpenSea
This is perhaps the most popular — and, by far, the largest — NFT marketplace.
Features:
Supports multiple blockchains, including Ethereum, Polygon, Klaytn, Solana, Arbitrum, Optimism, Avalanche and BNB
Offers a wide range of NFT options, including collectibles, artwork, music and GIFs
Pros:
Backed up by industry leaders like Coinbase, Trust Wallet, Pascal Capital and Dapper
Allows user uploads
Cons:
2.5% fee when selling NFTs created using OpenSea
2. CryptoPunks/Larva Labs
CryptoPunks is one of the earliest examples of NFTs. Originally, the CryptoPunk collectibles were free. However, the only way to get your hands on one of them nowadays is by purchasing them.
Features:
Consists of a highly collectible series of 10,000-pixel art characters with unique attributes
Marketplace built on Ethereum blockchain
Pros:
Highly popular
Limited collection helps NFTs retain value
No platform fees
Cons:
Prices start at 44.88 ETH, which equals about $85,510 as of July 6
3. Rarible
This community-owned marketplace is one of the largest NFT marketplaces, supporting Ethereum as well as Polygon, Tezos and Immutable X.
Features:
Buy and sell wide variety of digital art and collectibles
Sellers can create more than one NFT for single piece and sell it numerous times
Free marketplace creation
Pros:
Supports various cryptocurrency wallets, such as Coinbase, MyEtherWallet and MetaMask
No charge to create marketplace
Cons:
1% service fee for buyers and sellers on every sale that takes place on its marketplace
4. SuperRare
This Ethereum-based marketplace brands itself as a higher-end version of Rarible. If you want a top-notch NFT art purchasing experience, SuperRare is the way to go.
Features:
Sophisticated interface with a clean, minimalist aesthetic
Heavily curated NFTs — artists must submit work for approval before listing 
Platform chooses quality over quantity
Pros:
High-quality NFTs
Pleasing user interface
Cons:
Buyers pay 3% marketplace fee on each SuperRare purchase
5. Mintable
Mintable is celebrity tech billionaire Mark Cuban's NFT marketplace. It runs on the Ethereum blockchain and has especially good incentives for sellers.
Features:
Can mint NFTs from any information
No Mintable currency needed to access features
Custom stores
Pros:
Educational resources for new sellers

Potential NFT types nearly unlimited

Gasless minting option requires no upfront gas fees
Cons:
High fees for gasless and printable NFTs
Doesn't support Coinbase wallet
Good To Know 

When purchasing NFTs, it's important to look for a reliable seller. Marketplaces like the ones listed here take all the guesswork from your buying experience and ensure you're getting what you paid for. 
6. MakersPlace
This is yet another boutique NFT marketplace with an upscale approach. MakersPlace runs on the Ethereum blockchain.
Features:
Premier collectibles of digital fine art and unique creations
MakersPlace artist community is currently invite-only — yes, that's how exclusive it is
Famous names creators include Shakira, T-Pain and Tom Morello
Pros:
Celebrity creators
High-quality fine art and other unique pieces
Cons:
2.5% marketplace fee from each secondary sale
7. Solanart
Whereas most NFT marketplaces exist on the Ethereum blockchain, Solanart was the first on the competing Solana blockchain. Just as with Ethereum-based exchanges, Solanart requires you to download one of its compatible wallets to be able to sign up.
Features:
Includes collections like Aurory and SolPunks
Easy to get started bidding and purchasing your favorite NFT art pieces
Pros:
Cons:
Offers fairly limited collection compared to other platforms
8. Nifty Gateway
This marketplace is powered by Gemini, which is a popular cryptocurrency exchange platform that supports 12 different blockchain networks, including Bitcoin, Ethereum, Solana and Polkadot.
Features:
Created during the first wave of NFT online stores
Reputation for multimillion-dollar transactions
Heavily curated selection of NFTs
Triweekly drops of curated and independently uploaded NFTs
Pros:
Offers NFTs from renowned artists like Michael Kagan, Eminem, Grimes and The Weeknd
Allows artists to upload work
Cons:
Potentially confusing seller/publisher fee structure for primary sales — 30-cent fixed fee plus an additional 10% for Transactions V1, 10% fee for Transactions V2
9. ThetaDrop
This NFT marketplace is designed to decentralize video and TV distribution online. It's a relatively new platform that emerged along with the World Poker Tour digital collectibles in 2021.
Features:
Uses its own blockchain, Theta Network
Users purchase TFuel, ThetaDrop's own token, to participate in bids
Hosts challenges where collectors can earn incentives for collecting specific NFTs
Application process for new NFT projects
Pros:
Curated selection
Impressive list of partners, including celebrities
Cons:
Sellers pay 10% processing fee on every secondary sale
10. Foundation
Foundation is another recently launched marketplace, and it positions itself as a Web3 destination that provides a simple way to bid on digital art. This platform uses Ethereum for all of its transactions.
Features:
Works on an invite-only basis for creators
No-code drop tool for creators allows launch of up to 10,000 NFTs for the cost of minting a single NFT
Pros:
Excellent creator tools with pricing options
Good selection of fine art NFTs
Cons:
Steep seller fees — 5% fee on all primary and secondary sales; drops incur 15% fee on all sales on the primary market
Final Take
With so many marketplace options available, now it's easier than ever to purchase non-fungible tokens. The list above is meant to provide you with the best options to start your NFT purchasing journey. 
Daria Uhlig and Cynthia Measom contributed to the reporting for this article.
Information is accurate as of July 6, 2023.