Binance Fees: A Full Breakdown and How It Compares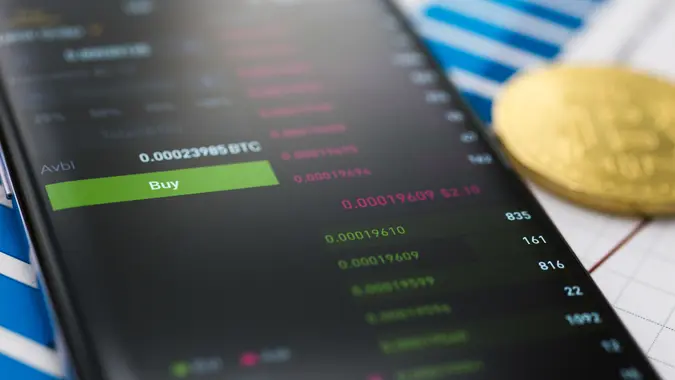 Ivan-balvan / Getty Images
Binance has positioned itself as a leader among cryptocurrency trading platforms around the globe, with the aim of making it easy for both beginners and experts to trade crypto while also enjoying competitive rates.
Like any trading platform, Binance charges fees for certain trades and services. Understanding the Binance platform and its fee structure helps you keep costs down so more of your investment goes into your wallet. Keep reading to learn more.
What Is Binance?
Binance is a crypto-to-crypto exchange service that got its start in 2017 in Hong Kong. It has since grown into one of the world's most popular crypto exchanges. In addition to trading, Binance offers savings options, the Binance Smart Pool for miners, the Binance Visa card, crypto loans and more.
Binance's U.S. platform, Binance.US, was launched in 2019 and has its own schedule of fees. It's available for users in every state except Hawaii, New York, Texas and Vermont.
Binance allows trades, deposits and withdrawals in over 350 types of crypto, including:
Bitcoin Cash (BCH)
Binance USD (BUSD)
Binance Fees
Binance offers some of the lowest fees in the crypto exchange market, making it a favorite among traders. Here's a quick rundown of some of the fees you might face.
Purchase Fees
If you choose to buy your cryptocurrencies with a debit or credit card, you can expect to pay up to 3.75% in fees. Because of these fees, you're better off using other payment methods.
Wire transfers, on the other hand, come with no transaction fee but are not available everywhere. If your location does support wire transfers, you can use them to avoid paying card fees.
Deposit Fees
There are no fees when depositing crypto assets on Binance with bitcoin (BTC), tether (USDT) and ethereum (ETH). You'll first need to exchange your fiat for crypto and then make your deposit.
Trading Fees
Binance charges a 0.10% fee for trading on the platform as well as a 0.50% fee for Instant Buy/Sell, so your actual fee amount will depend on the amount of the trade. The higher the transaction, the higher the fee.
One way to lower your trading fee is to keep some Binance Coin in your account at all times so your fees can be taken from that. Doing this fetches you a 25% discount on all trading fees.
Withdrawal Fees
Fees are also incurred based on the type of crypto you are withdrawing. These fees change with the market's status, making it difficult to know what you owe until you're ready to withdraw. Be sure to check the Binance.US website, which provides up-to-date information for each type of cryptocurrency.
There are ways to lower withdrawal fees, and it starts with understanding that the fees are based on the type of crypto asset you want to withdraw. Some assets charge higher rates than others, so reducing withdrawal fees can be as simple as changing the coin.
Before you begin your withdrawal, check the rates on the coin you plan to request. For example, if the type of asset you were about to request has a high fee, consider trading and converting to bitcoin or ethereum first. You can also choose a less expensive crypto.
Under most circumstances, taking the time to compare withdrawal rates can make a significant impact on the total amount of fees you pay.
Maker or Taker
When you check Binance fee schedule, you'll notice that different fees are charged depending on whether you're a "maker" or a "taker."
According to the Binance website, maker trades happen when you place an order that goes on the order book partially or fully, such as a limit order placed via the trading screen. Any subsequent trades coming from that order will be maker trades. The name is based on the fact that these orders add volume to the order book, helping to "make" the market.
Taker trades occur on an order that trades immediately before going on the order book, regardless of whether you partially or fully fulfill an order. These trades "take" volume off of the order book.
How Binance Fees Compare to Other Exchanges
Comparing the fees at different crypto exchanges is tricky because they don't all have the same fee structures or deal in the same coins, but it's still a good idea to familiarize yourself with some of the individual features.
Here's a quick look at some of the fees you might face at a few of the leading exchanges, and how they compare to Binance.
Exchange
Fee Details
Binance.US
– 0% fees for Tier 0 pairs
– 0.0375% to 0.45% maker/taker fees for Tier 1 pairs
– $0 maker/trader fees for BTC/TUSD trading pairs
– 25% discount on Advanced Trading if using Binance coin
Coinbase
– Fees are based on network fees for wallet-to-wallet transactions
– 2% fee for credit transaction
CEX.IO
– 0%-0.25% maker/taker fees
– Deposit/withdrawal fees up to 3%
Binance FAQ
Here are the answers to some of the most frequently asked questions about Binance.
Which cryptos are available on Binance?

Binance allows trades, deposits and withdrawals in over 350 types of crypto, including bitcoin, tether, chainlink, ethereum and litecoin.

How does Binance work?

Binance offers a simplified platform that lets you exchange fiat for bitcoin and other cryptos through different methods. Peer-to-peer trading connects buyers and sellers and accepts multiple payment options. Binance also accepts debit and credit cards for purchasing dozens of cryptocurrencies for a fee.
In addition, Binance has partnered with third parties to allow users to buy coins using Single Euro Payments Area, or SEPA, payments or bank transfers.

Are Binance and Binance.US the same?

No, they are different platforms intended for different users. Binance.US was formed in 2019 in response to Binance's decision to stop accepting U.S. investors. Users in the United States still can't use the international Binance platform.
You'll find the same interface at both platforms, as well as many of the same features. However, there are differences in the amount of crypto available to trade.
GOBankingRates' Crypto Guides
Cynthia Measom contributed to the reporting for this article.
Information is accurate as of April 24, 2023.
Editorial Note: This content is not provided by any entity covered in this article. Any opinions, analyses, reviews, ratings or recommendations expressed in this article are those of the author alone and have not been reviewed, approved or otherwise endorsed by any entity named in this article.