10 Cheap Cryptocurrencies To Buy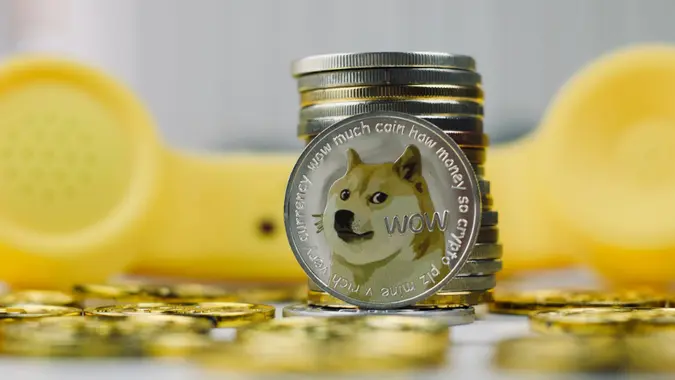 Adrian Black / Getty Images
Cryptocurrencies are all the rage these days, particularly with speculative investors. What used to be a "fringe" investment is now front and center in the financial press. Even financial networks like CNBC talk about bitcoin daily and keep a ticker up on the screen showing the current price.
Put this all together and now even the average investor is well aware of bitcoin and the cryptocurrency movement. However, bitcoin is not the only cryptocurrency out there.
There are plenty of other options if you want to get your crypto fix away from the big names. Just be aware that each cryptocurrency is unique, and you should consult your financial advisor before you invest in any of these speculative products.
What Are the Top Cheap Cryptos To Buy?
If you're ready to invest in some crypto, check out the following 10 cheap options that could generate nice returns in 2023.
1. XRP (XRP)
Coin price as of April 5: $0.5071
XRP is an open-source cryptocurrency that uses an open-source distributed ledger called XRP Ledger. It was developed by Ripple, an enterprise blockchain company that facilitates global transactions. Ripple says XRP was built for payments and can settle transactions faster, more reliably and at a lower cost than is possible over standard global payment infrastructure.
Ripple is currently embroiled in a lawsuit brought by the U.S. Securities and Exchange Commission, which alleges it engaged in unregistered securities trading. The case is ongoing as of April 5.
Despite the uncertainty surrounding the suit, Ripple's On-Demand Liquidity payment product grew ninefold between the second quarter of 2021 and the same quarter in 2022, according to the company's July 28 XRP Markets report.
Ripple bought back $200 million in Series C shares from one of its investors in what analysts say is a move to strengthen its balance sheet before going public, FXStreet reported. The expectation that Ripple would announce its initial public offering after the SEC lawsuit gained traction when CEO Brad Garlinghouse told CNBC that it would, in fact, explore the possibility of an IPO.
XRP's price is down considerably compared to a year ago, and you can buy it for well under $1.
2. Dogecoin (DOGE)
Coin price as of April 5: $0.0923
Dogecoin originated as something of a joke, but it has become quite real for those who have profited from it. The coin is certainly "cheap" at less than $0.10 per coin as of April 5, especially compared to its 52-week high of $0.1735.
Unlike many other cryptocurrencies that serve actual functions, dogecoin was created as a satirical take on bitcoin. The coin has a history of rising and falling based on hype and tweets by Elon Musk. It spiked in the weeks leading up to Musk's 2022 purchase of Twitter but has fallen sharply since then.
Of course, that likely doesn't matter to those who have generated real profits and who are still searching for "cheap" cryptocurrencies. That said, dogecoin has been hit hard by the crypto sell-off. Whether it can pull out of the slump remains to be seen, but some investors see the dip as a buying opportunity rather than a sign of doom.
3. Chainlink (LINK)
Coin price as of April 5: $7.29
Chainlink is another Ethereum token that powers the Chainlink decentralized oracle network. This network is used to securely connect to external data sources, APIs and payment systems.
Chainlink describes itself as enabling real-world data and off-chain computation to expand the capabilities of smart contracts while maintaining the upsides of blockchain technology — namely, its security and reliability guarantees. The chainlink price moves in fits and starts and currently sits at $7.29, down over 55% year over year, giving investors a chance to buy cheap.
4. Uniswap (UNI)
Coin price as of April 5: $6.21
As a major player among decentralized exchanges, Uniswap automates the trading of decentralized finance tokens between coin holders, allowing anyone who holds coins to create a liquidity pool for any token pair they choose.
Although highly volatile, Uniswap has the advantage of having been an early player in the decentralized exchange space, U.S. News reported. The coin recently surpassed $1 trillion in total trading volume, albeit from just 3.9 million addresses, suggesting there's plenty of room for growth.
5. Cardano (ADA)
Coin price as of April 5: $0.3921
At less than $1, Cardano remains a very cheap cryptocurrency — even more so now, amid the cryptocurrency slump that knocked cardano back from an all-time high of $3.10 in September 2021.
According to Coinbase, Cardano is a blockchain platform built on a proof-of-stake consensus protocol called Ouroboros, which can validate transactions without high energy costs. Its developers say Ouroboros allows the Cardano network's decentralization and provides the ability to sustainably scale to global requirements without compromising security.
Development on Cardano uses the Haskell programming language. The symbol for the Cardano token, ADA, comes from the 19th-century mathematician Ada Lovelace.
So far, Cardano has an impressive record. By late 2021, it had processed over 20 million transactions with no downtime, according to InvestorPlace, and it recently launched ADACash, a rewards token that gained 10,000 users in less than a month. It has become a popular blockchain for non-fungible token marketplaces and DeFi transaction exchanges.
An upgrade called Hydra, which is being implemented in a series of protocols, should increase processing feeds dramatically, InvestorPlace reported, which could trigger higher prices.
6. Polygon (MATIC)
Coin price as of April 5: $1.13
Polygon is a decentralized application built on the Ethereum network as a way to expand Ethereum into a multichain system. Backed by Coinbase and Binance, Polygon could be the solution developers need to deploy decentralized applications faster, more efficiently and less expensively, Benzinga noted, calling MATIC the most promising "layer two" token — that is, one built on an existing blockchain.
Analysts say Polygon is backed by a strong team and sound technology, which makes MATIC a good bet in the longer term.
7. Stellar (XLM)
Coin price as of April 5: $0.1066
Stellar is its own payment network, and it uses stellar lumens as its currency on that network. While the network can be used by anyone, it was envisioned to connect financial institutions making large transactions. On the Stellar network, these types of transactions can be done nearly instantaneously at little to no cost, unlike with traditional, or even competing blockchain, networks.
The price of stellar lumens has been highly volatile over the past year, but you can get a sense of where XLM might be headed by watching bitcoin — prices of the two cryptocurrencies often move in the same direction, according to InvestorPlace.
8. The Sandbox (SAND)
Coin price as of April 5: $0.6339
The Sandbox is a blockchain-based metaverse — a virtual game that uses a "play-to-earn" model that lets users create, buy, sell and collect digital assets in the form of NFTs. They can also create and monetize their own games and earn SAND whenever someone plays them, Benzinga explained.
Pixowl created the game in 2011 to introduce blockchain to mainstream gaming, according to CoinMarketCap. Investors include Atari, Helix and CryptoKitties.
With the current hype around metaverses, blockchain games like The Sandbox might just be getting started.
9. Decentraland (MANA)
Coin price as of April 5: $0.5973
Decentraland is the token behind an Ethereum blockchain-based virtual reality game of the same name. Securities.io described Decentraland as a 3D virtual world where users buy land on which to develop and monetize content, buy goods and services and visit other properties.
As a metaverse innovator, Decentraland has been signed by Versus Entertainment to help develop its film adaptation of "The Infinite Machine," which tells the story of Ethereum co-founder Vitalik Buterin, Variety reported.
With a $1.11 billion market capitalization, this cryptocurrency project isn't exactly child's play.
10. NEAR Protocol (NEAR)
Coin price as of April 5: $2.00
NEAR Protocol is a layer-one blockchain designed to be a community-operated cloud computing platform with faster transaction speeds, better output and increased interoperability compared to competing blockchains, according to CoinMarketCap.
Although it lacks the maturity of some of this list's other blockchains, the collective tasked with updating the initial code and releasing the updates aims to make a highly secure platform that can manage high-value assets like money and identity while providing functionality for "everyday people."
A proof-of-stake mechanism called Doomslug secures the platform without driving up costs, and Nightshade technology splits up the blockchain's transaction history to speed up processing, Benzinga reported. The project has the potential to reduce barriers to Web3 adoption — Web3 being the catchphrase for a blockchain-based internet.
To that end, NEAR Protocol recently partnered with Google Cloud. Google Cloud will provide technical support for NEAR Foundation grant recipients as they develop and scale their Web3 projects and decentralized applications, according to the NEAR Foundation.
Daria Uhlig contributed to the reporting for this article.
Data is accurate as of April 5, 2023, and is subject to change.
Our in-house research team and on-site financial experts work together to create content that's accurate, impartial, and up to date. We fact-check every single statistic, quote and fact using trusted primary resources to make sure the information we provide is correct. You can learn more about GOBankingRates' processes and standards in our editorial policy.