Coinbase Fees: Here's a Full Breakdown of How To Minimize Costs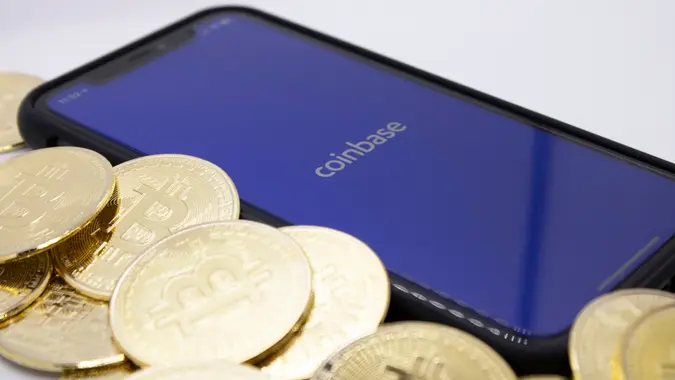 Movus / Getty Images
When you're looking to invest in cryptocurrency, Coinbase is an appealing option to start. But if you start using Coinbase without digging any deeper, you're going to end up paying fees that can add up over time.
Coinbase fees can be somewhat complicated, especially for beginners. Coinbase and Coinbase Pro are two cryptocurrency exchanges hosted by Coinbase Global Inc. Each of them has its own fee structure. Advanced Trade, which was introduced on the Coinbase platform in June, is set to replace Coinbase Pro.
This guide will help you understand the full breakdown of Coinbase and Coinbase Pro fees and how you can minimize your costs.
Coinbase Fees Explained
Coinbase does not charge any fees for holding supported cryptocurrency on your crypto wallet. However, it does charge a miner's fee for transfers of cryptocurrency off the Coinbase platform.
Here is a breakdown of Coinbase fees that you will incur on the platform.
Margin or Spread Fees 
Coinbase includes the fees for spread in the price whenever you purchase or sell your crypto. It will also be included in the exchange rate if you convert your crypto.
The spread allows Coinbase to temporarily lock in a price for trade execution while you review the transaction details before submitting your transaction. This spread applies to all cryptocurrency transactions on the Coinbase platform and while using Coinbase Card.
Staking Fees
When you stake your crypto on the Coinbase platform, Coinbase charges a 15% commission on rewards that you earn. Here's a breakdown:
35% for ADA, DOT and SOL (26.3% for eligible Coinbase One members)
25% for ETH, XTZ and ATOM (for XTZ and ATOM, it's 15% for eligible Coinbase One members)
Coinbase Transaction Fees
Also known as the Coinbase Fee, this is a confusing fee structure that considers multiple factors. The user will pay either a flat fee or a variable percentage of the transaction, depending on region, product and payment method. Coinbase does not publish these fees, but they have been reported by third parties as the following.
Coinbase charges fee that's based on an estimate of the network fees for wallet-to-wallet send, on any cryptocurrency transactions. Your final fee could vary from the estimat for these reasons. Coinbase will disclose the information including fees when the transaction is being filled.
Coinbase Card
Credit transactions are charged a flat fee of 2% in total if you are borrowing USD from Coinbase or another affiliate of Coinbase. There is a 2.49% fee for Coinbase Wallet currency conversions.
If you use your Coinbase card at an ATM, you may be charged operational fees. Be sure to double-check your card agreement to confirm.
Coinbase Advanced Trade Fees
As of June 2022, Coinbase Pro is being phased out and is being replaced by Advanced Trade. Advanced Trade is the advanced trading platform of Coinbase that is suitable for more experienced traders.
Advanced Trade fees are similar to those of Coinbase Pro and are based on a maker/taker model. Usually, the fees are divided as a maximum of 0.4% maker and a maximum of 0.6% taker, based on your 30-day trailing volume. Here's a quick explanation of maker and taker orders.
Maker orders: "Makers" create orders for other traders to take. They add liquidity to the market. These orders are not filled immediately.
Taker orders: "Takers" take orders created by makers. They remove liquidity from the market. These orders are made at market price and filled immediately.
Partial orders: Partial orders are when a portion of the order is filled immediately, while the rest is left on the books to be filled at a later time. If this happens, the first part is assessed on the "taker" side. The remainder will be filled as a "maker" order.
Once an order is placed, the fees are calculated based on the pricing tier to which you belong at the time of placing the order. You can check your tier by logging in to your Advanced Trade account. There are no subscription fees required to trade in Advanced Trade, and there are no spread fees on Advanced Trade.
Coinbase Pro Fees
Coinbase Pro is the preferred trading platform used to fulfill orders placed via Coinbase. It offers a secure platform for advanced crypto traders to buy, sell and trade digital assets online instantly across various trading pairs.
A Coinbase Pro account allows the users to track the crypto market, view trading history, monitor open orders, manage multiple portfolios and other advanced features, like a fully featured trading API.
Because both are owned by Coinbase, transfers between Coinbase and Coinbase Pro are instant and free. This is significant, because the fees assessed for the same actions are far lower on Coinbase Pro than they are on Coinbase.
The breakdown of these transactions follows maker/taker model, like Advanced Trade. Here's an overview of the maker/taker fees on Coinbase Pro:
Taker Orders: Between 0.05% and 0.60%, based on trade volume
Maker Orders: Between 0.00% and 0.40%, based on trade volume
Phasing Out

Coinbase Pro is no longer available to new users — experienced crypto investors looking to shift to a more advanced form of trading on Coinbase will be redirected to Advanced Trade. However, Coinbase promises on its website that Advanced Trade offers the same volume-based fees as Coinbase Pro.
Trader Fees in Coinbase Pro
Keep in mind that with Coinbase Pro the fees are based on the amount of the transaction, so you actually pay less for trading more:
| Tier | Taker Fee | Maker Fee |
| --- | --- | --- |
| Less than $10K | 0.60% | 0.40% |
| $10K to $50K | 0.40% | 0.25% |
| $50K to $100K | 0.25% | 0.15% |
| $100K to $1M | 0.20% | 0.10% |
| $1M to $15M | 0.18% | 0.08% |
| $15M to $75M | 0.16% | 0.06% |
| $75M to $250M | 0.12% | 0.03% |
| $250M to $400M | 0.08% | 0.00% |
| $400M and up | 0.05% | 0.00% |
How To Minimize Coinbase Fees
How do you avoid fees on Coinbase? Part of it is understanding the link between Coinbase and Coinbase Pro and Advanced Trade.
How To Use Coinbase Pro to Minimize Coinbase Fees
Now that you understand what Coinbase Pro is and how the fees work, its appeal for trading should be obvious. If you already have a Coinbase Pro account, you should still be able to use it, at least for now — here are the steps for transferring your funds from Coinbase to Coinbase Pro:
Use your Coinbase credentials to sign in to Coinbase Pro.
Select "deposit" under the wallet balance section.
Choose the type of currency you'd like to transfer.
Select the Coinbase.com option.
At this point, you'll be able to see the balance available in your Coinbase wallet for the currency you've chosen. Again, transfers between the two platforms are free and instant, and there's no limit on deposits for digital assets.
Trades conducted with Coinbase Pro aren't as intuitive as they are on Coinbase. You'll need to use exact amounts rather than trading the equivalent volume of USD — but the trade-off is that the fees are substantially lower.
The process for withdrawing your assets to Coinbase is identical, except you'll select "withdraw" under the wallet balance section rather than "deposit." If you need to regularly withdraw, you can request to increase limits via the limits page on your profile.
Using Advanced Trade to Minimize Coinbase Fees
Coinbase doesn't publish many details about Advanced Trade fees, but it does claim that they are the same low fees as Coinbase Pro — so it's safe to assume they're also lower than the basic Coinbase platform fees.
An advantage of Advanced Trade over Coinbase Pro is the option to earn rewards. With Advanced Trade, you can earn up to 6% APY on several different cryptos, including ETH2, ALGO and more. This doesn't directly affect fees, but it could help to offset them so you end up with more crypto overall.
Switching to Advanced Trade
If you have a Coinbase Pro account and want to switch to Advanced Trade, you can transfer your wallet easily. Log in to your Coinbase Pro account and follow these steps:
Click on the transfer funds banner.
Click "Transfer funds," then "All portfolios."
Choose Coinbase.com as the destination for your transfer.
Click "Withdraw."
If you have any open orders, Coinbase Pro will prompt you to cancel them. If you choose not to cancel the orders, the rest of your funds will be transferred, but those involved in the orders will remain in Coinbase Pro, along with any pending deposits. Once the transactions are complete, you can transfer the remaining funds.
Are Coinbase Fees Worth It?
For those who have only a casual interest in cryptocurrency or those who are just learning about it, the price may be worth it in exchange for the convenience of trading in a fiat currency and using a highly intuitive interface.
It's easy to minimize fees using the Coinbase network. It just takes a bit of know-how. For most beginning traders, the limits that are set on your Coinbase Pro account will be more than generous enough to allow for normal activity.
If you decide to become an active trader, the fees charged by Coinbase Pro or Advanced Trade will be justified, since they reduce with your trading volume.
Final Take
There are several ways to get involved in the crypto space, but centralized exchanges like Coinbase are an entry point for a lot of people because of their simplicity, ease of access and ability to trade the more popular coins, such as bitcoin and ethereum.
Despite the comparatively high fees, Coinbase is worth checking out because of its ease of use and security features. Moreover, you can always use Advanced Trade features to minimize your fees.
Branford Shaw and Amber Barkley contributed to the reporting for this article.
Information is accurate as of April 21, 2023, and is subject to change.
Editorial Note: This content is not provided by any entity covered in this article. Any opinions, analyses, reviews, ratings or recommendations expressed in this article are those of the author alone and have not been reviewed, approved or otherwise endorsed by any entity named in this article.
Our in-house research team and on-site financial experts work together to create content that's accurate, impartial, and up to date. We fact-check every single statistic, quote and fact using trusted primary resources to make sure the information we provide is correct. You can learn more about GOBankingRates' processes and standards in our editorial policy.