Coinbase vs. Binance: Which Cryptocurrency Exchange Is Better?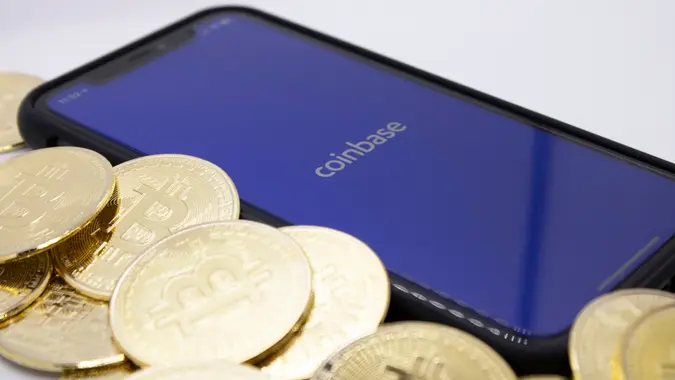 Movus / Getty Images
Trades involving cryptocurrencies, such as bitcoin, take place on a cryptocurrency exchange — an online platform that makes it possible to buy and trade. Here's a look at two well-established exchanges, Coinbase and Binance, and what you should consider to help you decide which may be better for you.
Read: Looking To Diversify In A Bear Market? Consider These 6 Alternative Investments
Understanding Cryptocurrency Exchanges
Investors who want to trade cryptocurrencies or digital currencies for cash or other assets do so on a cryptocurrency exchange in the same way that traditional stocks are traded on a stock exchange.
On a stock exchange, your transactions are sent to your online portfolio. On a cryptocurrency exchange, your trades can be sent to a digital cryptocurrency wallet, which is an online storage space. A cryptocurrency exchange can accept credit cards, wire transfers and other forms of payment as a means of purchasing cryptocurrency.
Some cryptocurrency exchanges allow you to withdraw your cryptocurrency, while others will not. Some allow you to move your investments into a digital wallet, while others don't offer one. Lastly, certain exchanges allow you to earn, as well as buy and trade, cryptocurrency. 
Coinbase and Binance Recently Made Headlines
Last year, a widespread sell-off of cryptocurrency slashed market value by an estimated $1 trillion and sent bitcoin plummeting to a low not seen since 2013. Both Coinbase and Binance experienced stability issues in the sell-off, which impacted customer service.
Binance, the largest cryptocurrency exchange in the world, caused frustration among investors when it suspended Ethereum withdrawals temporarily due to congestion on its network. During the same period, Coinbase's platform experienced intermittent outages.
Although the IRS is beginning to monitor bitcoin trading more closely, cryptocurrency traders should be aware that for now, stability issues persist. This can impede the withdrawal of digital assets, leaving investors vulnerable during periods of volatility and liquidation.
How Cryptocurrency Exchanges Are Rated
Fees and rules vary by cryptocurrency exchanges, in part because the cryptocurrency industry is still new enough that regulation practices are continuing to evolve. For now, investors should know that their experience may vary from one cryptocurrency trading platform to another.
In general, you should conduct research before investing in cryptocurrency. The types of transactions you'll be able to make, as well as the fees associated and the online storage options available, will depend on which cryptocurrency exchange you're engaging with.
We'll start our comparison of Coinbase vs. Binance by taking a quick look of each platform's main features and fees before we dive deeper:
Features and Fees
Coinbase
Binance
Fees
Fees are not disclosed on the Coinbase website. Instead all fees will be disclosed at the time of the transaction. 
0.1% spot trading fees

0.5% Buy/Sell Crypto fee

Number of supported cryptocurrencies
Over 150
Over 500
Orders supported
Send, request, transfer, buy, sell
Limit Order, Market Order, Stop-Limit Order, Stop Market order, Trailing Stop Order, Post Only Order, Limit TP/SL Order
Trade limits
Limits depend on your region and type of payment method
Limits depend on the type of cryptocurrency purchased
What Is Coinbase?
Coinbase is the largest cryptocurrency exchange in the U.S. and the second-largest in the world. It has more than 98 million verified users in over 100 countries, and it maintains approximately $256 billion in assets.
Since its start in 2012, U.S.-based Coinbase has prided itself on offering cryptocurrency newcomers an accessible starting point. 
Coinbase Features
Trade more than 150 types of cryptocurrency
Ability to use dollar-cost averaging
Participate in the task economy and earn cryptocurrency
Store your own cryptocurrency in a digital vault with time-delayed withdrawals
Spend cryptocurrency via cards, and accumulate rewards
Access and watch your account on the exchange's mobile app
Receive support by phone, live messenger or email.
Coinbase Account Terms
There's no charge to open or maintain an account, but there's a $2 minimum to trade. You're allowed to do up to $25,000 of ACH transactions per day. It's possible to earn $5 in free Bitcoin for signing up.
Coinbase and FDIC Insurance
Coinbase collects funds from its investor accounts and puts them somewhere safe as insurance protection. In the U.S., investor assets can be held in custodial bank accounts, money market funds or U.S. Treasuries. For the money parked at banks, the institutions that Coinbase selects are backed by the Federal Deposit Insurance Corp., and as such, they are insured up to $250,000 per customer. Outside of the U.S., money from Coinbase accounts is held in dedicated custodial accounts.
Coinbase Pro
More experienced users can try Coinbase Pro. Fees will vary depending on your monthly trading volume.
Here are the standard fees and policies for Coinbase:
| Trade Amount | Fee |
| --- | --- |
| $10 or less | $0.99 |
| More than $10 and up to $25 | $1.49 |
| More than $25 and up to $50 | $1.99 |
| More than $50 and up to $200 | $2.99 |
| Source of Payment | Fee |
| --- | --- |
| U.S. bank account or Coinbase wallet | 1.49% |
| Debit card | 3.99% |
| Instant card withdrawal | Up to 1.5%, minimum fee of $0.55 |
| ACH transfer | No fee |
| Wire transfer | $10, $25 outgoing |
What Is Binance?
Binance is a cryptocurrency ecosystem targeted at more experienced cryptocurrency investors. Going by trading volume, it is the biggest cryptocurrency exchange globally. Although it is not available to U.S. consumers, a version of it is — called Binance.US. 
Binance Features
Not available for U.S. customers

Trade over 100 cryptocurrencies
Binance.US Features
Although Binance.US doesn't offer the same number of cryptocurrencies and trading pairs as its partner, Binance, it's still one of the largest cryptocurrency exchanges to be found stateside. It launched out of San Francisco in 2019 and comes equipped with the same technology used on the global platform.
Here's a look at its key features:
Built for a U.S. audience
Trade cryptocurrencies in most U.S. states — four states do not participate
No built-in digital wallet
Customer support ticket system
Here are the fees and policies for Binance.US:
Trade Amount
Fee
$10 or more

0.1% spot trading fee
0.5% Buy/Sell Crypto fee
Trading fees are based on your 30-day trading volume and your daily BNB balance
| Source of Payment | Fee |
| --- | --- |
| Bank deposit or withdrawal | No fee |
| Debit card | 3.5% |
| Credit card | Not allowed |
| ACH transfer | No fee |
| Wire transfer | $15 — withdrawals |
Binance Account Terms
You can register for free at Binance.US, but you'll need $10 to trade. The platform allows for dollar-cost averaging, meaning you can program your account to buy a set amount of cryptocurrency on a consistent basis. Minimum and maximum trading amounts depend on the cryptocurrency you're investing in.
Binance and Security
Both Binance.US and Coinbase offer two-step authentication. Coinbase offers U.S. cryptocurrency investors a digital vault as well.
Coinbase vs. Binance: Key Differences
What do these two large cryptocurrency exchanges have in common, and how do they differ? Let's explore that and figure out which one might make the most sense for you.
Availability
If you're in the U.S., Coinbase will provide you with a more complete set of cryptocurrency tools and trading options than Binance, which is solely available in a constrained version called Binance.US. Here are the details on where these exchanges are available:
Coinbase is available in the U.S. with the exception of Hawaii
Binance.US is available in the U.S. with the exception of these four states:

Hawaii
New York
Texas
Vermont
 Platforms
Coinbase operates two: the original Coinbase and Coinbase Pro.

Binance has a global platform, but only Binance.US works in the United States.
Trading Options
Coinbase has a low minimum entry point — $2 minimum — and allows for individual trading.

Coinbase Pro offers expanded functionality and the ability to make both individual trades and crypto-to-crypto transactions.

Binance.US requires a minimum investment of $10 and allows individual trading, crypto-to-crypto trading and peer-to-peer trading.
Trading Fees
With Coinbase, fees range depending on the type of transaction and the way it is financed.

Binance.US charges a low, 0.1% spot trading fee and a 0.5% Buy/Sell Crypto fee. The platform uses your 30-day trading volume and your daily BNB balance to determine trading fees.
Safety
Cryptocurrency exchanges do not receive protection from the FDIC or the Securities Investor Protection Corp. as traditional cash and securities assets do. Coinbase and Binance have their own approaches to security.
Coinbase's Approach to Security
Coinbase keeps 2% of customer funds online and stores the rest offline in what is termed "cold storage," a safe or otherwise secure offline location.

Coinbase asserts that all of the digital currency held on its platform is insured for particular criminal circumstances, such as individual account breaches or theft by Coinbase employees.
Binance's Approach to Security
Binance.US holds U.S. dollar deposits at custodial bank accounts, which are typically insured by the FDIC for up

to $250,000 per customer.

To date, Binance.US has not reported any security issues. However, its partner, Binance, has acknowledged that in 2019, hackers compromised the Binance network and stole 7,000 bitcoins. Affected users were reimbursed by the company.
Coinbase vs. Binance: Which One Wins?
If you live in the U.S., you're likely to have a better experience with Coinbase — the platform will allow you to do more with cryptocurrency than its competitor, Binance.US. Coinbase offers investors a notable level of control, from dollar-cost averaging to timed withdrawals, a digital vault for secure storage and the opportunity to earn cryptocurrency assets.
If you're relatively comfortable with cryptocurrency investing and aren't in need of secure storage and timed investments, you might benefit from Binance's lower fees.
Daria Uhlig and Cynthia Measom contributed to the reporting for this article.
Information is accurate as of Sept. 22, 2022.
Editorial Note: This content is not provided by any entity covered in this article. Any opinions, analyses, reviews, ratings or recommendations expressed in this article are those of the author alone and have not been reviewed, approved or otherwise endorsed by any entity named in this article.
Our in-house research team and on-site financial experts work together to create content that's accurate, impartial, and up to date. We fact-check every single statistic, quote and fact using trusted primary resources to make sure the information we provide is correct. You can learn more about GOBankingRates' processes and standards in our editorial policy.