COTI: Is Now the Time to Invest?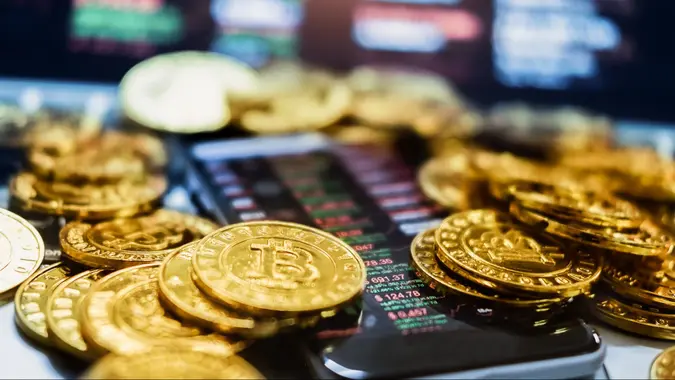 Jirapong Manustrong / Getty Images/iStockphoto
COTI is the first cryptocurrency that offers users the ability to issue stablecoins that maintain a relatively stable value. It was first listed on the Coinbase and Huobi cryptocurrency exchanges in August 2021, after which it saw an increase in value.
What Is COTI Crypto?
COTI is short for the currency of the internet and is an Ethereum-based token. COTI is the name of a unique blockchain protocol for cryptocurrency and is also a type of token. The platform helps to process payments within the decentralized blockchain network. It stands apart from its competition because it allows governments to issue and transact in coins.
How COTI Pairs Fintech with Blockchain
COTI offers a unique integration of traditional currency and finances to cryptocurrency and the blockchain network. The COTI platform creates stablecoins that are tied to the value of physical currency in our world. When traditional cryptocurrency goes up and down with the market, stablecoins like those offered by COTI retain their value.
COTI allows the following traditional currency programs to run on its blockchain network:
Payment processing
Lending, borrowing and financing
White label payment systems
Loyalty programs
International transaction technology
COTI's Recent Growth and Development
Learn more about how COTI has evolved over the last year.
COTI and Cardano Partnership
COTI announced earlier in the year that it was planning a partnership with Cardano, the sixth-largest cryptocurrency on the market currently. COTI plans to issue an exclusive stablecoin on the Cardano network called Djed.
This stablecoin serves as the power to process lending and borrowing transactions via smart contracts. Because the token holds its value so well, it offers stability to the transactions, ensuring that they go through correctly each time.
A Mutual Investment
COTI's partnership with Cardano goes both ways. Cardano has a venture fund called cFund created to invest in smaller cryptocurrency projects. Its first investment went to COTI in April 2021 for $500,000. This shows that the relationship goes both ways and that the Cardano team believes in COTI's future.
COTI's partnership with Cardano is truly beneficial for both parties. COTI is set up to operate as a cross-chain bridge, meaning that cryptocurrencies can transfer back and forth within the blockchain platform. The cFund investment offers the opportunity for COTI to bolster their processing procedures in a way that benefits the Cardano coin.
COTI and CardWallet Partnership
The COTI announcement for its partnership with CardWallet goes beyond strengthening its brand. By collaborating with CardWallet, the team at COTI hopes to bridge the gap for consumers that want to invest in cryptocurrency.
Instead of cryptocurrency and traditional currency being two completely separate entities, COTI and CardWallet offer a blending of the two. The CardWallet partnership is impactful for COTI because it opens up the cryptocurrency token to more users.
Good To Know

CardWallet is a noncustodial wallet. This means that each investor is in control of their own cryptocurrency investments. Alternatively, a custodial wallet relies on the provider to offer some oversight of the cryptocurrency, thereby lessening the personal burden.
COTI and ADA Pay
In September, the COTI team announced its ADA Pay Partnership. The ADA Pay platform allows consumers to spend their cryptocurrency investments for products and services on websites that accept it as a form of payment. This partnership further integrates cryptocurrency into the flow of everyday purchases that consumers make.
COTI is beneficial to AdaPay for the same reason that it is beneficial to CardWallet. It provides unique stability to transactions. Cryptocurrency transactions are known for being volatile. A transaction may take seconds or minutes to process, or it may not go through at all. COTI is a buffer that guarantees coins' value for a transaction.
Future Growth Plans
The improvements implemented early in November mean that the COTI platform is stronger, and the Cardano coin is more valuable. The platform also has greater scalability for future growth. The next upgrade — Mainnet 3.0 — happens around in a little more than a year from now.
Goals of the COTI growth plan include:
Ability for consumers to establish a trading account in under three minutes
COTI's decentralized treasury works to take in fees and issue rewards automatically
The stablecoin factory allows COTI clients the opportunity to issue independent stablecoins within the blockchain
Backend systems for enterprise services and merchants that are fully integrated for seamless interactions
Smart contracts for borrowing and lending
Additional partnerships that strengthen the ecosystem
Final Take
COTI is making impressive moves to establish partnerships with other companies that dominate that cryptocurrency industry. Though Crypto Academy predicted that COTI would have an ambitious start of $0.828 at the beginning of 2022, it is currently priced at $0.398 per coin, as of Jan. 17, 2022. There's no way to tell how the platform will perform in the future and it's still subject to the ups and downs of cryptocurrency values on the market. Each investor has a different tolerance for volatility and should assess their overall investment portfolio before deciding on COTI.
COTI FAQ
Here are the answers to some of the most frequently asked questions about COTI.
Is COTI cryptocurrency a good investment?

The platform is proving to be one of the most profitable brands within the realm of cryptocurrency in the last year. If COTI continues on this track, it will continue to be profitable in the coming years.

What is COTI's price prediction?

As of Jan. 17, 2021 COTI's price is $0.398 per coin. Experts predict that the coin could reach a $3 value by 2025 -- nearly a seven and a half times increase over the current value.

What does COTI stand for?

COTI is an acronym for "currency of the internet." It's a play on words for the cryptocurrency since it's a completely digital token.

Is COTI a coin or a token?

COTI is a token that is utilized to help process decentralized transactions. The token strengthens the coin it pairs with the offer a more stable transaction.
Information is accurate as of Jan. 17, 2022.
Our in-house research team and on-site financial experts work together to create content that's accurate, impartial, and up to date. We fact-check every single statistic, quote and fact using trusted primary resources to make sure the information we provide is correct. You can learn more about GOBankingRates' processes and standards in our editorial policy.