Crypto.com vs. Coinbase: Which Is Better for You?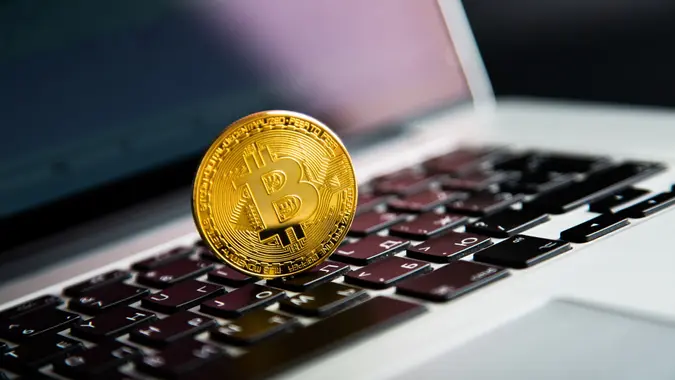 Andrey Danilovich / iStock.com
As online cryptocurrency exchanges, Crypto.com and Coinbase both allow registered users to buy, sell and trade various cryptocurrencies while offering digital wallets to help ensure users' security. However, some individual investors may find it hard to decide which platform best fits their unique circumstances. Comparing and contrasting the pros and cons of Crypto.com versus Coinbase helps make that decision easier.
What Is Coinbase?
Coinbase is an online cryptocurrency exchange platform serving more than 103 million users in over 100 countries. Registering and maintaining an account on Coinbase is free, but there are fees when buying, selling and investing in cryptocurrency. While the platform does not disclose all fees upfront, users are notified of all charges before transactions are finalized.
What Is Crypto.com?
Crypto.com is another online exchange platform with over 50 million users in 90 countries — all buying, selling and investing in cryptocurrency. However, Crypto.com claims that it is the only platform that offers crypto "at true cost" to its registered users. In addition, Crypto.com offers a wide range of perks to users, including a prepaid card that offers rewards and comes with no annual fees.
How Do Crypto.com and Coinbase Compare on Features?
Both Coinbase and Crypto.com offer their users the same basic services — the opportunity to buy, sell and trade in cryptocurrencies along with digital wallets for storing crypto and non-fungible tokens.
Crypto.com offers customers the chance to buy over 250 different forms of cryptocurrency using more than 20 different fiat currencies, while Coinbase is a little more limited in variety with around 210 different cryptocurrencies available.
However, Coinbase still allows customers to explore a range of digital assets, from well-known cryptocurrencies like bitcoin and ethereum to less widely known assets like shiba inu and MINU.
Good To Know

Crypto.com and Coinbase each have their own native token: cronos and USD coin, respectively.
How Do Crypto.com and Coinbase Compare on Rewards?
Both platforms give users several ways to earn rewards.
Crypto.com offers customers the chance to earn up to 14.50% (8.5% for stablecoins) in rewards in return for staking, or holding, certain cryptocurrencies in their portfolios for six months or longer. Depending on the cryptocurrency, users will earn rewards at a higher or lower rate. 
Crypto.com users who stake at least $400 can earn up to 5% back in cryptocurrency through its prepaid Visa card. There's an array of card tiers tailored to meet different customer needs. In addition, depending on the tier, users may be eligible for free memberships and discounts offered by companies like Netflix, Spotify, Amazon and Expedia.
Coinbase gives $5 in free bitcoin to qualified new users after their first cryptocurrency purchase, plus a bonus amount after they engage in their first trade. Furthermore, Coinbase offers cryptocurrency rewards to members who participate in learning opportunities or who stake or lend their crypto. Users can also earn rewards when they use their Coinbase Card, a Visa debit card.
How Do Crypto.com and Coinbase Compare on Customer Advice?
Crypto.com and Coinbase differ here in that Coinbase offers extensive tutorials, educational incentives and investment information, whereas Crypto.com provides a basic selection of educational articles that include research and analysis. This may give Coinbase the advantage of attracting new investors who need help getting started.
Coinbase provides its registered users with "trading signals," which are up-to-date figures about the trading volume of different cryptocurrencies.
Coinbase trading signals include:
Top holder activity: This is a figure that looks at the recent trading activities of the Coinbase customers who are holding a significant amount of a particular asset. The signal is updated every two hours, allowing users to see how people with a major stake in a particular cryptocurrency are behaving. 
Typical hold time and popularity of different cryptocurrencies: This is the median number of days Coinbase customers hold on to a particular digital asset before either selling it or passing it along to another crypto user.
Price correlation: Every 24 hours, this signal compares how different cryptocurrency prices change relative to each other.
Finally, Coinbase offers investment insights, basic guides and trading tips for new customers who are still learning how crypto works.
How Do Crypto.com and Coinbase Compare on Fees?
Coinbase offers users two different wallets at no charge: the USD Wallet and the Hosted Cryptocurrency Wallet. Transferring crypto between the Coinbase wallets is also free. However, Coinbase will charge fees for any transactions that involve moving cryptocurrency off its platform. The exact amount that the user has to pay varies and is only disclosed at the time of the transaction.
Although Coinbase customers pay fees when buying, selling or converting cryptocurrencies, the fee structure can be difficult to understand. Coinbase does not announce the structure upfront. Instead, the site calculates fees when customers place their orders. Fees are determined by several factors, including the payment method, the amount of cryptocurrency being purchased and market conditions. Coinbase will notify users about the fees before finalizing transactions.
Advanced trading, available to select users, incurs fees ranging from 0% to 0.60%. The fee amount depends on the pricing tier and on whether you're buying or selling.
Crypto.com charges its registered users a fee whenever they trade in cryptocurrency. Maker and taker fees range from 0% to 0.075%.
How Do Crypto.com and Coinbase Compare on Security?
Crypto.com and Coinbase both share similar security methods:
Screen all deposits to meet their security standards.
Hold users' cryptocurrency offline in cold storage so that it cannot be accessed by would-be thieves.
Require users to employ multifactor authentication on their accounts.
However, Coinbase and Crypto.com each take their security measures a step further:
Coinbase has additional security tools, like the Coinbase Vault and Address Book, at no additional user charge.
Crypto.com's security software is peer-reviewed.
Crypto.com vs. Coinbase: Which Is Better?
Which cryptocurrency exchange is best depends on what users are looking for in a platform.
Crypto.com may be more appealing to more experienced crypto investors, with its impressive variety of cryptocurrencies available, upfront fee structure and prepaid Visa card, which offers rewards.
Coinbase offers more to the new crypto investor with its range of educational material and frequently updated trading signals. However, its fee structure is more difficult to understand, and fees are often not disclosed until near the completion of a transaction.
Daria Uhlig and Amber Barkley contributed to the reporting for this article.
Information is accurate as of Aug. 25, 2022.