Crypto World Reacts to BlockFi Bankruptcy — What's Next?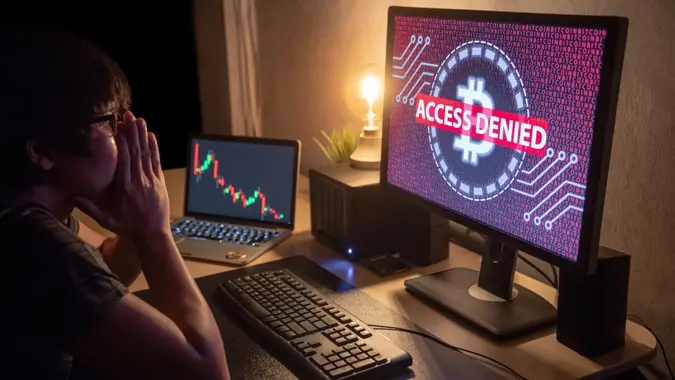 Zephyr18 / Getty Images/iStockphoto
The FTX fallout is continuing, and the latest domino to fall is fellow crypto platform BlockFi, which filed for bankruptcy on Nov. 28, saying this "follows the shocking events surrounding FTX and associated corporate entities and the difficult but necessary decision we made as a result to pause most activities on our platform."
The Future of Finances: Gen Z & How They Relate to Money
See: 5 Things You Must Do When Your Savings Reach $50,000
Contagion fears are escalating, and rumors are running rampant about where the next shoe might drop. Who has exposure (and how much) and who is intertwined with FTX are not entirely clear at the moment.
FTX Failure Hurt BlockFi
"With the collapse of FTX, the BlockFi management team and board of directors immediately took action to protect clients and the company," said Mark Renzi of Berkeley Research Group, BlockFi's financial advisor. "From inception, BlockFi has worked to positively shape the cryptocurrency industry and advance the sector. BlockFi looks forward to a transparent process that achieves the best outcome for all clients and other stakeholders."
Take Our Poll: Do You Think People Should Invest In Crypto?
BlockFi, which was bailed out earlier this year by FTX, had halted withdrawals earlier this month.
"It is unfortunate for BlockFi that the white knight that had offered them a lifeline back in June hasn't managed to stay solvent themselves," said Bradley Duke, founder and co-CEO at ETC Group, "in part because of the massive losses accumulated at Alameda Research stemming from the same event — the collapse of Terra Luna and Three Arrow Capital. If FTX had been run by a responsible and experienced management team with the requisite transparency, capital adequacy, asset segregation and operational controls in place, it would probably still be in business."
In its filing, BlockFi said it had more than 100,000 creditors, with liabilities and assets ranging from $1 billion to $10 billion. In the announcement, however, BlockFi said it has $256.9 million in cash, "which is expected to provide sufficient liquidity to support certain operations during the restructuring process."
Some of the creditors listed on the filing include West Realm Shires Inc. (FTX US), which has a $275 million unsecured claim, and the Securities and Exchange Commission (SEC), which has a $30 million unsecured claim.
In February, the Securities and Exchange Commission (SEC) charged Peter Thiel-backed BlockFi with failing to register the offers and sales of its retail crypto lending product, and the company agreed to pay a $50 million penalty and an additional $50 million in fines to 32 states to settle similar charges, according to Feb. 14 press release from the SEC.
"It's tragic what's happened to the many users of BlockFi and other centralized entities that have become insolvent in this broader deleveraging event," said Brent Xu, CEO and co-founder of Umee. "Bankruptcy proceedings like this can take a long, long time to resolve, and so I doubt people will be seeing a return of their funds any time soon."
What's Next?
Xu notes, however, that, unlike centralized exchanges and hedge funds, decentralized finance (DeFi) protocols enable users to see who owns what in real time.
"There is little to no uncertainty in that regard because of the emphasis on transparency," Xu said. "I'm hopeful that our industry can show lawmakers and regulators how DeFi has performed so well so that we can work together to find regulation that is appropriate and which fosters the benefits of, and innovation in, DeFi."
Other troubled platforms include Genesis Global, which announced on Nov. 16 that it was halting withdrawals at its lending business, due to the "unprecedented market turmoil" FTX has created. In turn, Gemini's yield program, Gemini Earn also announced it will not be able to meet customer redemptions within the service-level agreement of five  business days.
"I suspect the final shoe to drop would be Genesis, but the situation there may not be so dire," said Gene Hoffman, president and COO of Chia Network. "These CeFi bankruptcies continue to demonstrate the 'Wall Street bro' mentality that led to the exact brand of centralized finance failures that Bitcoin and Chia were created to avoid. Companies with the proper technology, infrastructure and discipline will continue to thrive."
More From GOBankingRates