Crypto's Biggest Winners and Losers Halfway Through 2023, According to Experts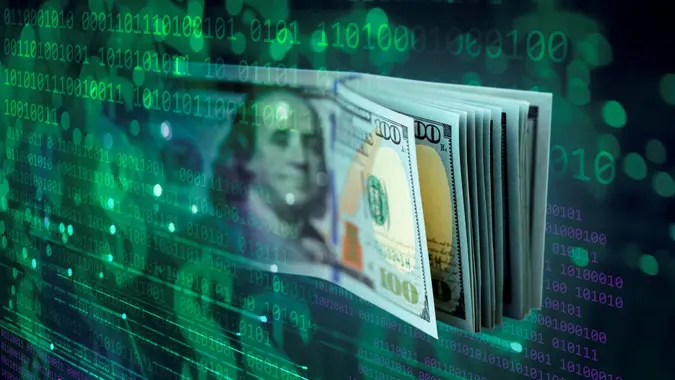 Viorika / Getty Images/iStockphoto
Halfway through 2023, the crypto industry is slowly recovering from the bruises and losses it suffered last year and regaining ground. A very long crypto winter, collapses, millions of dollars lost and, of course, the whole FTX debacle have instilled caution and a loss in confidence in the space for many investors.
I'm a Self-Made Millionaire: These Are the 6 Investments Everyone Should Make During an Economic Downturn
Check Out: 3 Things You Must Do When Your Savings Reach $50,000
Yet, several experts argue that despite the beating the industry took, there are some winners that have either emerged or become even more prominent. Meanwhile, they caution about certain pockets or practices in the industry that can still prove detrimental to investors.
"Obviously the headlines have focused on the daisy chain of collapses that impacted a large number of the centralized players in the crypto industry over the last year, notably Celsius, Voyager and FTX," said Nihar Neelakanti, CEO and co-founder of Ecosapiens. "But I think a somewhat overlooked story in our industry has been how durable the crypto industry has been amid this ongoing banking crisis."
Bitcoin's value proposition, he said, has been reinforced in a profound way to a good many people and organizations that otherwise likely would not have considered it to be an investment hedge to systemic financial issues.
Winner: Bitcoin
Neelakanti explained that Bitcoin of course was born in the flames of the Great Financial Crisis; but, until recently, a lot of investors viewed it as a niche plaything for the tech world.
"No longer," he said. The asset has regained some attention partly because of the recent turmoil in the traditional banking system and the ensuing collapses of several banks.
Take Our Poll: Who Has Given You the Best Money Advice You Have Ever Received?
"I personally know several people who allocated a portion of their own funds to Bitcoin when Silicon Valley Bank collapse happened," he said, adding that the banking crisis shook their understanding of the stability of our financial system. In turn, they sought out Bitcoin because it serves as an insurance policy for these kinds of crises.
"Bitcoin is the ultimate bearer asset — or, I should say, the opposite of a bank deposit in that you can hold Bitcoin in your digital wallet as you would cash in your physical wallet," he added. "It's decentralized, meaning that it's highly secure. It makes sense, in this context, that Bitcoin has performed relatively well since the banking crisis kicked off. So, in a sense, those who now use Bitcoin as a hedge have scored a win when it comes to both investing and indeed securing their own funds." 
Bitcoin was around $28,000 on May 30, up a whopping 68.8% year to date, according to MarketWatch data.
Other events are also buoying the asset, notably the recent news of a potential debt ceiling deal.
Sam North, market analyst at eToro, noted on May 30 that Bitcoin has surged to a two-week high on the back of a potential deal struck by Republicans and Democrats to avoid a U.S. debt ceiling default.
"Having traded below or around $27,000 for the past two weeks, Bitcoin surged early this week to close to $28,000 as investors bought the news of a potential deal to avoid default disaster," he said. "The crypto asset is still below recent levels, however, as markets continue to tread carefully."
Winner: Ethereum and ETH
North noted that Ether similarly saw a price surge, having traded around $1,800 for three weeks and rising  to just shy of $1,900 following the debt ceiling news.
The asset was up a notable 60% year to date, according to MarketWatch data.  
Anthony Georgiades, co-founder of Pastel Network, said the biggest winners are those who have invested in building out incredibly powerful crypto protocols.
"Indeed," he said, "it's the builders who have invested their time and hard work in this industry amid the turbulence and, in turn, who are helping to secure the longer term and powerful vision of the digital asset industry."
He specifically pointed at Ethereum and the massive improvements made to the chain that have taken place over the last several months, notably transitioning Ethereum from proof of work to proof of stake, which, he said, was a huge accomplishment not only in technical terms but also the long-term viability of the chain itself.
"And when coupled with Ethereum's Shanghai upgrade, which added tremendous amounts of utility in terms of staking, the chain became a long-term investment not only for crypto-native users but also for bigger institutions that want to get exposure to this ecosystem," he added. "Those upgrades were huge wins for our industry, propelling us forward at a time of great economic turbulence and regulatory uncertainty, and it's exciting to see!"
Losers: Meme Coins
Meme coins had a huge moment in the sun, peddled by celebrities on social media and enabling many investors to make a quick buck. But, with the numerous scandals and enormous losses that marred the crypto space last year, caution is now the guiding light for many investors.
What's more, meme coins themselves have seen their reputation tarnished due to the rise of rug pulls, a scam in which developers build what appear to be legitimate crypto projects before taking investors' money and disappearing.
Just recently, a new meme coin hit the market in late April: Pepe saw an explosive surge, reaching a market cap of $1.6 billion at one point, according to CoinMarketCap — although on May 30 its market cap was down to $576,125,504.
The surge has prompted some to say a new meme coin season is upon us, which caused other meme coins "to go on spectacular pumps and just as astounding dumps," CoinMarketCap noted.
"For every tale of rags to riches, there's a horror story lurking in the shadows," said Smartblocks chief revenue and marketing officer Mark Fidelman, who added this is where meme coins like Pepe come into play.
"Listen, I get it: The idea of investing in something that's a bit tongue in cheek, a bit fun, it's tempting," he said. "But let me be clear: These are not a safe bet. It's like playing the lottery, except your odds are probably worse. There's no real value, no solid backing to these coins, and the market is ripe for manipulation.
"Don't get me wrong: Some folks have made a quick buck, but countless others have lost their shirts. So, if you're thinking about dabbling in meme coins, just remember: It's a gamble, not an investment."
In the end, experts agree that venturing into the world of cryptocurrencies can be a thrilling and potentially highly rewarding endeavor, if you do it the "right" way.
"By approaching your investments with a serious and well-informed mindset, drawing wisdom from noteworthy wins and losses and prioritizing long-term thinking, you can confidently navigate the complexities of crypto investments," said Mikkel Morch, chairman and non-executive director at ARK36. "Embrace the power of knowledge, strategically diversify your portfolio, safeguard against scams and actively engage with the crypto community. Remember, success in this realm requires continuous learning, adaptability and a steadfast commitment to your investment strategy."
More From GOBankingRates