Dogelon Mars (ELON): What You Need To Know Before Investing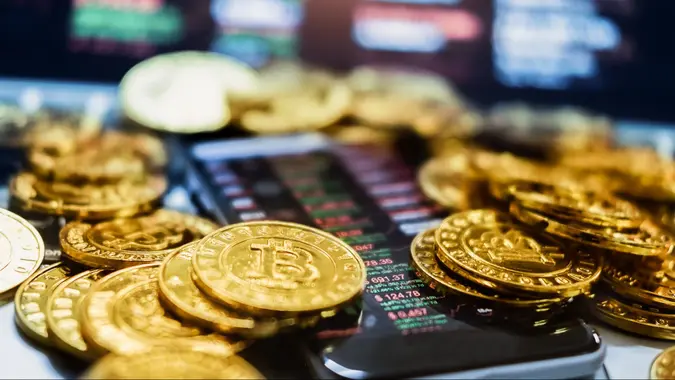 Jirapong Manustrong / Getty Images/iStockphoto
People are often hesitant to invest in cryptocurrencies that lack a roadmap, scaling plan, or practical application.
However, Dogelon Mars doesn't have these problems. The metrics of the project are updated on the currency's official website, giving investors a clear picture of how well the coin is performing.
But does that make Dogelon Mars a good investment? Will it be the next big cryptocurrency? We'll answer your question in this guide.
What Is Dogelon Mars?
Deogelon Mars is a cryptocurrency that has recently come to public light due to its price appreciation. The currency began to trade on Uniswap in April 2021. Considering the token's appreciation since then, investors who bought it in April have enjoyed a hefty return on their investment. 
Coin Distribution
Like Shiba Inu, the creator of Dogelon Mars also sent half the supply of the coin, which amounts to 500 trillion tokens, to Vitalik Buterin, the founder of  Ethereum. There's no indication as to whether Buterin will sell his share or not.
If he does, the price of Dogelon Mars could drop radically. The remaining 50% of the coins were permanently locked on Uniswap with Ether. The creator encourages the community to airdrop the tokens to victims of scams as a way of building community trust and giving back.
Expected Developments in Dogelon Mars
On the currency's official website, the developers promise that there will be rapid developments in this coin, including making it the interplanetary currency.
But Dogelon has yet to develop a product that can add any viability to this claim.
Popularity of Dogelon Mars
Part of the reason that Dogelon Mars has garnered so much attention is that it's a combination of two of the most popular Twitter trends of the past year:  Dogecoin and Elon Musk.
However, the developer says that the currency is not pronounced Doge Elon since "that would be arrogant." Instead, it's pronounced Dog-a-lon, to "prevent any confusion."
But that doesn't seem to be preventing confusion, since the name could potentially mislead many investors into believing that Elon Musk, or the creators of Dogecoin, were involved in the currency.
In fact, in the FAQ section of the website, the creator has confirmed that his name is Elon.
Dogelon Price
As of Jan. 24, 2022, the price of Dogelon Mars was $0.000000787, and the token had a 24-hour trading volume of a whopping $51,248,612.
Moreover, Dogelon Mars had a market cap of over $414 million and ranked at no. 127 as per the CoinMarketCap ranking. There are 554.789,564,765,573 ELON coins in circulation, and the maximum supply of the coins is capped at 1,000,000,000,000,000.
Can Dogelon Mars Reach $0.01?
Looking at the current Dogelon price, it's easy to say that the token will take a long time before reaching $0.01. Whether or not it can reach that price will depend on the development of a viable product by the developer.
It's important to note that the developer plans to make Dogelon Mars an "interplanetary currency." But the transaction fees on Ethereum are a major barrier to this, as investors will need several dollars to send tokens on the network.
Considering this, it doesn't seem like Dogelon will reach $0.01 soon.
How To Buy Dogelon Mars
The best place to buy the token is Uniswap. You need Ether to use Uniswap. Additionally, you should have an Ethereum wallet that connects to Uniswap's website. 
People who don't have cryptocurrency accounts to purchase Ethereum can buy Dogelon from Cypto.com directly.
It's very simple to create your account on these platforms. You only need to enter your email address and choose a password to get started. If you live in the United States, you must provide additional information, like your home address and social security number. You may also be required to enter your driver's license details.
Good To Know

On the coin's website, the founder says that Dogelon is not a meme currency like Cardano, Shiba or Doge. It's a real project that will evolve constantly, and it will begin by undoing the damage scammers have done. However, at the moment, the founder has not introduced or hinted at any product offering that would add validity to these claims.
Is It a Good Investment?
Unlike established cryptocurrencies, there is no particular trading benefit or product being offered by Dogelon Mars, which makes it less than a good investment.
On top of that, Dogelon is a high-risk investment as the currency's price has fluctuated over the last three months. If Buterin sells the tokens gifted to him, that could lower Dogelon's price, leading to a loss for investors. 
Our in-house research team and on-site financial experts work together to create content that's accurate, impartial, and up to date. We fact-check every single statistic, quote and fact using trusted primary resources to make sure the information we provide is correct. You can learn more about GOBankingRates' processes and standards in our editorial policy.