Gemini Earn: What To Do if Your Funds Are Frozen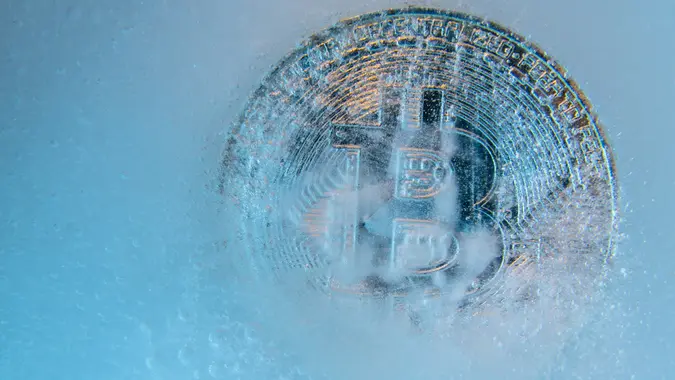 Ja'Crispy / Getty Images
The famous and top-rated cryptocurrency exchange, Gemini, made headlines in November 2022 for freezing the assets of investors enrolled in the Gemini Earn program. This occurred following a complaint from the U.S. Securities and Exchange Commission against Genesis Global Capital LLC and Gemini Trust Company LLC for offering and selling securities to retail investors without being registered to do so.
In Spring 2023, many investors are still looking to get their funds recovered from the Gemini Earn program.
How To Claim Your Frozen Funds From Gemini Earn
If you have money in Gemini Earn and did not receive any funds back, follow these steps:
Recover Your Money From Gemini Earn: Step by Step

Log into your Gemini account.
Click "pending balance".
Review the Master Claim form.
If you want to file a claim for amounts greater than those shown on your pending balance, the Gemini Bar Date Notice explains how to do so. You'll need to submit a claim form with the type and amount of cryptocurrency frozen, among other information.
It may also be helpful to put together detailed records of your crypto stored and traded in your Gemini Earn account and interest accrued.
What Is Earn on Gemini?
Gemini Earn was a program that allowed Gemini customers to loan their crypto assets to Genesis. Genesis invested the crypto and then paid investors interest.
To fully understand how to get your money back from Gemini Earn, it helps to look at the Gemini Earn program and how it worked, along with the bankruptcy court proceedings of Gemini lending partner Genesis.
Gemini Earn was paying investors as much as 8.05% APY on more than 40 cryptocurrencies traded on the platform. The Gemini blog promised users, "You can redeem your cryptocurrency from Earn, keep any interest earned, and transfer your crypto back to your trading account at any time."
Gemini Earn was an opt-in program, which means Gemini could not invest your crypto without your express permission.
Is Gemini Earn Still Available?
In January 2023, Gemini terminated the Earn program. In November 2022, Genesis, the lending partner for Earn, paused withdrawals on the interest-earning platform.
What Happened to Gemini Earn?
Genesis had previously $175 million deposited in FTX. When that trading platform crashed, Genesis lost access to that money. Genesis parent company Digital Currency Group subsequently gave Genesis a cash infusion of $140 million.
DCG, it was reported, also owed Genesis $1.7 billion, which explains why the lending partner froze assets — it all ties back to the FTX crash. Genesis Global Capital ultimately filed Chapter 11 bankruptcy, which could bode well for Gemini Earn users trying to retrieve their frozen assets.
Gemini is exploring options and is working with legal counsel, financial advisors and a Creditor Committee to return all funds to Earn users.
Is Gemini Safe?
The Gemini Exchange platform remains a safe place to invest. According to the Gemini Trust Center, the Gemini Exchange is required to hold capital in excess of customer deposits as part of its licensing through the New York State Department of Financial Services.
Was Gemini Earn Safe?
Gemini Earn was a separate program that is no longer in operation and proved to not be a safe or reliable depository for funds. Gemini Earn and lending partner Genesis were not registered to invest crypto on behalf of customers.
Can You Lose Money on Gemini Earn?
At its prime, investors were earning more than 8% APY on their Gemini Earn investments. But many of those funds are now frozen and inaccessible, although former users should be able to recover their funds.
The Responses of DCG, Genesis and Gemini
In January 2023, the DCG Board of Directors recommended that Barry Silbert be removed from his position. At the same time, Gemini filed an answer in court with additional information regarding fraud committed by Silbert, DCG and Genesis.
On Feb. 6, 2023, Gemini co-founder Cameron Winklevoss tweeted that Gemini contributed as much as $100 million to compensate Earn users. He added that the company has a "framework in place to execute on" when it comes to returning frozen funds.
What If You Haven't Received Your Funds?
If you have not yet received your frozen funds from Gemini Earn, they may be tied up a while longer. In spite of the optimistic tweet from Winklevoss, the Creditor Committee continues to work to maximize creditor recoveries, according to the Gemini Earn FAQ page.
Users of the Gemini Exchange platform were not affected by the frozen funds and can deposit, withdrawal and trade as usual.
Gemini Earn: Latest Update
There is good news for those still trying to recover their funds from Gemini Earn.
On April 11, 2023, Gemini updated its FAQ page to share that the U.S. Bankruptcy Court for the Southern District of New York entered a Bar Date Order in the Genesis bankruptcy proceeding. Deemed "a standard step" in bankruptcy proceedings, it authorizes and directs Gemini to let all users know the organization is filing a Master Claim.
The Master Claim preserves Gemini's ability for its customers to recover their frozen assets as part of Genesis' bankruptcy.
Final Take
If you haven't yet been able to recover your frozen funds from Gemini Earn, you can follow the steps above to double check that your claim is correct. If it's not, you can file for a correction. After that, you may have to wait a while, but you can be confident that your funds will be returned to you.
Information is accurate as of April 13, 2023.
Editorial Note: This content is not provided by any entity covered in this article. Any opinions, analyses, reviews, ratings or recommendations expressed in this article are those of the author alone and have not been reviewed, approved or otherwise endorsed by any entity named in this article.
Our in-house research team and on-site financial experts work together to create content that's accurate, impartial, and up to date. We fact-check every single statistic, quote and fact using trusted primary resources to make sure the information we provide is correct. You can learn more about GOBankingRates' processes and standards in our editorial policy.