Gen Z Is Investing in These Crypto Stocks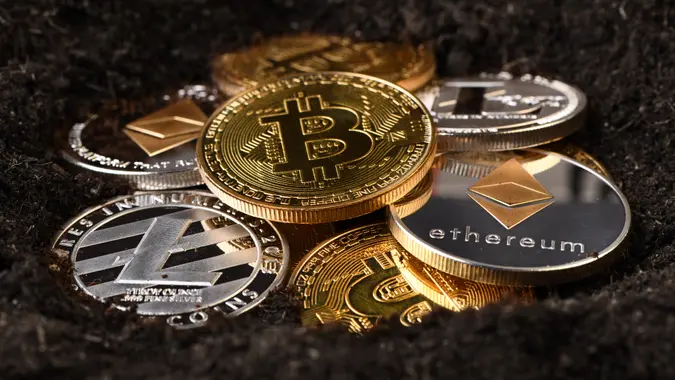 hocus-focus / Getty Images
With crypto still in the ebb and flow of investing trends, it makes sense that Gen Z is still involved. According to a recent report by Apex Fintech Solutions, in Q1 of 2023, many of Gen Z's hottest stocks were crypto-adjacent or related in some way to technology.
"Gen Z is generally pro-tech which is evidenced by their top holdings, including Tesla, Apple, Amazon, Microsoft, Nvidia, Google and Meta," said Connor Coughlin, chief commercial officer at Apex Fintech Solutions. But how does this relate to crypto specifically? Let's explore.
A Closer Look at Gen Z's Investment Behaviors
There are some trends that can be noted by taking a look at the Apex Fintech Solutions Q1 report. Overall, Gen Z has matched other generations in their top investments, with Tesla, Amazon, Microsoft, Nvidia, Google and Meta being the top seven stocks across all generations.
However, there are also ways in which this generation's investing preferences differ. For example, the Silicon Valley Bank collapse of early March 2023 greatly affected Gen Z's stock holdings, as Gen Z sold securities at a much higher rate than older generations. A reason for this could be Gen Z's age and inexperience with bank collapses. Older generations are used to the highs and lows of the stock market, and are more unfazed by something like what occurred with Silicon Valley Bank. Gen Z may be quick to scare when it comes to instability in the banking system due to the fact that Gen Z has no recollection of earlier financial crises.
Beyond that, the aforementioned growing trend has been noted in Gen Z's relationship with cryptocurrency.
"Gen Z loves digital and interestingly, during what was still a volatile quarter for digital assets, the hottest climbing-the-ranks stocks in Q1 were cryptoeconomy company (COIN), a Bitcoin ecosystem provider (MARA) and a cybersecurity business (CRWD)," Coughlin said.
Top Crypto Stocks Among Gen Z
Here's a closer look at he cryptocurrency and digital asset stocks favored by this generation.
COIN
Coinbase, listed as COIN, is one of Gen Z's trending stocks for 2023. Coinbase is the largest crypto exchange service by volume in the United States. Perhaps one of the most well-known of the crypto service platforms, it is no surprise that Gen Z is investing in Coinbase.
MARA
MARA, or Marathon Digital Holdings, is a bitcoin ecosystem provider. MARA specializes in the mining of cryptocurrencies. MARA has been a trending stock for Gen Z recently and is noted as a stock to buy as of 2023.
CRWD
CrowdStrike Holdings (CRWD) is an American cybersecurity technology company. According to the Apex Fintech Solutions report, it has been recognized as a trending stock for Gen Z. One reason for this uptick in CRWD holdings may be a result of CrowdStrike's 2023 report on the surge of cybersecurity threats. Cybersecurity threats continue to be a relevant issue in today's society.
More on Gen Z and Investing
Gen Z is the most technologically literate of all generations. They are investing more than previous generations ever had, starting at a young age. One factor behind this is their access to resources.
Gen Z has Google, TikTok and YouTube at their disposal, and these social media platforms connect them to financial literacy experts. These social media figures can help guide Gen Z through the complicated process of building an investment portfolio. In fact, it may be the trendiness of investing that draws Gen Z to the stock market.
Many of Gen Z choose to invest because they are scared of FOMO, or fear of missing out. They want to be involved in investment just as their peers. Cryptocurrency is an ongoing trend and is especially appealing to Gen Z, who want to be one of the first to understand crypto and its wealth-building potential.
More From GOBankingRates