What Is Grayscale Bitcoin Trust?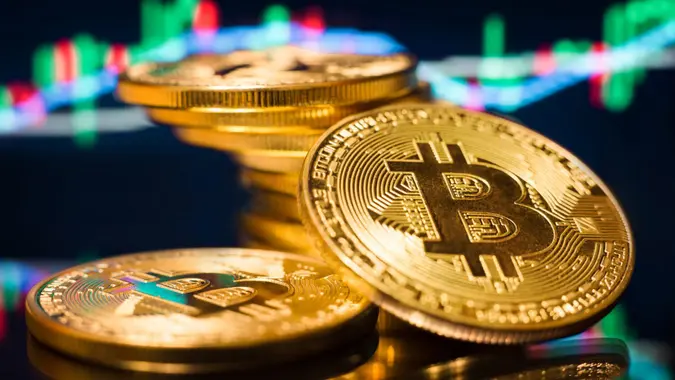 24K-Production / Getty Images
Bitcoin and crypto markets have evolved beyond what most could have imagined a few years ago. To fresh college graduates and retirees alike, bitcoin has become a household name.
One aspect that has kept people from buying crypto, however, has always been systemic trust. How do people know their money is safe while countless crypto scams emerge around this market? 
Well, that's where Grayscale Bitcoin Trust enters the picture.
What Is Grayscale Bitcoin Trust?
GBTC is an over-the-counter investment product that only invests in bitcoin. It is offered by Grayscale Investments, the world's largest crypto asset management company. GBTC trades as a security so it can be bought and sold like a stock. In this way, it acts as an alternative to buying bitcoin on cryptocurrency exchanges.
What Are Grayscale Bitcoin Trust's Holdings?
GBTC deals exclusively with bitcoin. It uses its investors' capital to purchase and store bitcoin safely in secured custody with Coinbase. However, Grayscale Investments — the asset management company — has several other products dedicated to individual cryptocurrencies. Some of the other cryptocurrencies included are:
Grayscale Ethereum Trust
Grayscale Chainlink Trust
Grayscale Litecoin Trust
Grayscale Filecoin Trust
Grayscale Stellar Lumens Trust
Is Grayscale Bitcoin Trust a Bitcoin ETF?
Grayscale Bitcoin Trust is not a bitcoin ETF, although its ultimate goal is that it will transition to become one, according to the Grayscale website.
What Are the Benefits of Buying Grayscale Bitcoin Trust?
GBTC offers a number of benefits for its investors, including liquidity, convenience, security and IRA eligibility.
Liquidity
One of the main benefits for investors is that they can buy and sell GBTC from their normal brokerage accounts, so crypto and other assets can all be held together.
Convenience
Another advantage is that investors don't need to go through the process of signing up for a crypto exchange or setting up a crypto wallet. All of the management elements are handled by Grayscale.
Security
Through its partnership with Coinbase, Grayscale stores the digital assets of its clients in cold storage, which is regarded as the safest way to hold exposure to digital assets. In exchange for this, Grayscale charges a 2% annual management fee.
IRA Eligibility
People can invest in GBTC through their individual retirement accounts if permitted by the provider. Pacific Premier Trust, Millennium Trust and The Entrust Group are some examples of providers that allow it.
How Do I Buy Grayscale Bitcoin Trust Shares?
Both institutions and individual investors are free to buy and sell GBTC on the OTCQX Best Market. These transactions can be completed through brokerage accounts that offer OTC trading. Fidelity Investments and Robinhood are brokerages where customers can buy GBTC. Others do not. For example, Vanguard stopped clients from purchasing OTC securities in April of this year.
Is Grayscale Bitcoin Trust a Good Investment?
According to Grayscale Investments, its investment products can go through periods where they trade above or below the true value of assets held. Currently, this is the case according to Grayscale. As of Sept. 8, the holdings per share is $17.77 and the market price is $12.11, representing an upside of 46.7%.
While GBTC is a good method for investors to get instant exposure to bitcoin, its appeal as an investment has its limitations. For example, the asset managers of mutual funds and ETFs have an average expense ratio of just 0.4%, according to Morningstar. For GBTC, it's 2% annually.
Another more appropriate comparison is cryptocurrency exchanges. One of the top crypto apps, Coinbase, charges a transaction fee of 1% instead. This option may be more favorable for long-term holders as they only incur an additional fee when they sell.
Final Take
GBTC displays both positive and negative characteristics. As the price is not 100% correlated to the price of bitcoin, it may nudge some investors toward a DIY approach instead of buying GBTC. For others, it can be a perfect solution to get a little exposure to bitcoin, as all assets can be tracked from one platform.
Editorial Note: This content is not provided by any entity covered in this article. Any opinions, analyses, reviews, ratings or recommendations expressed in this article are those of the author alone and have not been reviewed, approved or otherwise endorsed by any entity named in this article.