How Much Money Do You Have To Invest To Make Money on a Meme Crypto?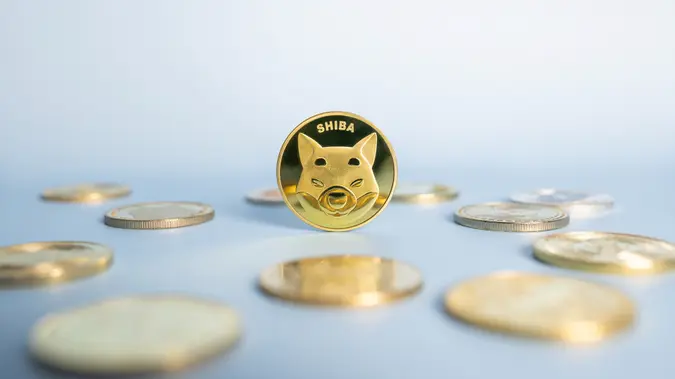 salarko / Getty Images
Cryptocurrency is still a wildly divisive topic in the investment community. While many online proponents suggest that crypto will become more important than currencies like the U.S. dollar in the future, others believe that crypto is absolutely toxic and should be avoided at all costs. For example, the Oracle of Omaha himself, billionaire Warren Buffett, has said that Bitcoin is "probably rat poison squared," and fellow billionaire investor John Paulson has said that all cryptos "…will eventually prove to be worthless."
Cash App Borrow: How To Borrow Money on Cash App
Find Out: Here's How Much Cash You Need Stashed if a National Emergency Happens
But even beyond the big crypto names like Bitcoin and Ethereum are a number of so-called "meme" cryptocurrencies which are even more speculative. Meme cryptos typically start out as an homage or even as a joke, such as Dogecoin. Unlike the major players in the industry, they don't support any substantive projects but are merely created for fun. But this doesn't mean that money can't be made — or lost — in them. And for every meme crypto naysayer, there are plenty of investors who have turned a small purchase into some real money. So, how much money do you have to invest to make money on a meme crypto? Read on to find out.
How Much Do I Need To Invest In a Meme Cryptocurrency?
In theory, there is no minimum that you need to invest in any cryptocurrency, including meme currencies. Many firms offer the purchase of fractional amounts of crypto, and even for those that don't, many cryptos trade for less than $1 each, making them accessible to any investor. Shiba Inu, for example, would have turned those who invested $2.05 in the crypto into millionaires if they held on until it peaked in 2021. Of course, the odds of that happening again with any crypto are slim, as are the odds that as an investor you would have actually made anywhere near that amount of profit. The real answer, when it comes to investing in a meme crypto, is that you should put as much as you can afford to lose into it. That should be enough to generate a return if you make the right bet, but it also shouldn't wipe out all of your investment capital in the event that the crypto underperforms.
Options: 6 Alternative Investments To Consider for Diversification in 2022
How Much Should I Invest In a Meme Crypto?
As with any investment, the more you put into a meme crypto, the more potential return you have. However, you're also increasing your risk. It's one thing to spend a few hundred dollars that you can afford to lose to buy a meme crypto. But if you put all of the money you have in your retirement fund into crypto, you're taking an enormous risk that could ruin your financial future. 
The correct answer as to how much you should invest in a meme crypto will vary dramatically from investor to investor. This is something you should definitely discuss with your financial advisor. But in a general sense, you'll want to invest enough that can make a difference to your portfolio, but not so much that a crypto tanking in price devastates your entire investment strategy. For most investors, according to many industry experts, this means a total crypto allocation of 1% to 5% of your portfolio. How much of that you would want to put into meme cryptos vs. the more established currencies is subject to your own risk tolerance. 
What Are the Risks of Investing In a Meme Crypto?
Simply put, the biggest risk of investing in a meme crypto is that you could lose all of your invested money. Even the biggest and most well-known cryptocurrencies, like Bitcoin and Ethereum, are volatile and risky. Those two market-leading cryptos, which collectively comprise nearly two-thirds of the market cap of the entire crypto universe, are currently trading down about 37% and 65%, respectively year-to-date in 2022. If large, popular and well-known cryptos like these can lose so much of their value rapidly, meme cryptos can do so even more quickly. Most cryptos, especially meme cryptos, are propped up on speculation only rather than the real-world revenues and earnings that support stock prices, for example. This means that when sentiment changes, meme cryptos can fall out of favor overnight. 
Shiba Inu is a great example. Investors the world over were amazed by the unbelievable 49 million percent gain the crypto returned in 2021. However, those who piled into the meme crypto at its peak are now sitting on equally unfathomable losses of 87%, with a 71% dropping coming in 2022 alone. 
At the end of the day, meme cryptos are even more volatile — and speculative — than coins like Bitcoin and Ethereum. At least those cryptos have a working, viable purpose in the blockchain, unlike meme cryptos, which were often created for purely whimsical purposes and are the domain of pure speculators only. But if you can afford to lose a few bucks, you can spin the wheel on a meme crypto and hope that your number comes up.
More From GOBankingRates