Is Investing in Cryptocurrency Right for You? How To Decide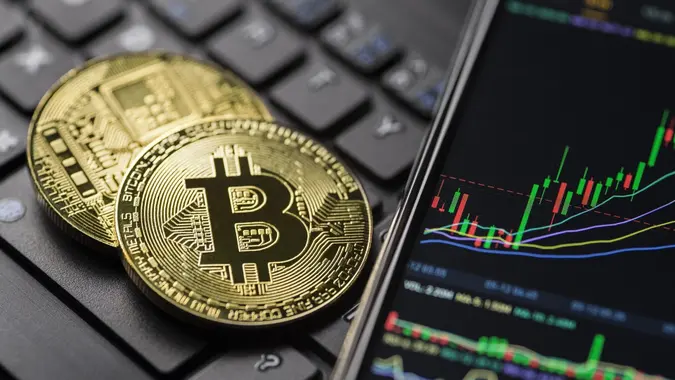 dulezidar / iStock.com
Cryptocurrency has experienced a bit of a seesaw year. Despite the highly publicized collapse of cryptocurrency exchange FTX in 2022, meme-inspired cryptocurrency, including the Pepe Coin, are growing in popularity among crypto investors. 
There are a fair amount of wins and risks associated with investing in crypto, but how do you know what makes for a smart investment?
Here's how you can decide whether you should invest in cryptocurrency. 
Ask This Question Before Investing in Crypto
If you're on the fence about investing in cryptocurrency, CoinLedger CEO David Kemmerer recommends thinking about your investment goal. 
Why do you want to invest in crypto? Is it because it's popular or are there other high rewards that are appealing to you? Once you understand your investment goal and what you want to get from it, Kemmerer said, you can better decide whether you should invest in crypto or channel your funds to other options. 
Pros and Cons of Crypto Investing
There are a few pros and cons that come with investing in cryptocurrency.
Pro: Accessible and Protects Against Inflation 
Two of the biggest pros crypto investing has in its favor are its accessibility and protection against inflation. 
Compared to physical currency, crypto is much more accessible. As long as you have an internet connection, you can easily move crypto to other wallets or fiat currencies. 
Cryptocurrency also protects against inflation.
"There is a hard cap on the number of coins that can be minted," Kemmerer said. "With the rise in crypto popularity, there will be an increase in demand. In turn, this sees a rise in value keeping up with the market demand, hence preventing inflation."
Con: Volatility 
One of the key words associated with cryptocurrency is risk. While most investments face some form of risk, Michael Silberberg, head of investor relations at AltTab Capital, said the volatile nature of crypto means many digital currencies could lose all value. 
While it's easy to buy and move crypto to a self-custody cold storage wallet, Silberberg said, it still takes some work to do. Any mistakes could cost you your entire investment. 
Pro Tip: Do Your Research Before Investing
Aside from considering your investment goals, you are strongly recommended to do your research and educate yourself before investing in any form of cryptocurrency.
Silberberg recommends starting your education by understanding each type of cryptocurrency and what sets it apart. This includes advantages, disadvantages and use cases. 
Till Wendler, co-founder at peaq, recommends looking into the fundamentals and vision behind every token. 
"Polkadot's $DOT token has governance functions and is crucial for developers in the ecosystem for connecting their blockchains with Polkadot's main relay chain," Wendler said, "so the value is very clear-cut, and it drives the demand." 
Once you've educated yourself and decide to invest, start small. 
"A common refrain is that the first step is to get off zero," Silberberg said. "An investor should measure their position size to be risk appropriate for entering a highly volatile asset class and never invest what they can't stand to lose."
More From GOBankingRates