Kishu Inu Coin: What It Is, What It's Worth and Should You Be Investing?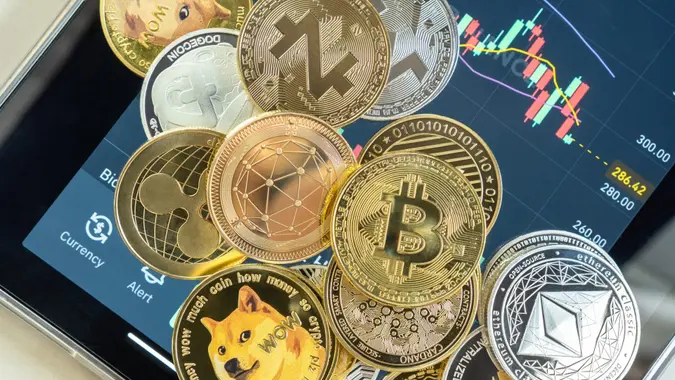 Chinnapong / Getty Images
Kishu Inu coin is a cryptocurrency that is commonly known as KISHU. The currency is said to be influenced by Dogecoin, which is another meme-based currency using a dog breed — the Shiba Inu — as a mascot.
According to the Kishu Inu coin whitepaper, the coin aims to become a futuristic cryptocurrency. The developers argue that other similar coins lack future-proof qualities.
But what is the Kishu Inu coin price expected to look like in the upcoming months? Here's a detailed look at what you need to know about the Kishu Unu coin.
What Is Kishu Coin?
Kishu Inu is a cryptocurrency that aims to introduce holders to futuristic concepts like decentralized exchanges, non-fungible tokens and frictionless yield. Kishu made history when it surpassed $2 billion in market cap and gathered 100,000 holders.
Some Kishu Inu products are:
$Kishu Token: The Kishu token has a 2% redistribution fee for holders. Every time there is a transaction, the people who hold Kishu currency earn more tokens automatically.
Kishu Swap: Holders can trade their tokens for other tokens.
Kishu Crate: It is the non-fungible token marketplace where holders can earn NFTs by staking Kishu. The platform features artists from a number of community contests.
These products make Kishu coins different from many other similar coins that are often built on hype and the "fear of missing out." Meanwhile, the developers of Kishu Inu want it to be relevant even in the future.
What Is the Kishu Inu Coin Price?
The Kishu Inu coin price is $0.000000001356, as of March 11, 2022, a 1.37% decrease from its last price. The coin has a $1,545,845 24-hour trading volume and a total supply of 100,000,000,000,000,000, or 100 quadrillion.
The currency's all-time high price in May 2021 was around $0.000000017547. Meanwhile, its all-time low was around seven months ago in April 2021, at $0.000000000069.
Is Kishu Inu a Good Investment?
When Kishu Inu promoted the crypto coin in April 2021 as the big brother of readily famous Dogecoin, enthusiasts wondered if it would be just as popular as the Elon Musk-backed coin. Will it be the next big cryptocurrency? In just the first month of its release, Kishu Inu attracted over 100,000 investors.
However, investors have previously seen the ups and downs of Dogecoin in the crypto market. That then often raises the question: Is Kinsu Inu a good investment? It seems so.
Good To Know

Although Kishu might seem like a lucrative opportunity right now, keep in mind that it is still a meme coin at the end of the day. You should keep the market volatility in consideration before you put your money into the token.
For one, the coin is trying to differentiate itself from other meme coins by offering features that have importance in the real world. Some of these include the Kishu Crate and the Kishu Swap. Also, Kishu holders can get passive returns by earning a 2% redistribution fee for every transaction.
Secondly, Kishu is among the few meme currencies to have a capped supply. With 100 quadrillion tokens in circulation, the Kishu supply is limited. Experts see a fixed supply as a hedge counteracting inflation.
Digital Coin Price predicts that the Kishu Inu coin price will be $0.0000000167 in January 2025. However, it is important to note that being a meme cryptocurrency, Kishu Inu is subject to volatile changes. Therefore, you should be careful when investing in it.
Is Kishu Inu a Legitimate Cryptocurrency?

Yes, Kishu Inu is a legitimate cryptocurrency. It has official validation and recognition in the crypto market. You can purchase it through all major crypto exchanges, such as ZT, LBank, Gate and Uniswap.
How To Buy Kishu Inu Coin
Since Kishu Inu is traded on all major exchanges, you can buy it by following these steps.
Step-By-Step Guide

Make an account on a major Fiat-to-Crypto Exchange exchange, such as Coinbase.
After you have registered and completed the steps for identification, deposit money into your account.
Use your fiat currency (dollars, euros, etc.) to buy Ethereum.
Make an account on an Altcoin exchange since Kishu is an altcoin. Some good examples are BitForex and OKEx.
Transfer your ETH to the account.
Then, trade ETH for Kishu. Search for Kishu in the search bar of the altcoin exchange and you will see the KISHU/ETH pair.
You will see the Kishu Inu coins in your wallet. If you want to keep your coins secure, consider putting them in a hardware wallet. You can also sell your coins whenever you want.
Alternatively, you can hold on to your coins since holders get a 2% redistribution fee.
Our in-house research team and on-site financial experts work together to create content that's accurate, impartial, and up to date. We fact-check every single statistic, quote and fact using trusted primary resources to make sure the information we provide is correct. You can learn more about GOBankingRates' processes and standards in our editorial policy.