Madonna, Snoop Dogg Among Celebs Named in Bored Ape Yacht Club Lawsuit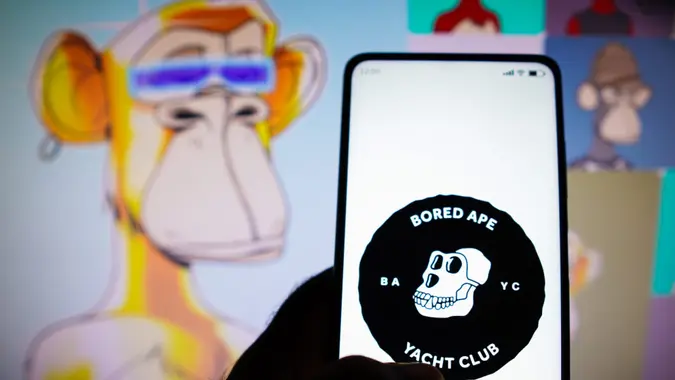 Rafael Henrique/SOPA Images/Shutterstock / Rafael Henrique/SOPA Images/Shutterstock
Yuga Labs, the creator of Bored Ape Yacht Club (BAYC) – the mega popular NFT collection that is somewhat a status symbol — was sued in a class action lawsuit along with a slew of celebrities who had endorsed them. They include Madonna, Snoop Dogg, Paris Hilton, Jimmy Fallon, Serena Williams, Kevin Hart, Justin Bieber and Gwyneth Paltrow, according to the filing.
Crypto on the GO: Check Out the Latest on All Things Crypto
Learn: 5 Things You Must Do When Your Savings Reach $50,000
This is the latest lawsuit involving celebrities who have endorsed or hyped crypto, crypto products or crypto platforms.
Suit: BAYC Used Celebs To Lure Investors
The recent action was filed in the U.S. District Court for the Central District of California, on behalf of investors who purchased or acquired the Yuga securities "and who were damaged thereby," according to a statement.
Take Our Poll: Do You Think People Should Invest In Crypto?
The complaint alleges that the defendants made false and misleading statements and used celebrity promoters "to lure in unsuspecting investors so Yuga insiders could sell the unregistered Yuga securities in violation of the Securities Act."
The lawsuit adds that on Nov. 13 the price of the ApeCoin Token hit a low of $2.70, a 90% drop from its height during the class period, which it has not been able to recover. On Nov. 14, the floor price of the company's NFT collections, including the BAYC and Mutant Ape Yacht Club, fell to similar class period lows.
The suit further claims that celebrity promotions of cryptocurrencies are fraught with problems and that BAYC relies heavily "on the perception that joining the club (i.e., buying a BAYC NFT) brings investors status and provides them access to events, benefits and other lucrative investment opportunities exclusive to BAYC holders. The exclusiveness of BAYC membership was entirely based on inclusion and endorsements of highly influential celebrities."
BAYC is a collection of 10,000 Bored Ape NFTs. It lives on the Ethereum blockchain and each Bored Ape character has individual traits and characteristics. The most expensive BAYC NFT is Bored Ape #8817, which sold for a whopping $3.4 million, according to BlockGeeks. 
Other Lawsuits vs. Celebrities
There have been several other recent instances of celebrities who hyped cryptos or crypto platforms and who found themselves in hot legal waters — however, the most recent high-profile case was dismissed.
Indeed, just last week, a federal judge dismissed the proposed class action lawsuit against the founders of the cryptocurrency EthereumMax, as well as celebrities such as Kim Kardashian and boxer Floyd Mayweather Jr., over their promotion of the cryptocurrency on social media, CNBC reported.
While the judge said there were "legitimate worries about celebrities' ability to readily persuade millions of undiscerning followers to buy snake oil with unprecedented ease and reach," he added that the law also "expects investors to act reasonably before basing their bets on the zeitgeist of the moment," CNBC reported.
This most recent example is now pushing some experts to think this decision might be a sign of what the future might hold for similar cases.
"It's important to look at what happened with the Kim Kardashian case last week," said Jeffrey Blockinger, general counsel at Quadrata. "The case was thrown out, and the judge was sympathetic to the defendants. It appears in the Yuga Labs case that they're trying to state a securities-fraud claim alleging that these celebrities colluded with MoonPay and Yuga Labs to pump the price of Bored Ape NFTs.
"There are very technical aspects to the broader legal issues that have to be proven still. And the fact that the SEC hasn't come out with a stated position on NFTs makes this all feel like a cart-ahead-of-horse issue. The outcome will likely be similar to the Kardashian case — that is, that the judge will likely rule that investors are expected to act reasonably, even during the zeitgeist of any particular moment."
FTX Suit Includes O'Leary, Brady
Of course, in November, FTX took several celebrities who had endorsed the firm down with it. On Nov. 15, plaintiff Edwin Garrison filed a class-action lawsuit against Sam Bankman-Fried, Kevin O'Leary, Tom Brady, Gisele Bundchen, Stephen Curry, the Golden State Warriors, Shaquille O'Neal, Udonis Haslem, David Ortiz, Trevor Lawrence, Shohei Ohtani, Naomi Osaka and Larry David. The lawsuit called them "all parties who either controlled, promoted, assisted in, and actively participated in FTX Trading LTD and West Realm Shires Services Inc."
"The deceptive and failed FTX Platform was based upon false representations and deceptive conduct," the filing alleged. "As a result, American consumers collectively sustained over $11 billion in damages."
More From GOBankingRates