NFT Games: How Easy Is It To Play?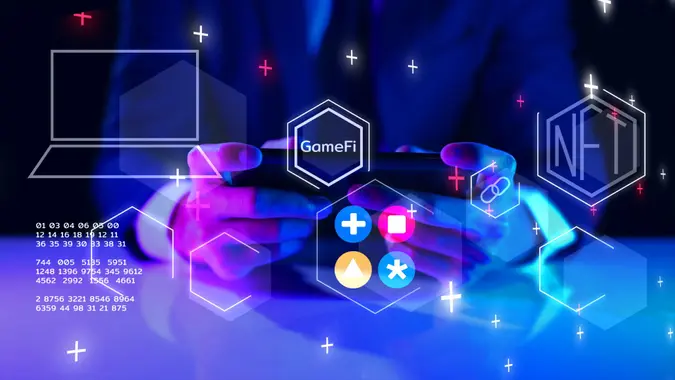 If you're interested in NFTs, you probably know that collectors use them to authenticate ownership of artwork and other collectibles on the blockchain. But that's not all they can do.
NFTs are a big part of the still-emerging play-to-earn model of gaming, also called P2E or GameFi. In fact, gaming showcases the functional potential of NFTs in digital economies better than just about any other application.
If your knowledge of video games plateaued at "Call of Duty" or "Mario Kart" but you're ready to move on to P2E, you should expect a bit of a learning curve. Here's what you need to know to start playing and earning with NFT gaming.
In the P2E Gaming Economy, Money Flows in Reverse
Whether you were putting a quarter in an arcade game in the 1980s, buying a console cartridge in the 1990s or subscribing to a multiplatform pass more recently, gaming has always been a pay-to-play endeavor.
As the name implies, play-to-earn gaming rewards game play instead of charging for it. So how, exactly, do you profit by playing?
According to CoinMarketCap, NFT games look like traditional video games in the way they're designed, but they give users much greater control over in-game assets like weapons, vehicles, land, characters and skins.
That gives players the unique opportunity to add value to the game as they play. In exchange, they can take value out of the game by claiming ownership of game assets that they create, buy or unlock along the way.
Just as NFTs can authenticate the originality of artwork, memes and other collectibles, they also can validate the ownership of game assets. Creators launch P2E games on blockchains and anchor them to economies powered by digital assets, which makes NFTs the perfect mechanism for preserving and identifying ownership of those assets.
Costs and Risks Change With the Crypto Tide
If you're ready to leverage your gaming prowess to earn crypto rewards through P2E, be prepared to shell out some cash up front. How much depends not only on the game, but on the value of the game's corresponding cryptocurrency at the time you join.
Axie Infinity, for example, got so huge in 2021 that players were routinely pulling in hundreds of dollars a month in crypto rewards.
CoinMarketCap reported that on Oct. 27, 2021, the cheapest Axie on the market was $98 — and players needed three to get started. Had you bought into the game back then, you would have had to recoup nearly $300 through game play before you could start making money. But initiation could cost a whole lot more or less than that.
Just like the cryptocurrencies they depend on, volatility is part of the package with NFTs. According to Blockworks, Axies sold for a minimum of $340 at their peak; but, by July 7, 2022, you could get one for just $6.
That means some users paid $18 to join and others paid $1,020.
Keep in mind that there's no guarantee that you'll ever earn anything and, according to Binance Academy, it is possible to lose money with NFT gaming. NFTs are speculative. Treat them like a crypto investment and don't spend what you can't afford to lose.
How Do I Get Started?
There's no shortage of ETF games to choose from. Axie Infinity is No. 3 in terms of market cap, according to Chainplay. The Sandbox and Decentraland — metaverse games based on the Ethereum blockchain like Axie — take the top two spots.
There are, however, many, many other choices beyond those. So, which one is right for you? The simplest winnowing strategy is to pick a genre and filter the choices from there. Genres include:
Metaverse games
Monster battlers
Fighting games
Trading card games
Creation games
Sci-fi games
Real estate mogul simulators
Racing games
Role-playing games
Battle royales
To get started, you have to have a crypto wallet loaded with enough of the gaming platform's preferred cryptocurrency to cover the entry costs. If you can't afford a character, land or whatever the initial asset requirements happen to be, many games have so-called "scholarship programs," which front the assets in exchange for a portion of future earnings.
Is This a Fad, an Investment, a Side Hustle or What?
According to Cointelegraph Magazine, most current NFT games simply aren't good. They tend to be clunky, poorly designed, frustrating or visually unappealing. Until that changes, the P2E segment won't command anything more than a sliver of the $180.3 billion worldwide gaming market.
A real challenge to mainstream gaming is probably still a few years out. Today's headline is that gaming is the biggest driver of NFT growth — and therefore the growth of cryptocurrency. Last year, 22% of all NFT trading dealt with gaming. According to Creative Bloq, 50% of Axie Infinity users had never used cryptocurrency before playing an NFT game.
If you meet someone who dabbles in crypto and NFTs, it's very likely that gaming was their first introduction to one or both.
On top of that, P2E is already bringing crowdfunding to the metaverse. For example, the blockchain gaming platform Gamestarter lets independent game developers fund their projects by offering investors ownership of pre-sale in-game assets.
Those assets, of course, are NFTs.
More From GOBankingRates