10 Popular NFTs You Can Begin Collecting Now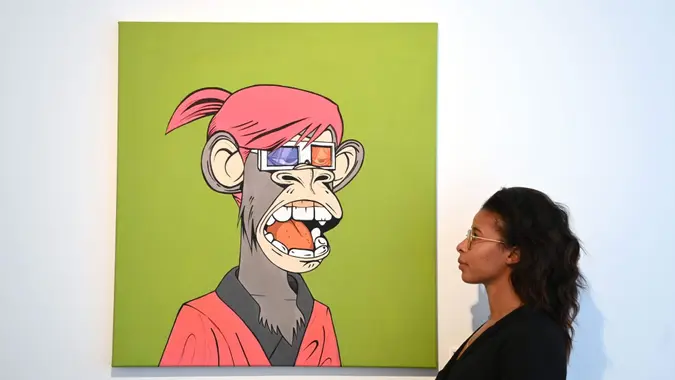 ©FACUNDO ARRIZABALAGA/EPA-EFE/Shutterstock
Non-fungible tokens are a fairly recent invention, but their popularity has gone through the roof. Non-fungible tokens, or NFTs as they are more commonly referred to, are unique, digital collectibles whose authenticity is tied to the blockchain. If that sounds like a lot of mumbo jumbo to you, don't worry, you aren't alone. Many who are just learning about NFTs have the same reaction, wondering how a digital work of art can command such high prices.
Depending on which side of the fence you're on, the NFT explosion is either a passing fad or the first wave of what promises to be a completely viable asset class. The bottom line is that you should do your homework before you get involved in the NFT market and understand both the risks and the potential rewards. If you're hankering to get involved, here are 10 of the most popular NFTs you can collect now.
1. CryptoPunks
CryptoPunks are digital versions of punks. The NFTs themselves come in the form of 88 zombie punks, 24 ape punks and nine alien punks, and are pixelated images of digital art. CryptoPunks was launched way back in 2017, which is a lifetime in the NFT world. For those that don't understand why you'd want to own a pixelated "punk," they're actually quite popular, with celebrities ranging from Serena Williams, Jay-Z and Snoop Dogg owning the NFTs. The highest-priced CryptoPunk NFT was an alien avatar that sold for a whopping $7.58 million.
2. Doodles
Doodles are digitized versions of artwork from illustrator Burnt Toast. Described as a "community-driven collectibles" NFT project, there are currently some 10,000 Doodles available to purchase. Doodles are hand-drawn images of everything from apes and mascots to cats and aliens, with fanciful color palettes. Owning a Doodle gives the collector the right to participate in community activities as well.
3. Bored Ape Yacht Club
The Bored Ape Yacht Club offers NFTs that are popular among the celebrity set, with a client list of famous names ranging from Jimmy Fallon and DJ Khaled to YouTuber Logan Paul. The BAYC consists of animated apes with varying characteristics created by Yuga Labs. Prices for the unique collection of 10,000 Bored Apes, which was only launched in April 2021, have been rocketing higher, with the top price so far hitting $2.3 million. NFT owners are granted membership cards that offer them special perks, such as invitations to private digital concerts.
4. Mutant Ape Yacht Club
If you'd rather have a "mutant" ape than a "bored" ape, you might be more drawn to this NFT collection. A second effort from the makers of the Bored Ape Yacht Club, the mutant collection was released in August 2021. The original 10,000-strong collection sold for $96 million. But the collection also offers three types of "Serum," which can be used to "mutate" the original Bored Apes into Mutant Apes. Currently, Mutant Apes aren't quite as popular as the Bored Apes and can be had for about $32,600.
5. Axies
Blockchain-based game Axie Infinity uses Axies within the game that are both used for gameplay and are NFTs themselves. Players can either buy or breed an Axie within the game. To breed an Axie, you'll need both the AXS token that's required to play the game and another token known as SLP, or "smooth love potion." Using these two tokens together allows players to breed Axies. Axies have sold for as much as $820,000.
6. RTFKT Clone X NFT Collection
Does a 3D, digital sneaker NFT sound like something you'd be interested in? How about if the maker of these NFTs was acquired by no less than Nike? That's right, in December 2021, sportswear giant Nike acquired RTFKT, interested in how it could use its 3D digital sneakers, already used in games like Fortnite 3D, for future metaverse applications. Understandably, prices of the RTFKT's Clone X NFTs went crazy, with the floor price now at 6 ETH, or about $16,000.
7. Decentraland
If you've heard of the metaverse and want to grab a piece of it, you might be interested in Decentraland. This virtual world runs software on Ethereum and allows users to buy and sell digital real estate, among other actions. The 3D space within the world is called LAND, which is an NFT used to determine real estate ownership within the platform. MANA is the cryptocurrency used to purchase real estate and make other transactions within the world.
8. MonkeyBall
If you're looking for one of the newest NFT opportunities out there, MonkeyBall may have some appeal. The next-gen esports game uses NFT monkeys, each with its own unique abilities, appearances and characteristics, to compete on a four-monkey soccer team. The game's MonkeyBucks currency can be used to buy in-game items or breed additional NFT monkeys.
9. Cool Cats
Based on the Ethereum blockchain, Cool Cats is a collection of 9,999 unique blue cat animations. The uniqueness of each NFT comes from the cats' expressions, attires and traits. Mike Tyson is among the celebrity names owning a Cool Cat NFT. To date, the highest-selling Cool Cat NFT was a zombie version auctioned for a "cool" $3.5 million. Something that makes the Cool Cats NFT collection unusual is that developers can breed characters for future generations.
10. Meebits
Meebits were created in May 2021 by Larva Labs. In a fashion similar to CryptoPunks — and created by the same developers — Meebits are pixelated, 3D avatars that can be used in the digital world. There are 20,000 unique Meebits, with average valuations of about $14,700. However, some Meebits can trade for 100s of ETHs, or about a quarter-million dollars. The Meebits also exist on a no-fee trading marketplace and come with extras, such as high-resolution renders and access to a T-pose OBJ file.
More From GOBankingRates