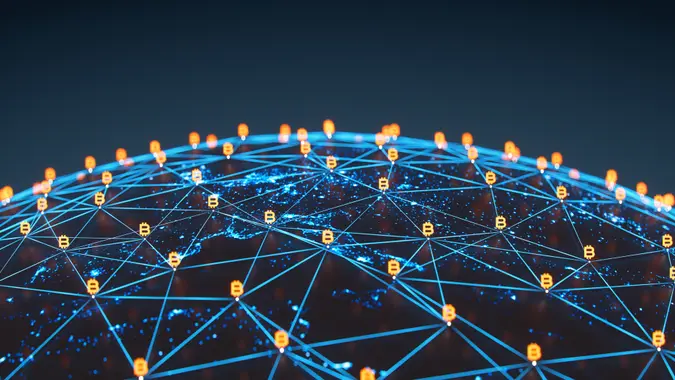 imaginima / Getty Images/iStockphoto
In the world of NFT gaming, you can use different cryptocurrencies to get started, earn currencies and purchase or sell NFTs. Many of the top NFT games use, Solana, or SOL, which is the cryptocurrency that runs on the decentralized blockchain by the same name.
Solana's blockchain technology can also be used to create, house, trade, buy and sell non-fungible tokens in the metaverse or in NFT gaming.
Many play-to-earn, player vs. player and other NFT games run on the Ethereum blockchain. But Solana also has a growing collection of NFT games available. Some Solana games use SOL as their crypto of choice, while others have proprietary tokens.
As the fastest cryptocurrency on the market, with lower fees than some other cryptos, Solana lends itself well to NFT gaming. And, since experts predict that SOL could reach prices as high as $105 in 2022, playing NFT games to earn SOL may not be a bad idea if you're looking to earn extra cash through NFT gaming.
If a game on the Solana blockchain doesn't use SOL, though, that doesn't mean it's a bad investment of your time or money. Many of the best Solana games are free to get started and trade in the currency of that specific game.
8 Best Solana NFT Games
What are the best Solana games available in terms of profitability and, of course, fun?
DeFi Land
Star Atlas
Genopets
SolChicks
Space Falcon
Cryowar
Zoolana
Void
DeFi Land
Widely reviewed and mentioned on many lists of the best Solana NFT games, DeFi Land is similar in vein to the popular Facebook agriculture game, Farmville. If you spent hours of your life several years ago dressing up your sheep or trading eggs on Farmville, DeFi Land could be a great game for you.
DeFi Land, if you haven't guessed, is an agriculture simulation game. You buy in-game seeds, plant them and, as your crops grow, you can earn money. If things go wrong, as they sometimes will for any farmer, you also stand to lose money. Your success will come from choosing the right coins, or seeds, to plant, with a little bit of luck thrown in.
You can also fish, hunt and play other games to earn extra coins, and you can collect pets in the form of NFTs. DeFi Land uses its own crypto, DFL. In its beta phase, the game recently introduced the $GOLDY token, primarily for gaming rewards and transactions, according to an article on Medium.com.
Pros
Free educational tutorial games
Easy, fun interface
Earn NFTs and coin passively as your crops grow
Robust and supportive Twitter and Discord communities
DFL has an average / moderate risk score from investors
Cons
Can lose money
Must start out with free version and work your way up to earning DFL
What To Look For
Your choice of "seeds," or NFTs, when you begin planting your crops can determine your success — and profitability. Just because two seeds show a high return doesn't mean you will make money.
Star Atlas
Star Atlas is a strategy game built on the Solana blockchain. To start the game, you'll purchase coins for your digital wallet, join a faction and then begin building a ship.
If you like multiplayer gaming, working with a team and space exploration, this could be the game for you. However, one reviewer at Coindesk pointed out that this is more a game of staking, or purchasing and managing NFTs, than of playing to earn coin.
Pros
Team game
Plenty of room for expansion in the mini-games available
Active Discord and Twitter communities
Cons
Requires SOL to begin playing
Reported issues of problems resupplying ships
What To Look For
You'll want to choose your faction and ship carefully to get off to a strong start. Look for ships with a high APR or ships you can purchase for a discount to begin. The cheaper and smaller the ship, the more active of a role you will have to take in managing the ship's supplies.
Genopets
Genopets takes the best characteristics of CryptoKitties and Pokémon Go to create an alternate reality game where players are rewarded for moving their bodies, which is tracked by a fitness wearable or your smartphone.
The game includes elements of crafting and collecting animals, but your pet grows and evolves based on your physical activity.
Pros
Free to play
Encourages fitness and movement
Pay-to-play options can help you advance faster
Cons
Requires crypto wallet to get started
Requires physical activity or spending money to advance
What To Look For
If you're not the active type and don't want your success in the game to be based on your real-life physical activity, this is not the game for you.
SolChicks
The highly rated SolChicks has made many lists of the best NFT games for Solana and is hailed by the creator as "the best play to earn crypto fantasy game" on the Solana blockchain. Are the claims true?
In SolChicks, players battle their chickens to earn CHICK tokens. You can get started playing with a small investment in SOL. During the game, you'll need to care for your chicken, bond with it and, of course, use it to battle other chickens to advance. You can also breed the SolChicks to create unique, potentially valuable, NFTs.
Pros
Multiple ways to earn money in the game
Adorable, battling chickens
Cons
Must play actively to continue earning
Requires upfront SOL investment
What To Look For
An article at PlaytoEarn.online reported that the game was so popular upon its launch that it slowed down the SOLANA blockchain.
Space Falcon
Space Falcon is a "net-chain blockchain gaming metaverse" that combines the playability of classic space shooter games with the collectability and profitability of NFTs on the Solana blockchain. The game raised $4 million in first-round funding, according to GlobeNewsWire.
You can go retro in the 1980s gameplay setting or explore the future of space in 2080. You can own galaxies and then collect tax from other players when they visit your galaxy.
Pros
Easily accessible on any web browser
Multiple ways to earn crypto and NFTs
Neutral galaxy allows you to explore in a virtual reality setting
Supported by multiple digital wallets
Cons
Must play regularly to earn profits
What To Look For
The longer you play, the more you can earn. If you aren't committed to this game for the long-haul, it may not be as profitable as you might hope.
Cryowar
Cryowar is a free-to-play, real-time, multiplayer battle game based on skill rather than how much money you invest in the game. With mobile graphics close to PC-gaming quality, the game is an immersive visual experience that tests your skill. It's quick and easy to play on your web browser or mobile device.
In the game, you will fight in one-on-one and multiplayer competitions such as Last Man Standing, Death Match, Top Score in 5 Minutes and the Battle Arena. Battles can last three minutes or less, which means you can make NFT gaming a part of your busy life.
Pros
Quick, easy game play
Excellent graphics
Free to play
Cons
Not a passive-earning game
Intense action requires gaming skill
What To Look For
If you are looking for a game where you can use real-world money to improve your game performance, this is not it. Battles in Cryowar are based exclusively on player skill.
Zoolana
Zoolana is a play-to-earn mobile strategy game that takes place in the year 2300. With a strong story, solid graphics and a growing community, Zoolana promises to be a top game upon its launch.
You can stake a claim in the game by purchasing an Alpha Edition NFT, which will give players access to an airdrop of tokens, the opportunity to be a beta tester for the game and sneak peeks to game development.
Pros
Growing Discord community
Immersive storytelling
Stellar graphics
Cons
Still in development / beta version
What To Look For
Look for the full launch of this game by 2023, but hype is already building and you can begin collecting NFTs now.  
Void
Trade NFTs in a future universe, fight in player vs. player battles and earn NFTs and crypto in the third person online shooter game Void. The more you improve your character with skills and gadgets, the more effective they will be.
The game is unique because the play-to-earn and staking elements interact seamlessly. You can trade $VOIDCOIN on many crypto exchanges.
Pros
Can trade NFTs on a number of crypto exchanges
Active Discord and Twitter communities
Multiplayer
Intense action
Cons
Not free to begin play
Still in beta version
What To Look For
Void is set to launch the full version on the Solana blockchain in 2023, according to CryptoTotem.com.  
Final Take
When you choose a Solana NFT game, you'll want to see if the game's currency of choice is supported by the crypto exchange you prefer. Check and see if experts believe the game is a good investment.
But, most importantly, choose a game that you'll know you'll have hours of enjoyment playing, because there's a higher likelihood you will do better — and earn more — if you are playing a game you enjoy.
FAQ
Here are the answers to some common questions about NFTs and NFT gaming.
What games use Solana?

There are many NFT games that use the Solana blockchain, including DeFi Land, SolChicks and many others.

Is Solana good for NFT?

Solana is good for NFTs. It has a highly customizable minting platform and relatively low fees. There are also many NFT games on the Solana blockchain.

Can NFT be used for gaming?

Yes, NFTs can be used for gaming. Although not all NFTs are used in games, the number of NFT games is growing every day.

Does Solana have NFT?

Solana supports various NFT marketplaces, like SolSea and DigitalEyes, and games, some of which are listed in this article.
Our in-house research team and on-site financial experts work together to create content that's accurate, impartial, and up to date. We fact-check every single statistic, quote and fact using trusted primary resources to make sure the information we provide is correct. You can learn more about GOBankingRates' processes and standards in our editorial policy.