Stablecoin Terra Crash Renews Regulators' Call for Crypto Legislation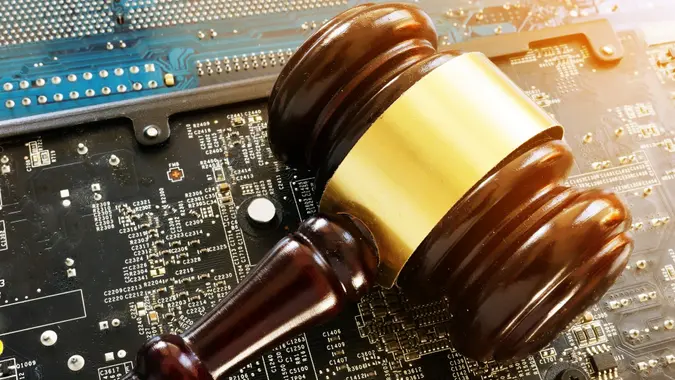 designer491 / iStock.com
Stablecoin terraUSD (UST) crashed on May 10 and is down 54% at $0.44 on the morning of May 11, prompting regulators to renew calls for cryptocurrency legislation.
Stablecoins are cryptocurrencies whose aim is to remain stable and have low volatility. They can be pegged to a currency or a commodity, such as gold.
Terra, a so-called algorithmic stablecoin, is pegged to the U.S. dollar and can be used in conjunction with LUNA, Terra's non-stablecoin cryptocurrency, or as a standalone token, according to CoinMarketCap. It's also the 18th largest cryptocurrency by market cap.
"Stablecoins are only valuable to users if they maintain their price peg. The Terra protocol uses the basic market forces of supply and demand to maintain the price of Terra. When the demand for Terra is high and the supply is limited, the price of Terra increases. When the demand for Terra is low and the supply is too large, the price of Terra decreases. The protocol ensures the supply and demand of Terra is always balanced, leading to a stable price," according to the Terra website.
The Wall Street Journal explained that terraUSD is structured differently from other major stablecoins, as it relies on financial engineering rather than hard assets — such as cash — to maintain its peg to the dollar. In turn, critics say that makes it riskier because traders might not always respond as expected to its built-in incentives, according to The Wall Street Journal.
In a financial stability report released May 9, the Federal Reserve said that the aggregate value of stablecoins grew rapidly over the past year to more than $180 billion as of March 2022. "The stablecoin sector remained highly concentrated, with the three largest stablecoin issuers — Tether, USD Coin, and Binance USD — constituting more than 80%  of the total market value," according to the report.
Treasury Secretary Janet Yellen, speaking at a Senate Banking Committee hearing on May 10, addressed stablecoins and the UST crash.
"[With stablecoins,] we see run risks which could threaten financial stability — risks associated with a payment system and its integrity and risks associated with increased concentration if stablecoins are issued by firms that already have substantial market power," Yellen said, according to Coindesk. "We definitely see significant risks here."
She added that the risks are playing out in real time, saying that UST had experienced a run and had declined in value. "I think that this simply illustrates that this is a rapidly growing product, and that there are risks to financial stability, and we need a framework that's appropriate."
Anto Paroian, chief operating officer at cryptocurrency and digital asset hedge fund ARK36, told GOBankingRates that UST losing its peg will be seen as one of the defining moments of the current cryptocurrency market cycle.
"Unfortunately, the fallout from this situation goes beyond the material losses sustained by Luna investors," he said. "The de-pegging will likely result in a substantial regulatory risk — if not for the whole crypto space, then certainly for the stablecoins market. Secretary Janet Yellen has already highlighted the Luna situation in a Senate Banking Committee meeting, calling for comprehensive stablecoin regulation by the end of the year. Of course, regulation in the long term is net positive for the crypto space, but if stablecoin issuers get regulated as strictly as banks, it could suffocate one of the most innovative, thriving and important sectors of the crypto market."
Paroian added that the crash will also revive discussions on whether a truly decentralized, algorithmic stablecoin is possible or, indeed, desirable.
"So far, the UST situation has shown us that potential advantages may not outweigh the risks for the whole crypto space. DeFi users should also take note — an 18-19% yield on a DeFi savings protocol leveraging a decentralized stablecoin doesn't come without a substantial degree of risk," he said.
In a May 11 Twitter thread, Terra founder Do Kwon announced his plan to "re-peg" UST and acknowledged that the past 72 hours "have been extremely tough on all of you."
"The only path forward will be to absorb the stablecoin supply that wants to exit before $UST can start to repeg. There is no way around it," he tweeted.
More From GOBankingRates