What Are Blockchain Games?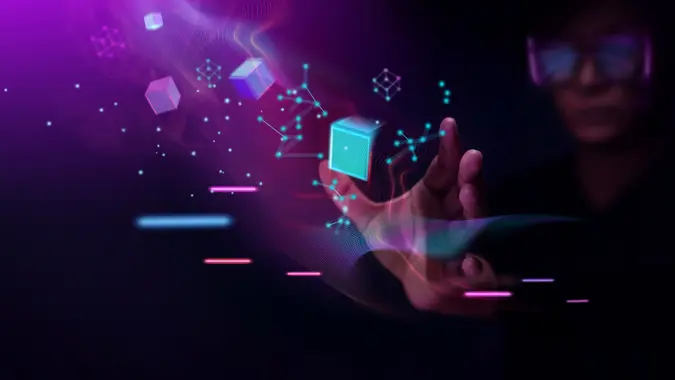 BlackSalmon / Getty Images/iStockphoto
Cryptocurrency has been widely talked about in the past few years, as it has brought up questions about investing and technology. Another recent development in this space is the use of blockchain technology for gaming.
What are blockchain games? Keep reading to learn how blockchain gaming works, the risks involved in blockchain gaming and how to get started with some of the top blockchain games.
What Are Blockchain-Based Games?
Blockchain technology, which is used to power cryptocurrencies such as Bitcoin and Ethereum, is a ledger of transactions that is distributed across a network of computers. The decentralized model makes it difficult for people to alter the transaction information because the records must be the same across the whole network.
How Is Blockchain Used in Games?
Typical gaming systems are centralized, so users can use their game earnings — such as XP or in-game currency — in only one game. However, blockchain games use a decentralized model so that users own their game data and can use it across other blockchain games.
For example, if a user is playing one blockchain game where they win XP and weapons, they can choose to bring those winnings over to another game when they leave. They could also sell them or trade with another player.
How Do Blockchain Games Make Money?
Some blockchain games also offer users the ability to earn cryptocurrency while playing. There are many different ways to earn crypto, which is determined by the individual game.
Non-Fungible Tokens
Blockchain games are also known as non-fungible token games. NFTs are digital tokens that represent a unique item. They have unique metadata that makes it impossible to replace one token with another.
Blockchain gaming uses NFTs to create different parts of the game, such as rules, characters, weapons and skins. Since NFTs are unique, they bring value to the game assets.
With play-to-earn games, players can sell their NFTs at a market, exchange or auction to earn cryptocurrency. The value of each NFT is based on the current market as well as the NFT's unique characteristics.
Who Plays Blockchain Games?
Many types of people play blockchain games. The three most popular blockchain games have over two million monthly users. Most users live in the U.S. or the Asia-Pacific region, including countries such as the Philippines, China, Thailand, Indonesia, India and Vietnam.
Age-wise, millennials between the ages of 25 and 34 represent approximately 37% of crypto gamers, followed by Gen Z between the ages of 18 and 24 at approximately 27%. That said, users between the ages of 45 and 54 and users over 65 are the groups that have seen the most monthly growth recently.
Blockchain Game Risks
While blockchain gaming may sound like a fun way to make some side income, there are a few things to be aware of before you get started. First, some games have accessibility barriers. For example, to begin playing Axie Infinity, users must have at least three Axies, which may cost around $300 as an initial investment.
There is also the risk that you may lose some of your tokens or cryptocurrency. For example, the founder of Hedgie lost more than $1 million in NFTs caused by a scam, while Ronin, the blockchain used by Axie Infinity, was hacked for more than $600 million.
Since blockchain gamers do not have to comply with some financial standards, such as anti-money-laundering regulations, fraud may be more common in games than in simply trading cryptocurrency.
Finally, players may lose money from typical market fluctuations. However, some games limit how often players can withdraw their tokens, which adds to the risk that players won't be able to make withdrawals in time to limit their loss.
How To Start Playing Blockchain Games
To begin playing blockchain games, you will first need to own cryptocurrency and store it in a wallet. Many blockchain games are built on Ethereum, so you would need to purchase Ether to play them. However, you will need to research exactly what kind of cryptocurrency and wallet is best for you.
You will then need to choose which game you want to play for next steps. Consider what kinds of games you would find fun, how much it costs to start playing, whether you understand how to play the game and how the game economy works.
Top Blockchain Games
Below is an introduction to some of the most popular blockchain games.
Axie Infinity
Axie Infinity players collect Axies, which are NFTs that can be used to battle against other players. When players win a battle, they earn Smooth Love Potion, which can be sold for Axie Infinity Shard tokens. Axies can also be traded, bred and collected.
As of July 2022, AXS is worth $15.64.
Decentraland
Decentraland allows players to build a three-dimensional world by buying in-game land and constructing just about anything. Players can create separate games on their land, open a store and more. Decentraland users must own Ethereum and be able to purchase MANA currency.
As of July 2022, MANA is worth $0.9255.
Alien Worlds
Alien Worlds is a sci-fi game where players need to capture alien NFTs that are used to mine items, upgrading along the way. Players can use the TLM tokens to trade NFTs, win battles or complete missions. To start, players will need mining tools, land and TLM.
As of July 2022, TLM is worth $0.02722.
Final Take
Blockchain games use a decentralized model so that players own their game earnings and can use them across other crypto games. Blockchain games use NFTs to create unique items, characters, rules and more.
Many blockchain games have a play-to-earn model, where players can earn cryptocurrency. For example, NFTs can be sold on a market, exchange or auction at a price based on market conditions and each NFT's unique characteristics.
Some of the top blockchain games include Axie Infinity, Decentraland and Alien Worlds. However, some of the risks included in playing blockchain games include accessibility barriers and losing money from fraudulent activities or market fluctuations.
Information is accurate as of July 21, 2022.