What Is a Crypto Wallet and How Does It Work?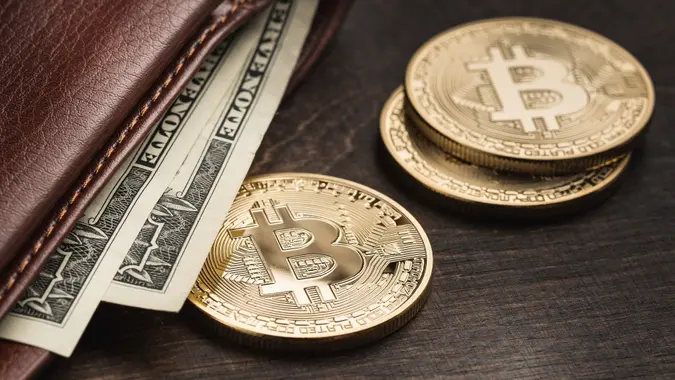 D-Keine / iStock.com
Buying cryptocurrency is not enough, you need a safe place to keep it. Unlike traditional money, you cannot store crypto in the wallet you carry around in your pockets, you will need a special crypto wallet.
What Is a Crypto Wallet?
A crypto wallet can either be a software program or a physical device that allows you to store your crypto and make transactions through it. A crypto wallet can come in the form of a hardware wallet that looks like a USB stick or a mobile application like the Coinbase Wallet.
Security and storage are some of the biggest concerns when it comes to investing in crypto. If you are not careful, you might lose the currency you are holding. That is where crypto wallets come into the picture.
A crypto wallet is equipped with two sets of keys: a private key and a public key. The public key is like an address that is used by the sender to send crypto to your wallet. On the other hand, the private key is like the password to your safe deposit box in which you have stored the crypto. Anyone who has access to the private key will be able to make transactions with the crypto that you own. That is why the private key needs to be kept very carefully.
How Does a Crypto Wallet Work?
Like everything related to cryptocurrencies, the workings of a crypto wallet are also associated with the blockchain network. Blockchain is a public database that stores crypto-related data in the form of blocks. These blocks contain records of all crypto transactions and the owners of the respective keys. The software inside a crypto wallet stores these addresses and allows the holders of the crypto to make transactions with the currencies that they own.
It is very important to get the addresses right when you are sending crypto to someone. For example, if you are sending Bitcoin to a Bitcoin Cash address, your crypto and the respective funds will be misplaced.
Types of Crypto Wallets
Crypto wallets can either be hot, software wallets, which are connected to the Internet, or cold which offers an offline storage system. These wallets are categorized into the following types based on the underlying technology and the degree of safety offered by them.
Hosted Wallets
These are the most popular crypto hot wallets because of their ease of use. When you buy crypto using a third-party app like Coinbase, the currency is automatically held in a hosted wallet. These are called hosted because the service provider keeps your crypto safe for you. Keeping your crypto in a hosted wallet is a great option for people who tend to forget their passwords because the host will preserve your crypto, even if you forget your private keys. However, you would not be able to utilize all the features of your crypto when you keep it in a hosted wallet.
Self-Custody Wallets
A self-custody wallet gives you greater control over the crypto that you are holding because there is no third-party acting as the custodian. However, with great power comes great responsibility and you have to bear the burden of remembering your private key. Self-custody wallets are hot wallets that allow you to engage in advanced activities like yield farming, staking of crypto and lending and borrowing apart from the regular buy-sell transactions.
Hardware Wallets
This is a form of a cold wallet and is like a physical device resembling a large USB drive. Beginners are usually skeptical to use hardware wallets because they are complicated and expensive. However, if you can keep the private keys safe, hardware wallets are the most secure because they can keep your crypto intact even if your computer is hacked.
How To Set up a Crypto Wallet
A traditional crypto wallet like a Bitcoin wallet might seem similar to your bank account, but there are many differences between the two since crypto protocols work differently.
Setting up a Hardware Wallet
You have to buy the physical hardware storage device for setting up this crypto wallet. After buying the device, you need to download the associated software on your computer, note the private keys and establish a connection between your computer and hardware wallet.
Setting up a Software Wallet
Software crypto wallets can either be mobile or desktop-based. In both cases, the process is similar and you simply have to choose your desired wallet app from the app store of your mobile or desktop.
How To Get a Crypto Wallet for You
The type of crypto wallet you choose depends on your investment goals and risk tolerance level. There is no rule of thumb that tells you which one you should get because each wallet has its own strengths and weaknesses. Here are a few tips that you can follow while selecting a crypto wallet for you:
A hot wallet is suitable if you are a risk lover and make frequent crypto transactions. Regular crypto traders like the convenience of hot wallets because buying and selling can be done easily through these wallets.
A cold wallet is more suitable if you are risk-averse and want to hold your crypto for a long period. However, cold wallets should only be used If you have adequate experience in the crypto space so that you can avoid the common mistakes that new crypto investors make.
What Is a Good Cryptocurrency Wallet?
Depending on the type of wallet you choose, here are some of the best options currently available:
Trezor One and Ledger Nano X in hardware storage devices or cold wallets
Edge and BRD in mobile wallets
Exodus Wallet, Jaxx Liberty and Atomic in desktop wallets
OpenSea, Solanart and Crypto.com if you are interested in NFT-trading
Do I Really Need a Crypto Wallet?
Yes, you do. Without a crypto wallet, you would not be able to make any crypto transactions. However, if you are just getting started you need not invest in a hardware wallet and can simply use the hosted wallet provided by sites like Coinbase or any other crypto trading platform.
Are Crypto Wallets Safe?
A crypto wallet is as safe as you can make it. Despite high claims of safety, software wallets are essentially prone to security breaches like malware attacks. That is why you should not store crypto of very high value in your hot wallets. If you have a huge crypto portfolio, the best approach is to keep a small part of your crypto investment in your hot wallet and store the remaining in your cold wallet. This will ensure that the majority of your crypto holding is kept in a safe offline storage device while allowing you to keep some of it for trading purposes.
Setting up your wallet is the first step in your crypto investment journey. Choose a wallet carefully and consider the safety of the platform or device to ensure the safekeeping of your crypto.
Information is accurate as of June 21, 2022.
Our in-house research team and on-site financial experts work together to create content that's accurate, impartial, and up to date. We fact-check every single statistic, quote and fact using trusted primary resources to make sure the information we provide is correct. You can learn more about GOBankingRates' processes and standards in our editorial policy.