Baby Doge Coin (BabyDoge): What It Is, What It's Worth and Whether You Should Invest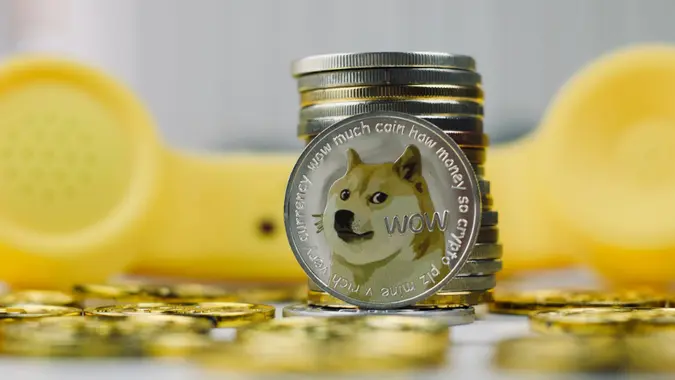 Adrian Black / Getty Images
It does not come as a surprise to anyone that baby doge coin is creating so much hype. It was launched on June 1, 2021 and saw a 1,000% price spike within just two weeks of that date. By the third week, it had a market cap of a whopping $200 million, and in the fourth week, there were 160,000 holders of the coin.
Seeing its speedy rise to the surface, it's evident that buyers are taking an interest in baby doge coin. But is it worth the investment? Should you stay away from this momentary fad, or is baby doge coin here for the long haul? Find out below.
What Is Baby Doge Coin?
Baby doge coin — "doge" being an farcical misspelling of "dog" — is a crypto asset created by the online dogecoin community. According to its website, "Baby Doge seeks to impress his father by showing his new improved transaction speeds and adorableness."
As a hyper-deflationary token, baby doge coin has been designed to become more scarce over time. Whereas some crypto teams simply destroy coins to limit the number of coins in circulation, baby doge adds coins to holders' wallets each time they make a transaction, and some coins are added to the decentralized exchange PancakeSwap as part a liquidity pair.
Redistributions also go to charity partners. According to the baby doge website, the organization behind baby doge coin has donated over $750,000 to The Humane Society, ASPCA, Paws with Cause, the North Shore Animal League and other charities that benefit dogs.
That said, baby doge has a maximum supply of 420 quadrillion coins, 115.114 quadrillion of which are currently in circulation. Baby Doge announced in an Aug. 1 tweet that it had just burned 1 quadrillion coins worth $1.3 million — the 10th burn of 1 quadrillion or more coins since the beginning of the year, The Crypto Basic reported, bringing the total amount burned thus far to 46% of the maximum supply.
As of September 2022, the total supply of baby doge — that is, the maximum supply of 420 quadrillion tokens less the 46% that have been burned — stands at 231.942 quadrillion, according to CoinMarketCap.
What Is Baby Doge Coin Used For?
Baby doge coin's developers created the token to be a "fun meme with a serious mission to rescue dogs in need, bring crypto adoption to the main stream with new concepts such as rewards, NFTs, decentralized exchanges and credit card for crypto payment on our website." Currently, however, the coin has little real-world use. Although a listing on CoinPayments allows Shopify, WooCommerce and Magento merchants to accept baby doge as a payment method, the baby doge organization doesn't say how many — or if any — merchants do accept it.
So, what can you do with baby doge coin? Not much, other than collect and swap it. People who collect it do so because they enjoy being part of an enthusiastic community that supports dogs, and they hope the coin's value will increase. Sentiment arising from the community, rather than the token's utility, is what gives baby doge coin value.
Baby Doge Coin Advantages Over Other Cryptocurrencies
Some have made the argument that baby doge compares favorably to dogecoin in that dogecoin has no cap on its coin supply. However, a coin with no practical utility and a cap of 420 quadrillion coins can hardly be considered scarce — even after nearly half have been burned. Bitcoin, for example, has true scarcity — its cap is 21 billion coins, over 19 billion of which are already circulating.
For now, it appears that the only advantage baby doge has over other cryptocurrencies is the loyal community that has sprung up around it. With no real-world utility for the coin so far, all of its value lies in its appeal as a meme coin. Of course, baby doge is currently trading for just $0.000000001229. That means you can make a speculative purchase of 1,627,339,300 coins and risk just $2.
Why Did It Spike?
Baby doge coin spiked for the same reason as its father, dogecoin: Elon Musk. In July 2021, the Tesla CEO posted a tweet, hinting at the token:
"Baby Doge, doo, doo, doo, doo, doo, Baby Doge, doo, doo, doo, doo, doo, Baby Doge, doo, doo, doo, doo, doo, Baby Doge."
As a result of this tweet, buyers did precisely what they had done earlier in the year with dogecoin — they started buying.
In just 24 hours, the aftermath of the tweet presented itself as a 228.3% spike in the price of baby doge coin.
Of course, that wasn't baby doge coin's first or only only spike. A smaller but still significant 22% spike occurred in February, when the token was listed on the Huobi cryptocurrency exchange. The listing also resulted in a 443% spike in trading volume, Benzinga reported at the time.
Prices surged again in time for baby doge's first birthday on June 1. The @babydogeburn_ Twitter account noted on that day that 29.7 quadrillion tokens had been burned over the previous 24 hours.
The most recent spikes occured during the second week in August, following a cryptic tweet from the @BabyDogeCoin Twitter account. The tweet, which said a big announcement was coming, led followers to suspect a listing on Binance was imminent. The listing has not materialized.
What Is Baby Doge Coin Worth?
As of Sept. 14, one baby doge coin is worth $0.000000001229 with a trading volume of $5,132,058 and a market rank of #235 on CoinMarketCap.
As is evident, the price is not very promising since it is just a tiny fraction of a single penny. However, investors aim to hoard the coins and reap the rewards if and when it reaches a dollar. In the meantime, they can participate in the community forum, which boasts over 300,000 members on Telegram, and, if they have at least 10 million coins, submit a proposal to the development team and community. Examples of current proposals include setting up an online casino and using the profits to burn coins — most proposals involve burning coins, which investors hope will increase the remaining coins' value by increasing their scarcity.
How To Buy Baby Doge Coin
Although you can't buy baby doge coin directly, you can swap it for a base currency using a decentralized exchange like PancakeSwap or Uniswap. But to do that, you must purchase the base currency.
First, set up a digital wallet, such as the Coinbase Wallet or Metamask, and connect it to an exchange that sells a base currency you can later exchange for baby doge. On PancakeSwap, for example, you can trade binance coin for baby doge coin, so you might purchase binance coin as your base currency. Then, on PancakeSwap or another decentralized exchange, you connect your wallet and swap your base currency for baby doge.
Should You Invest?
According to the baby doge coin whitepaper, the plans for the crypto include getting listed on several renowned cryptocurrency exchanges, creating a wallet to track rewards and forming a marketplace for NFTs, or non-fungible tokens. The Paw Board on the BabyDoge website describes five phases for achieving those goals. Given that Phase 2 includes being listed on CoinGecko and CoinMarketCap, neither of which has indicated a listing is in the works, it appears that baby doge could be stuck in Phase 1 indefinitely. However, if its partnership with CoinPayments takes off, it's possible that baby doge coin could have utility as an e-commerce currency. 
Baby doge coin developers have lofty goals for their currency, but where does the coin's current state leave your investment?
Interesting

Irrespective of all the hype it is getting, baby doge coin is a meme coin that jokes in its road map about starting a religion and carving Baby Doge on a mountain.
What To Consider as an Investor
Any wise investor would have a hard time taking this coin seriously. Also, it's pretty obvious that the developers have named it baby doge coin to leverage the popularity of dogecoin.
You can't depend on tweets and hype trains to make your investment moves. With that in mind, it's best to stay wary of dogecoin's new offspring.
Daria Uhlig contributed to the reporting for this article.
Information is accurate as of Sept. 14, 2022.
Our in-house research team and on-site financial experts work together to create content that's accurate, impartial, and up to date. We fact-check every single statistic, quote and fact using trusted primary resources to make sure the information we provide is correct. You can learn more about GOBankingRates' processes and standards in our editorial policy.