What Is Ripple's XRP and How Much Is It Worth?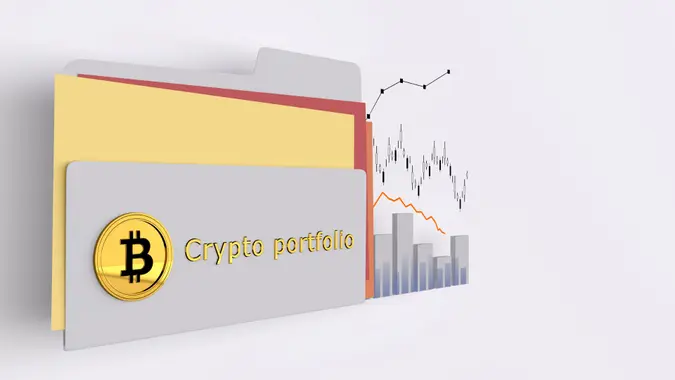 Cryptocurrencies have been in the public eye for years now, mostly because of news around bitcoin. However, bitcoin is just one cryptocurrency among many. You can invest in myriad digital currencies designed for just as many different purposes — from supporting your favorite internet creators to paying your cell phone bill.
Ripple's XRP is one of the more complicated cryptocurrencies to follow. Since the company launched it in 2012, XRP has gone through a few different iterations.
What Is Ripple?
Ripple is not a cryptocurrency. It's the company behind the XRP token. Ripple Labs Inc. describes itself as a "payment solutions company." Today, it is primarily focused on facilitating cross-border cryptocurrency payments and cryptocurrency liquidity, and on implementing a central bank digital currency that meets central banks' security standards.
Ripple operates the payment network RippleNet. That network consists of a collection of banks and payment providers that have signed on to use Ripple's blockchain network for international payments.
Ripple also manages the XRP Ledger, a network that facilitates payments through its XRP digital currency.
What Is XRP?
XRP is a cryptocurrency designed to be used for international payments and currency exchange. When Ripple first launched, XRP powered its cross-border payment network. Ripple has since updated this so that you can use the network with currencies other than XRP.
XRP Transaction Speed
XRP's main selling point has always been its speed. Unlike bitcoin, which often requires extended periods of time to complete a transaction, XRP transactions settle in seconds. That's because XRP does not utilize the "proof of work" algorithm used by other cryptocurrencies — like bitcoin — for validating payments.
Infrastructure
XRP also works on a centralized infrastructure. Instead of being completely decentralized like many cryptocurrencies, XRP uses a network of validators to confirm transactions.
To be accepted as a validator for XRP payments, you have to be trusted enough to become part of Ripple's Unique Node List. Currently, there are over 150 XRP validators on the network and over 35 on the default Unique Node List. Ripple runs six of them.
This network of independent network operators — or nodes — validates all outstanding XRP transactions every three to five seconds. It then publishes an updated version of the XRP Ledger. Ripple calls this the Ripple Protocol Consensus Algorithm.
Since the beginning, Ripple has marketed XRP's swift transaction speed as a means to establish a more efficient infrastructure for international payments. Conventional cross-border transactions can sometimes take days and incur steep fines. According to Ripple, XRP takes a fraction of the time, cost and bureaucratic headache.
How Is XRP Mined?
The short answer is that XPR can't be mined.
Mining is the process by which some blockchains verify transactions and create new coins. Bitcoin is an example of this kind of blockchain. When a bitcoin miner's computer verifies a transaction by solving a highly complex math problem, called a hash, the system generates new bitcoin and gives it to the miner as a reward. Bitcoin mining will continue this way, with the rewards getting progressively smaller, until the number of coins created reaches the 21 million maximum supply.
XRP has a maximum supply of 100 billion coins, all of which were released in an initial coin offering when the Ripple blockchain launched. Ripple Labs holds most of it in escrow and releases it in a controlled manner to keep from flooding the market. So even though the maximum XRP supply is not yet in circulation, the maximum supply has already been created — pre-mined, if you will. That means no new XRP can be mined. According to XRP Ledger, Ripple validators receive other, less intangible rewards, such as the continued reliability of the network and the good will of the community,
XRP vs. RippleNet
XRP's relationship to RippleNet can be confusing.
RippleNet is Ripple's cross-border payment network. It does not need XRP to function. RippleNet is a blockchain geared toward banking institutions that can be used to settle transactions like remittance payments, in addition to exchanging currencies.
Ripple's partners include big banks like Bank of America, Member FDIC, and over 55 countries have signed on to use it. RippleNet also hosts over 120 fiat currency pairs.
Liquidity Service
The only part of RippleNet that uses the XRP digital currency is its on-demand liquidity service. This service draws from a pool of digital assets to provide liquidity for transactions instead of pre-funding.
Australia, the Euro Zone, the United States, Mexico, the Philippines and Japan can currently use Ripple's on-demand liquidity service.
How Is XRP Different From Bitcoin?
There are a few major differences between XRP and bitcoin.
For example, while new bitcoins are continuously mined, the maximum coin supply is limited to just 21,000,000. XRP, on the other hand, has a maximum supply of 100 billion coins, all of which have been created and half of which are in circulation.
Although the entire batch of of XRP was generated at the time of its launch and no more will be generated, bitcoin's much more limited supply makes that coin more scarce. That's one reason bitcoin is worth $17,729.63 per coin, as of Dec. 13, compared to $0.392 for XRP.
XRP is also a centralized cryptocurrency, while bitcoin is decentralized. The former's centralization allows for quicker transaction processing because it doesn't require proof of work. Rather, it relies on a small network of nodes to validate each transaction. This can entail greater risk, though Ripple says it takes steps to keep its digital currency secure.
Pros and Cons
Ripple and XRP have both positive and negative sides.
The Good

Ripple has been in the crypto game long enough to have gained the trust of several prominent financial institutions and governments. That trust makes it a safer investment relative to other cryptocurrencies.
All the XRP tokens that ever will exist have already been created, and Ripple distributes them according to a predetermined schedule. That means no inflation.
As more financial institutions buy into Ripple and its products, the value of XRP could substantially increase.

The Bad

Ripple's centralized system does away with permissions and is more open to censorship than other cryptocurrency platforms. Since control rests in the hands of a small number of people, those people could potentially block transactions, similar to a regular bank.
Ripple Labs has a monopoly of ownership on the XRP token — it owns about 60% of the available supply.
The code is open-source, whereby it's freely available to the public. That's good for developers but could pose a risk if anyone were to hack it.
Should You Invest?
There's no such thing as a completely safe investment. Cryptocurrencies in particular can be highly volatile. Every potential investor should understand that risk going in.
Value and Market Cap
XRP tokens currently have a value of $0.392, with a market cap of $19.75 billion.
Good To Know

XRP has not entered mainstream use quite yet. The financial institutions that use Ripple's network are still in the testing phase. While XRP has potential in the international payment space, it has yet to be thoroughly tested by large, mainstream banks.
Takeaway
XRP is an interesting cryptocurrency that's been gaining momentum in the financial sector for its ability to facilitate cross-border payments and currency exchange. It's faster than bitcoin — taking a few seconds per transaction as opposed to an hour or more — and has the potential to provide a better method for completing international payments. However, Ripple's, and thus XRP's, future success could hinge on the ongoing lawsuit by the SEC.
Daria Uhlig contributed to the reporting for this article.
Data is accurate as of Dec. 13, 2022, and is subject to change.
GOBankingRates' Crypto Guides
Our in-house research team and on-site financial experts work together to create content that's accurate, impartial, and up to date. We fact-check every single statistic, quote and fact using trusted primary resources to make sure the information we provide is correct. You can learn more about GOBankingRates' processes and standards in our editorial policy.