What Is the Next Big Cryptocurrency?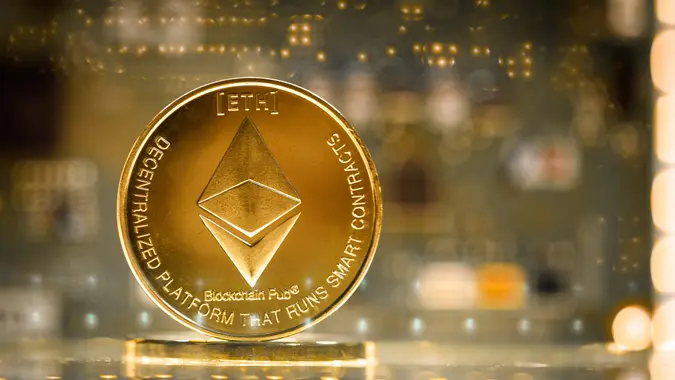 Capuski / Getty Images
Cryptocurrency might have started as a Wild West of investing dominated by mavericks, but it's now firmly in the financial mainstream. Institutional investors and big banks treat it as a serious asset despite recent volatility, the collapse of a major exchange and regulatory crackdowns. But how do you know what crypto is worth investing in? Keep reading to learn about the next big cryptocurrency.
What Is the Next Big Cryptocurrency? 6 To Watch for 2023
If you're looking to get involved in the cryptocurrency market, you might be wondering which one will bring the biggest potential return. Although bitcoin might be the obvious choice, it's not necessarily the best one in 2023. Your chances of having a big payoff might be better with a smaller coin that hasn't already been pumped up by institutional investors.
Here are six cryptocurrencies to keep on your radar for 2023:
Ethereum (ETH)
BNB (BNB)
Tether (USDT)
Decentraland (MANA)
Algorand (ALGO)
Render Token (RNDR)
1. Ethereum (ETH)
Ethereum, commonly known as ether, is the world's second-largest cryptocurrency behind bitcoin, even outperforming bitcoin at times. In 2021, Ethereum instituted a major upgrade that reduced the supply of ether, currently at 120.21 million coins as of July 6. The upgrade also allowed the Ethereum network to handle more transactions per second, improve the platform's scalability and lower transaction fees.
Compared to bitcoin, ethereum lacks scarcity — bitcoin's supply is capped at 21 million coins — and widespread acceptance by companies and governments. However, unlike bitcoin, ethereum isn't just a store of value. It also powers an infrastructure on which apps can be built. Other cryptocurrencies are issued on Ethereum, and it serves as the foundation of decentralized finance.
Many metaverse projects, including Star Atlas, Axie Infinity and The Sandbox, use the Ethereum blockchain, as do most NFTs. Another upgrade, this one launched in September 2022, transitioned Ethereum to a Web3-ready proof-of-stake mechanism that reduced energy consumption by about 99.95% and further increased security and scalability.
Ethereum experienced a major slump last year, losing 70% of its value between November and June, which is about on par with other major cryptocurrencies. The price is on the rise again, so this might be the right time for investors who've been waiting to test the cryptocurrency waters. The coin might also appeal to current investors who bought high and would benefit from dollar-cost averaging.
2. BNB (BNB)
Binance is the largest cryptocurrency exchange in terms of trading volumes. Formerly called binance coin, BNB puts about one-fifth of its profits each quarter into permanently getting rid of, or "burning," BNB tokens, which raises the value of the remaining tokens. It burned 2.02 million BNB tokens — over $676 million worth — in April and expects to eventually burn 50% of the maximum supply.
Binance has two blockchains, which reduce the kind of bottlenecks Ethereum is vulnerable to. It's also fast and scalable, and Binance is in the process of making the platform more regulator-friendly, according to Seeking Alpha — a feature that could be crucial to its longevity and widespread adoption, especially in light of the collapse of rival exchange FTX. 
In addition, Binance recently launched Bifinity, a fiat-to-cryptocurrency payment platform that will help merchants prepare to accept digital assets as payments, CoinMarketCap reported. The payment processing platform supports more than 50 cryptocurrencies and major payment networks like Visa and Mastercard.
On the downside, the Securities and Exchange Commission is looking at whether Binance acted improperly in its launch of BNB. A major fine or other sanction could hurt BNB prices.
3. Tether (USDT)
Tether is a type of "stablecoin" designed to provide a less volatile alternative to bitcoin because it is linked to another asset. In tether's case, that asset is the U.S. dollar. In valuation terms, tether usually has a 1-to-1 ratio with the dollar, meaning it is less volatile than cryptos such as bitcoin and ether — "usually" being the operative word.
With an $83.37 billion market cap, Tether is the largest stablecoin and the third-largest coin overall. It's also the most traded coin — cryptocurrency investors use it to hold funds or make transactions using funds they want to protect against the price swings to which bitcoin, ether and other non-stable cryptocurrencies are vulnerable.
4. Decentraland (MANA)
Decentraland is a virtual reality game on the Ethereum blockchain that uses the MANA token as an in-game currency. Users can purchase goods and services, buy land and visit other players, as well as create and monetize their content. MANA is also the second-largest gaming cryptocurrency in terms of market cap.
Although Decentraland does have competition from the likes of The Sandbox and ApeCoin, and in-game assets are quite expensive, it has some benefits that could push the MANA token forward. For example, users retain ownership of the digital assets they create in Decentraland and can convert them to cryptocurrencies other than MANA.
If the Decentraland metaverse needed a legitimacy boost, it got one in May 2022, when Millennium Hotels and Resorts launched M Social on the platform. According to a press release, this is the first metaverse hotel operated by a hospitality group. Decentraland has also signed a deal to integrate the upcoming film "The Infinite Machine" and its NFT collection into its metaverse, Variety reported.
5. Algorand (ALGO)
Algorand, founded by noted computer scientist Silvio Micali, might be the next big cryptocurrency as it has positioned itself as a competitor to the Ethereum blockchain. Hundreds of companies, including the International Federation of Association Football, use it, as do the governments of El Salvador and the Marshall Islands.
One of Algorand's biggest advantages is its "proof-of-stake" algorithm, which offers a high degree of security and scalability and requires less electricity than Bitcoin and other platforms. This feature will only grow in importance as cryptocurrencies face more criticism — and possible regulation — for their massive energy consumption.
6. Render Token (RNDR)
Render Token is a graphic rendering network that lets miners with excess graphics processing unit bandwidth parcel it out to artists and creative studios that need extra computing power. RNDR is the native token creators and miners use in their transactions on the Render Network.
The cloud graphics company Otoy is behind Render. To further level the graphics-processing playing field, Otoy recently launched its Octane X RNDR app for iOS. The app includes the same Otoy GPU renderer that studios like Disney and Marvel use, Fast Company reported. This could help forge a path for Render Token to become a major player in metaverse rendering.
RNDR was launched in a public sale in 2017, but it just recently got its listing on the Coinbase exchange. While highly speculative, RNDR could benefit from the increased exposure it's getting on Coinbase, as well as the extraordinary rise of non-fungible tokens for digital art.
How To Buy Cryptocurrency

Buying cryptocurrency is relatively easy. Here are the steps you can take to buy the next big crypto:

Open an account with a cryptocurrency exchange or broker: Exchanges such as Coinbase or Binance.US are easy to use and match buyers with sellers. Alternatively, you can choose a broker like Robinhood or SoFi, which execute the trades for you and typically have low fees but feature complicated interfaces.
Fund your account: Before you can trade crypto, you'll need a way to pay for your purchases, such as a linked bank account, a wire transfer or a debit or credit card payment.
Final Take To GO
Despite the crypto market being highly volatile, many investors remain on the lookout for the next big payoff. In the crypto space, big crypto risks can come with big crypto rewards. No matter how you feel about the nuances of investing in crypto such as blockchain technology, decentralized applications, smart contracts or even just meme coins, it's good to familiarize yourself with the territory and stay on the lookout for the next big cryptocurrency. 
FAQ
Here are the answers to some of the most frequently asked questions regarding the next big cryptocurrency.
Which crypto will explode in 2023?

To navigate which crypto will explode soon, you need to first analyze the profit and gains of that asset. When trying to identify the next big cryptocurrency, two things to keep an eye on are similar to what a stock investor would keep an eye on: market capitalization and price.
Market cap shows how much has been invested in a specific network. As a general rule, the larger the market cap, the more stable the asset, though it also means the coin has less room to grow. It's also important to keep an eye on the price to determine whether investors are bullish or bearish on the cryptocurrency.

What's the next big crypto to invest in 2023?

Here are some cryptocurrencies to keep in mind and possibly invest in for 2023:

Ethereum (ETH)
Binance Coin (BNB)
Tether (USDT)
Decentraland (MANA)
Algorand (ALGO)
Render Token (RNDR)

What is the next big cryptocurrency in 2024?

Here are a few metrics to help you analyze what the next big cryptocurrency will be in 2024 or 2025:

Volatility: The less volatile the price, the better for the crypto's value to remain stable.
24-hour volume: The total dollar value of all transactions over the past 24 hours can help you determine a coin's liquidity.
Supply: As bitcoin's meteoric rise attests, scarcity can drive demand and prices. Increasing or infinite supply can have a dampening effect.
GOBankingRates' Crypto Guides
Daria Uhlig and Caitlyn Moorhead contributed to the reporting for this article.
Data is accurate as of July 6, 2023, and is subject to change.
Our in-house research team and on-site financial experts work together to create content that's accurate, impartial, and up to date. We fact-check every single statistic, quote and fact using trusted primary resources to make sure the information we provide is correct. You can learn more about GOBankingRates' processes and standards in our editorial policy.