What's Driving the Bitcoin Rally? And Will It Expand?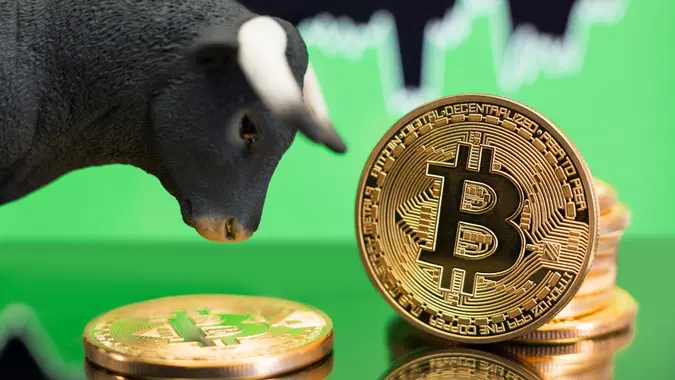 24K-Production / iStock.com
Following a difficult last year, Bitcoin has been off to a great start in 2023, but whether the recent rally will translate into a longer bull run and extend to the broader crypto market is yet to be seen, according to several experts.  
Check Out: GOBankingRates' Best Neobanks 2023
Learn: 3 Things You Must Do When Your Savings Reach $50,000
Wealthy Millennials Aren't Banking on Stocks: Here's What They're Investing In Instead
In the past 30 days, the asset is up a whopping 40%, according to CoinGecko, and has finally breached the $20,000 ceiling. Bitcoin was hovering around $23,000 on Jan. 31. While this is giving a sigh of relief to many, the asset's price is still a far cry from its Nov. 10, 2021, all-time-high of $69,044.77, which represents a 66.5% decrease.
James Butterfill, head of research at CoinShares, said the rally is primarily driven by recent macro events such as lower inflation data from the U.S. and Europe that suggest monetary policy is likely to be much softer in the coming year.
"As Bitcoin and, more broadly, crypto assets are seen as a monetary policy inflation hedge, investors see opportunities now in crypto assets following a year of very aggressive monetary policy action," Butterfill said. "We have seen, post-FTX, that Bitcoin has finally recoupled with macro data, shrugging off the bad news from Gemini and Silvergate."
Butterfill said he expects modest gains in the first half of the year while interest rates continue to rise and there are chances of flare-ups caused by the collapse of FTX.
"But as the U.S. and Europe face a recession and potential interest rate cuts are seen," he said, "this is likely to prompt a more sustained rally in Bitcoin in the second half of 2023."
Some Expect a Slow Climb Back
In terms of why opinions are divided on the direction of the price, it also has largely to do with the Fed's policy and the continued easing of inflation. 
"There is no reason to believe that Bitcoin and, to a lesser degree, Ethereum will become disconnected from the traditional financial markets any time soon, despite the fact that they seem like they should be an inflation hedge," said Arie Trouw, co-founder of XYO Network.
Take Our Poll: What Are Your Financial Priorities in 2023?
Opinions are varied about whether this rally will continue.  Some, such as Trouw, said that while we are at the beginning of a longer-term bull cycle for the digital asset industry, it will involve a slower ascent than previous cycles.
"I also believe that 2023 will be the year of the great reckoning for crypto, where 80% of assets will fade because they lack substance and the 20% that remain will benefit greatly," he said. "We saw the same pattern in the dotcom crash where hollow companies with just a domain name failed, but the few that had solid businesses thrived."
Not Yet a Bull Market
Some are more cautious, saying that while the rebound of digital assets underscores this market's resiliency, it's too soon to call this a bull market.
"What we seem to be experiencing, at least to a large extent, is the market recovering from having been way oversold," said Joe Ziolkowski, CEO and co-founder of Relm Insurance. "As prices dipped to extreme lows, it was clear that both retail and institutional buyers took the opportunity to accumulate a variety of crypto assets. So part of this recovery appears to be these assets returning closer to their historical mean."
Meanwhile, several experts argue that, while the crypto market is undergoing somewhat of a recovery due to rapidly shifting macroeconomic factors, what matters most is to focus on the longer-term development of crypto protocols, such as Ethereum.
For example, John Paller, founder of Opolis, said a lot of market observers seem to overlook just how much developer activity is happening on this network, including the various scaling solutions that are making the broader Ethereum ecosystem faster and cheaper to use.
"A lot of new applications are being developed at the moment, including in the gaming and DeFi spaces, and I suspect we will see in the coming years a surge in user activity because of the next-generation protocols that are getting created right now," he said. "But it will take time for these protocols to get fully built out. And until then, it's important to keep the eye on the proverbial prize and focus on building more utility so that more users come into this industry. It's happening, but now is the time to build, build, build."
More From GOBankingRates