What Are Target Date Funds?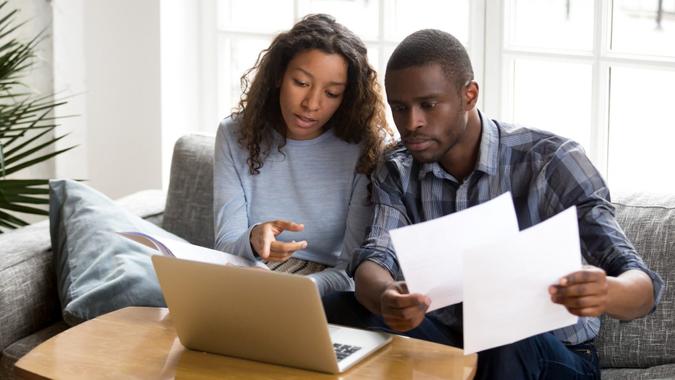 fizkes / Getty Images/iStockphoto
Target date funds are investments, like mutual funds or exchange-traded funds, or ETFs, that are selected based on a 'target date' or a specific time when the money from the investments will be needed. They are often used for retirement or college savings. Many 401(k) and other retirement plans offer target-date funds as an investment option.
A target-date fund is usually named for the year in which the target event, e.g., retirement or college, will occur. Someone who plans to retire in 2060, for example, might invest in a "2060 Fund."
How Do Target Date Funds Work?
Target date funds are usually structured as mutual funds; that is, they are a "basket" of stocks, bonds, and other investments that are selected according to the objective of the fund. They may also invest in other mutual funds and may be referred to in this case as a "fund of funds." Some target-date funds might be index funds, which are passively managed, with the objective of mimicking the performance of an index such as the S&P 500 or the Russell 2000.
What Makes Target Date Funds Different?
Target date funds are designed to maximize return while reducing risk because they account for the fact that the investor's time horizon is known. Using retirement as an example, younger investors can take more risk than older investors, because if the market dips, they have more time to make their money back.
If a mutual fund manager knows that all the investors in a given fund plan to leave their money invested for 30 years before they start taking any out, they will make a different decision than they would if they knew everyone would be taking out their money in five years.
As time goes on and the target date gets closer, target-date funds will shift to more and more conservative investments. This is known as the "glide path." Generally, the glide path will move the fund's assets away from stocks and toward bonds as time passes, although this can vary depending on the specific investments.
What Happens When the Target Date Arrives?
Retirement can last a long time – often 30 years or more. Some target-date funds are designed to take you "to" retirement, which means that they will be at their most conservative when they reach the target date in the fund's name.
Other target-date funds will take you "through" retirement, which means they will continue to grow more conservative after the retirement date. In either case, a target date fund will continue to rebalance, maintaining the target allocation for each asset class, for the entire time you own it.
Will All Target Date Funds Perform the Same?
Not all target-date funds are managed the same way, and not all will have the same glide path. One fund may move money into more conservative investments earlier, and another fund may wait. Keep in mind that you don't have to keep your money in a target-date fund until the target date.
Good To Know

If you're not comfortable with the fund's performance, or you don't like the way it's being managed, you can withdraw your money and invest it in another fund.
Can a Target Date Fund Guarantee There Will Be Enough Money to Retire?
A target-date fund, like any stock, bond, or mutual fund investment, is subject to risk. There are no guarantees that you won't lose money and, theoretically, you could lose your entire investment. And even if your target-date fund performs as expected, you'd have to be sure you invested enough money at the right time in order to ensure you have enough to retire.
How To Choose a Target Date Fund
If your employer-sponsored 401(k) or other retirement plan offers target-date funds, you can compare them the same way you would compare any other investment option. Look for previous performance, even though it doesn't guarantee future performance, and look at the success of the fund manager.
You'll also want to choose your target date carefully. If you know you're going to retire in 2055 at age 65 and you know you are a moderate investor in terms of risk, you may choose a 2055 fund. But a very conservative investor who knows they'll work until age 70, might choose that same 2055 fund. Even though they won't actually retire until 2060, they want less risk, so they choose a fund that will be more conservative earlier.
Regardless of whether you choose a target-date fund, you should monitor your investment to make sure they remain diversified, and that they're performing the way you expect.
Our in-house research team and on-site financial experts work together to create content that's accurate, impartial, and up to date. We fact-check every single statistic, quote and fact using trusted primary resources to make sure the information we provide is correct. You can learn more about GOBankingRates' processes and standards in our editorial policy.