7 Cities That Will Become More Expensive in the First Half of 2022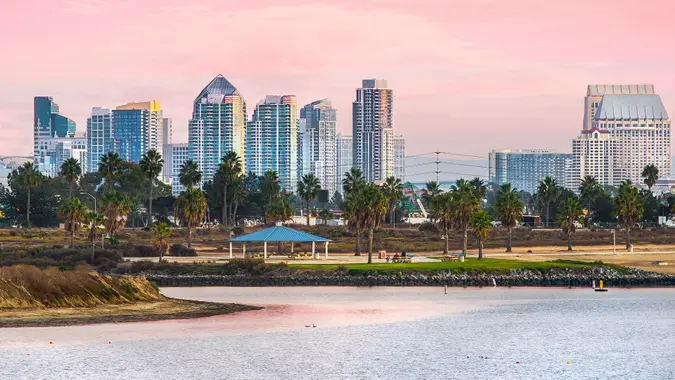 Dancestrokes / Shutterstock.com
For a multitude of reasons, real estate is getting more expensive. The pandemic is a big factor, with many people opting to move to less dense areas amid the remote work boom. However, those who may be relocating are not the only ones to blame. In fact, one of the reasons for the current housing shortage goes all the way back to the Great Recession.
For instance, according to Federal Reserve Economic Data (FRED), housing united started declined from its peak of 2,273 in January 2006 to just 478 in April 2009. In November 2021, housing starts totaled 1,479, which is similar to the level in 1994.
Supply chain issues also contributed to the current housing shortage, and lumber prices rose to unprecedented levels by May 2021. These are some of the factors that have caused a spike in new housing prices. But, as the experts let us know, some cities are set to rise in cost more quickly than others. Below are the cities that will be particularly expensive in the first half of 2022.
Important: 17 Dumb Home-Buying Mistakes That Hurt Your Wallet

Salt Lake City
Salt Lake City is one of the fastest-growing metro areas in the country as people look to move away from higher costs in California and Denver. Salt Lake City tops Realtor.com's Top Housing Markets of 2022 with the highest projected combination of sales volume and price increases. Prices are forecasted to increase by 8.5%, well above the projected national average of 2.9%.  
"Our model suggests that many markets in the mountain west region that have benefited from an influx of remote workers looking for higher quality of life and more affordable housing costs are likely to continue to outperform in 2022," said Danielle Hale, chief economist at Realtor.com.
Boise, Idaho
Boise's rise is much of the same: remote workers seeking an affordable city as their new working arrangements allow them to work from anywhere. Of course, more demand means higher prices, and that is causing housing prices to increase dramatically in Boise. However, Boise, too, is a great place for outdoors people, with plenty of parks, trails, and the Boise River running along downtown. Home prices in Boise are projected to increase by 7.9%.
Austin, Texas
Austin has been a popular transplant city for a while now as people are drawn to the lack of income tax in Texas. However, there is more to like about Austin, as Gerrid Smith, CEO of Texas-based Property Tax Loan Pros explained.
"Austin is noted for its pleasant weather, reasonably priced homes, and a thriving cultural scene. Aside from being the state's official capital (which many people overlook), Austin is also renowned as the state's cultural capital. Austin's most well-known attractions include music, art, and cuisine. Austin has everything to offer, from downtown life to calm suburbia, to keep property prices climbing at an absurd rate through 2022."
Nashville, Tennessee
"Nashville is a relatively fast-growing city as many northern transplants are drawn to its warmer weather, lower costs, and, of course, live music scene. Nashville was named the fastest-selling city in the United States this year," said Michael Simmons, real estate broker and owner of Tres Amigos Realty. "Due to cheaper taxes and more flexible COVID-19 limitations, it has witnessed a record number of house buyers. Nashville will most likely see a record amount of out-of-state homebuyers in 2022."
New York City
New York City is not the most affordable city as it is, but certain parts of the city could still see a rapid rise in prices in the first half of 2022. "I'm watching Midtown Manhattan because it has a very heavy foreigner/pied-a-terre buyer base," said James McGrath, licensed real estate agent in NYC and co-founder of Yoreevo.
"Visiting NYC has been difficult since COVID so Midtown has taken a larger hit than other NYC neighborhoods with more local demand," McGrath said. "This could also be extended to the Financial District as it's very heavy on condos."
Phoenix
"Although it is sometimes overshadowed by Houston and other large cities, Phoenix is already the fifth-most populous city in the United States. That is a trend that isn't slowing down, as Phoenix saw double-digit population growth between 2010 and 2020. Phoenix, Arizona, is where I expect to be more expensive in the first half of 2022," said Stephen Keighery, CEO and founder of Home Buyer Lousiana. "It is very prospective real-estate wise and attracts lots of businesses."
San Diego
Sitting right on the Pacific and having perfect temperatures year-round, San Diego has always been a desirable location with high costs. However, it could get even more expensive in the first half of 2022, said Gavin Johnson, managing director at Evking. "It's no surprise that housing prices continue to rise when you combine wonderful weather, the Pacific Ocean, and postcard sunsets."
Indeed, San Diego has a winning formula that means it will be a desirable location for the foreseeable future. "If you can afford to live in San Diego and want to see your pricey property continue to appreciate in value, you should consider purchasing soon," Johnson said.
More From GOBankingRates