6 Reasons Why You Should Buy Yourself a Home This Holiday Season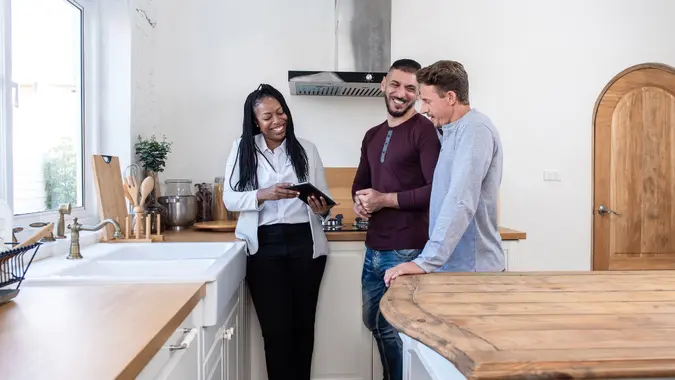 Kritchanut / Getty Images
Home prices rose by an incredible 45% between January 2020 and June 2022, and that historic housing inflation is a big part of why the Fed acted so aggressively to raise interest rates this year.
Take
But the Fed's action has had the desired effect — home prices are now falling for the first time since 2012 as a long-overdue correction cools the market heading into 2023.
The tradeoff is that while 30-year mortgage rates are up near 7% for the first time in decades, falling home prices are giving buyers a little more purchasing power heading into the holidays — and the holidays can be an excellent time to buy.
There Is Less Competition Among Buyers
Demand plummets during the cold months, which means that your offer is much less likely to get lost in the shuffle of competing bids. 
"One reason to purchase during the holiday season is that you have less competition," said Rebecca Awram, mortgage advisor at Seniors Lending Centre. "And anyone who is willing to list their home over the holiday season is also quite likely a very motivated seller. While there is always a lift in inventory in the spring market to look forward to, there is also a huge surge in buyers out there looking with you. So winter can be a real boon to the eager buyer."
Agents May Take You More Seriously 
Winter buyers also tend to have an easier time finding excellent real estate professionals whose schedules are lighter and who know that anyone scouting for homes during the holidays probably isn't just window shopping. 
"As a listing agent, I know that the most serious buyers come out at this time," said Glen Pizzolorusso, a licensed real estate broker with Glen Christopher Luxury Collection and Compass Connecticut. "Let's face it, you're not going to trek through six inches of snow to visit an open house unless you are serious about buying and think this house could be the one."
Real Estate Companies Are Eager To Offload Inventory 
When the weather turns cold, the clock starts ticking for property corporations that are holding inventory that they don't want to bring with them into the new year — and holiday buyers are likely to encounter one that's willing to take whatever it can get.
"Winter is a time when not only is there less demand for houses, but many real estate companies are looking to sell some of their inventory before the end of the calendar year," said Omer Reiner, a licensed realtor and the president of FL Cash Home Buyers, LLC. "Therefore, winter could be a good time to buy a house below the prices seen earlier this year." 
Adjacent Services Are Cheaper in the Off-Season 
Since the winter sees a steep decline in demand for housing, the phone rings less for the industry's support services, too — and that translates into discounts for you. 
"It is much easier to hire professionals during the holidays — you won't have to go through a lot of trouble to contact movers, inspectors and contractors," said Tom Cafarella, a real estate investor, broker and owner and founder of Ocean City Development. "This is because the holidays are not typically a buying season. So, most of these professionals are free because they don't have much work. This gives you more options to choose from and easy access to the professionals you want."
You Can Count On Quick Closings
Since winter sellers tend to be more eager than those who list during peak season, they have a vested interest in moving the process along quickly.
"During the holiday season, most sellers stay motivated as they want to sell their houses before the year ends," said Ron Wysocarski,broker and CEO at Wyse Home Team Realty. "Even the mortgage and title companies try to close some more deals during this time of the year. As a result, all the parties participating in the transaction are supposed to do their best in closing the deal quickly. As there are fewer client demands, your agent will be able to help you speed up through the closing."
Don't Wait To Build Wealth 
Owning a property is still the best ticket to middle-class security and generational wealth in the United States — and that makes the present the best time to buy for anyone who's ready.
"Owning a home is one of the very best ways to build wealth," Moran said. "According to the Federal Reserve Board Survey of Consumer Finances, the median family net worth for homeowners is 40 times greater than that of renters. Additionally, 62% of net worth for middle-income households is made up of home equity."
More From GOBankingRates
Nicole Spector contributed to the reporting for this article.