7 Best Places for Gen X To Buy Real Estate, According to Realtors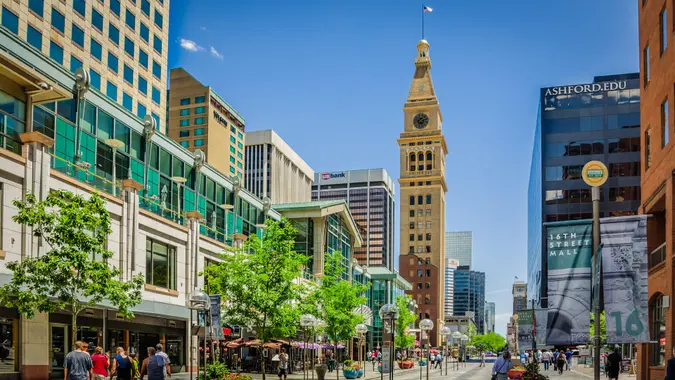 AlbertPego / Getty Images
Given the current economic climate, it might not seem like the best time to buy property. After all, mortgage rates are still high, homes are more expensive than ever, and there's a lot of competition from other buyers. But if you're a Gen Xer who's in the position to buy real estate, there's no time like the present to consider your options.
With so many up-and-coming locations to choose from, it can be tough to decide the best one for you and your family. "Gen X buyers seeking the best real estate locations should focus on dynamic cities with solid job markets and vibrant cultural scenes," said Gagan Saini, director of acquisitions at JiT Home Buyers.
"People in the Gen X generation are in their 40s and 50s currently, so they are statistically at the height of their career and likely to have school-aged children," added Jonathan Rundlett, regional owner at EXIT Mid-Atlantic. "The best markets for this generation would be those that have good schools, offer space, and have available family-friendly activities. Where urban markets are better suited for the young professional, this generation needs more space but still needs to be near career opportunities."
If money isn't a concern, Saini suggests looking into suburban locations near major cities like Scottsdale, Arizona, or Arlington, Virginia. Alternatively, consider metropolises that offer cultural diversity, a booming economy and solid investment opportunities like Seattle or Austin, Texas.
Besides those areas, here are nine of the best places to purchase property if you're in Generation X.
Austin, Texas
Austin, Texas, is one of the best places to buy real estate if you're in Generation X. "Known for its thriving job market, vibrant cultural scene, and attractive quality of life, Austin has become a hotspot for real estate investment," said Denis Smykalov, real estate broker with Wolsen Real Estate. "The city offers a diverse range of properties, from downtown condos to suburban homes, catering to various preferences. The strong demand for housing, coupled with favorable economic conditions, makes Austin an appealing option for potential buyers."
South or Southeast Florida
"As a Gen Xer myself that lives in Florida, I think there are a number of great places in Florida in which to buy real estate,"  said Desiree Avila, realtor, GRI with Charles Rutenberg Realty (Fort Lauderdale). "Since Gen Xers are closer and closer to retirement each day, Florida is a natural choice. It has great weather, tons of beaches, and no state income tax."
While South Florida is still a prime location for many people, it's become increasingly more crowded and more expensive over the years. If you're looking for warm weather and easy beach access, check out places along the coast like Palm Bay. Other Florida cities that are still affordable and full of opportunity include Davenport, Leesburg, Cape Coral, Bonita Springs, Destin and Jacksonville.
Toledo, Ohio
Located in the northeastern part of the United States near Lake Erie, Ohio is one of the more affordable states to live in. And if you're looking for a place to buy a home, settle down and raise your family, Toledo is a good option.
"Toledo offers potential buyers a 5:1 estimated inventory-to-buyer ratio," said Rinal Patel, the founder of We Buy Philly Home. "The percent[age] of listings with a price cut is at 23% and the typical mortgage payment as a percentage of income is about 26%. So, houses in this place are quite affordable."
Denver
If you're looking for another mid-sized city with a lot of recreational activities and stunning landscapes, Denver is another great option. "Denver has become a popular choice for real estate investment due to its strong job market, recreational opportunities, and attractive lifestyle," Smykalov said. "The city offers a mix of urban and outdoor amenities, making it appealing to a wide range of buyers. Denver's real estate market has seen steady growth, with increasing demand for housing."
El Paso, Texas
Affordable and full of sunny days, El Paso is a city with a dense suburban vibe, sprawling neighborhoods, and plenty of parks and other outdoor spaces for the family. "This city has lots of things that make it a good location to get real estate," Patel said. "It has a strong economy and job market, no income tax, low cost-of-living expenses and affordable housing."
Lincoln or Omaha, Nebraska
"When it comes to finding the perfect cities for Generation X homebuyers, I have two fantastic recommendations: Lincoln and Omaha," said Scott Bergmann, realtor with Realty ONE Group Sterling. "These vibrant Nebraska cities offer a combination of affordability, thriving job markets, and an incredible quality of life."
Both cities are still more affordable than the national average, meaning Gen Xers can lead a comfortable lifestyle without worrying so much about the cost. There are also plenty of diverse job opportunities in both cities, allowing Gen X buyers to continually grow in their careers while providing financial stability for their families. And last but not least, Omaha and Lincoln rank high in terms of healthcare, education, entertainment, recreation and safety.
More From GOBankingRates