Biden's Latest Plan Could Save You Money on Your Home — Do You Qualify?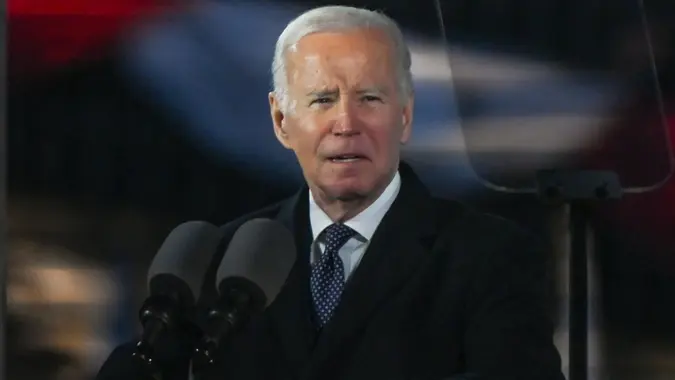 Artur Widak / NurPhoto / Shutterstock.com
The American Dream of owning a home seems far out of reach for many people as mortgage rates continue to climb, property values increase and wages fail to keep up with ongoing inflation.
See: 8 Places in California Where Home Prices Have Plummeted
Find: 3 Things You Must Do When Your Savings Reach $50,000
According to Fox Business, U.S. home sales slowed for the 12th month in a row in January 2023, continuing a troubling trend for both the economy and would-be homeowners. Fox Business cited a National Association of Realtors report which indicated current home sales are down 36.9% versus January 2021. More alarming, "It is the slowest pace [regarding home sales] since November 2010, when the U.S. was still in the throes of the housing crisis triggered by subprime mortgage defaults."
Now, the Biden administration is getting involved with a new initiative to make homeownership "more affordable, accessible and attainable," according to a press release issued by the U.S. Department of Housing and Urban Development (HUD) on Feb. 22.
In partnership with the Federal Housing Administration (FHA), HUD has announced a reduction in the annual premiums homebuyers pay for their mortgage insurance — a reduction that could total a savings of $800 per year or higher for those with larger loans. For homeowners who don't have a standard 20% down payment, they can still receive lending if they pay for insurance on their mortgages. The down payment can be as little as 3.5%, per the Wall Street Journal.
Certain FHA Loans Qualify
This new initiative in particular targets first-time and low-income homebuyers with FHA loans, the Wall Street Journal reported, and could affect up to 850,000 households. WSJ provided a tangible example, noting: "The changes would reduce monthly insurance costs for people with FHA-insured loans by about $70 on a $270,000 loan."
The press release indicated that the reduction in premiums "will help low- and moderate-income Americans save an estimated $600 million in the next year alone, and many billions over the next decade."
This push comes as big news to financial analysts, who believe the savings will entice more entry-level buyers into the field and help revitalize the real estate market. This is particularly true as mortgage interest rates remain high given successive increases by the Federal Reserve over the past year and a half.
Take Our Poll: What Are Your Financial Priorities in 2023?
More: Mortgage Applications Drop to Lowest Level Since 1995 — Should Sellers Worry?
The latest move by HUD and FHA also builds on other recent changes making homeownership more attainable for certain Americans. In September of 2022, the FHA changed its underwriting guidelines to allow "positive rental history" to be considered as a benchmark in determining the creditworthiness of a mortgage candidate. And in June 2021, FHA also recalculated student loan payments as part of its debt analysis, allowing mortgage applicants a better chance of being approved even if they carried high student loan balances.
More From GOBankingRates