How Boomers (Millennials' Parents) Are Controlling the Housing Market Again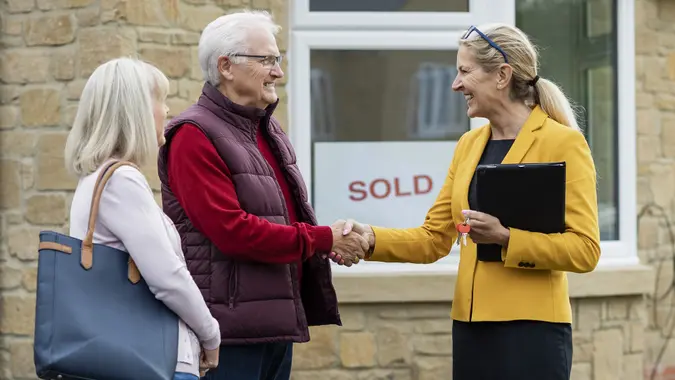 SolStock / iStock.com
While the homebuying process shouldn't be seen as a competition, one generation has a significant advantage over others right now, and they are currently dominating the housing market again.
According to a study by the National Association of Realtors, baby boomers have taken the lead over millennials as the biggest cohort of homebuyers. Their study found that boomers, ranging from 58 to 76 years old, made up 39% of homeowners compared to just 28% of millennials (ages 24 to 42 years old) in 2022.
What is it about boomers that has them so well positioned to control the housing market? GOBankingRates asked the experts to weigh in.
Aging in Place
More boomers are aging in place, according to real estate investor Andrzej Walter Lipski of Next Door Properties LLC.
"Those homeowners that are happy with their investments are using them as cash flow to supplement their retirement income or Social Security," he said.
"They are either owners occupying their multi-family home or are living in a single-family home, renting out all the units in their multifamily properties. Their plans for the future are to leave their property to their children or to liquidate it in probate." 
Aging in place is not a new phenomenon, but the sheer number of boomers doing so is helping create a shortage in the housing market as fewer homes are available for new home buyers, Lipski explained. "Some are either living with their aging parents living rent free or are renting from someone else."
Additionally, millennials could benefit from the eventual "great wealth transfer" as boomers' assets are liquidated and distributed among their children. But, Lipski said, "This liquidation is delayed as many older investors are living longer."
Lack of Downsizing
Another factor that may be contributing, Lipski mentioned, is that he isn't seeing much downsizing by boomers.
"Their strong desire to own real estate and invest has made them less willing to downsize as they approach retirement," he said. "They aren't reducing the amount of properties in their portfolios."
When they finally do sell, Lipski sees entire portfolios of rental properties being sold at once. However, he said, "They seem to only be repositioning their money into larger real estate investments."
Boomers Have Accumulated More Wealth and Equity
In general, due to their age and time being on their side, boomers have generally accumulated more wealth and equity.
"They have often paid off their mortgages and have more disposable income than millennials, allowing them to purchase homes with cash," said Eric Lee, co-founder at REIInsiders.com. "Additionally, boomers typically have more access to credit than millennials, which can help them finance their purchase."
Yet another factor in boomers' favor is that they entered the housing market at a time when housing prices were relatively lower, and interest rates were more affordable, according to Derek Morgan, chief real estate officer of Unreal Estate.
"They've had the chance to build home equity over decades," Morgan said, "positioning them well for either purchasing additional properties or downsizing to a more luxurious one."  
Taking Advantage of Lower Interest Rates
In recent years, with boomers' existing equity and portfolios, they've been able to take advantage of historically low interest rates that millennials might not be able to, making it an opportune time to buy or refinance, even if they already own a home, Morgan explained.
With more equity on their side, they can jump at opportunities millennials can't.  
More Homebuying Experience
Additionally, boomers have the advantage of more experience in the home buying process, noted Gagan Saini, CEO of JiT Home Buyers, a real estate company that specializes in helping people buy and sell homes.
"They have already gone through the process before, so they know what to expect and can use their knowledge to their advantage," Saini continued. "Boomers also have access to more resources, such as financial advisors, that can help them make the best decisions when it comes to buying a home." 
Boomers Are Done Raising Families
According to Allison Montgomery, real estate expert and founder of Buy My House, a big factor at play is boomers' disposable income. Since most of them are empty-nesters, they no longer have the financial responsibilities of raising children.
"This enables them to redirect their resources towards investing in themselves, such as purchasing a new home," said Montgomery.
They're Living Longer, More Active Lives 
Advances in healthcare and a general shift towards healthier living have also led to boomers leading longer and more active lives, Morgan explained.
"Many are using this opportunity to explore new communities, downsize or buy that vacation home they've always dreamed of."
More From GOBankingRates