How To Buy a House With Bad Credit: 5 Tips To Get Your Mortgage Application Approved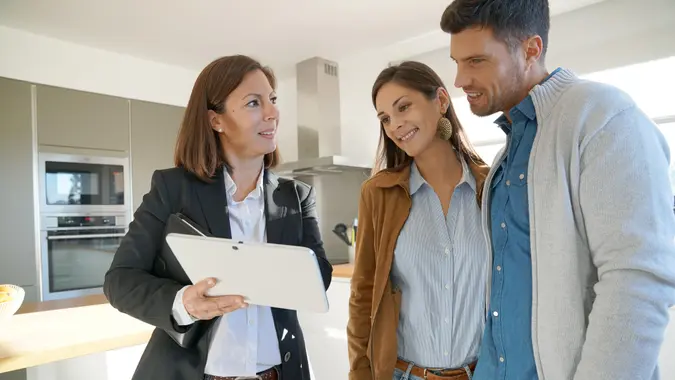 goodluz / Shutterstock.com
Your credit history is one of the most important factors lenders consider when deciding whether to approve you for a mortgage loan to purchase a home. Would-be borrowers with bad credit can have a tough time getting a loan, but it might be possible to be approved despite a low credit score.
What Is the Minimum Credit Score To Buy a Home?
Exact credit score requirements vary by loan type and lender, but the following guidelines will give you a good idea of what to expect:
Conventional loan: 620
Jumbo loan: 700
VA loan: No minimum imposed by VA, but lenders usually require a minimum score of 620
FHA loan: 500 with 10% down payment; 580 with 3.5% down payment
USDA guaranteed loan: No minimum imposed by USDA, but lenders usually require a minimum score of 640
Good To Know

Your credit score isn't the only credit factor that affects your mortgage application. You'll also need a recent history of on-time payments. It's better to have a lower score with no late payments in the last 12 months than to have a higher score with recent late payments, according to Gustan Cho of Gustan Cho Associates Mortgage Group.
How To Buy a House With Bad Credit
You can make yourself a better credit risk in the eyes of potential lenders by setting the numbers up in your favor.
1. Plan To Pay at Least 20% Down
A sizable down payment increases your stake in homeownership and reduces the risk that you'll default on your loan. Putting down at least 20% also lets you avoid mortgage insurance, which protects lenders in case borrowers default but adds a monthly premium to your mortgage payments and costs you extra at closing, according to the Consumer Financial Protection Bureau.
2. Build Up Cash Reserves
You'll want to save up at least two months' worth of home payments, including principal, interest, taxes and insurance, but some lenders require as much as six months' worth for riskier borrowers. Cash reserves include bank accounts, stocks and bonds and vested funds in retirement accounts and life insurance policies — money you can withdraw quickly in a pinch.
3. Lower Your Debt-to-Income Ratio
Mortgage lenders want you to have a lower debt-to-income ratio because you're more likely to fall behind on mortgage payments if you're already juggling other debts. To determine your DTI ratio, add up your monthly debt payments and divide that number by your gross monthly income. The CFPB recommends a DTI ratio of 43% or less, but a ratio of 36% or less gives you the best chance of being approved for a loan.
4. Get a Second Job
A side gig will strengthen your mortgage application by increasing your income and decreasing your DTI.
5. Lower Your Loan-to-Value Ratio
The LTV ratio is your mortgage loan amount divided by the appraised value of the home you're buying. The lower the LTV, the less risky the loan will seem to the lender, as you'll have more equity in your new home. Keep your LTV low by hunting for good values and making the largest down payment you can afford.
Home Loan Options for Buying a House With Bad Credit
Even if you have poor or bad credit, you still might quality for these loan options to buy a house:
Conventional loan: This loan requires 5% down (3% for special loan programs for low-income borrowers), although you'll pay private mortgage insurance if you put down less than 20%. The minimum credit score is generally 620. If your income is high or you make a large down payment, you might be able to qualify even if your score is lower than 620.
FHA loan: Backed by the Federal Housing Administration, FHA loans have easier qualifying requirements that make them a good choice for first-time homebuyers. With 10% down, you can qualify for this loan with a credit score of 500-579. If your score is 580 or higher, you can buy with a 3.5% down payment. One disadvantage to this loan is that you'll pay a mortgage insurance premium for the life of the loan.
VA loan: If you're a veteran or an active-duty member of the military, or you're married to a veteran or service member, you might qualify for a VA loan. No down payment is required to buy a home. However, you will have to pay a VA funding fee. Although the VA doesn't impose a minimum credit score, most lenders require a 620.
USDA loan: This loan is backed by the U.S. Department of Agriculture to help lower-income borrowers with limited credit or past credit issues buy a home with no down payment. Lenders often require a minimum credit score of 640, but the USDA has no set minimum, so you might qualify if you want to buy a house in a rural area and have a score lower than 640.
How To Improve Your Credit To Get a Better Mortgage Rate
If your credit score is low due to financial mistakes you've made in the past, your goal should be to boost it so you can not only qualify for a loan but get a competitive interest rate as well.
Here's what you can do to improve your credit score:
Review your credit report for errors: If you find errors, contact all three credit bureaus with the proper documentation to correct them.
Pay bills on time: Paying on time is one of the best ways to improve your score.
Pay down debt: Paying down debt, starting with accounts in collection, will reduce your DTI and might increase your credit score.
The Bottom Line
Buying a home with bad credit can be difficult — but it's not impossible. Boost your credit by trimming debt, cleaning up your credit report and saving up a big down payment plus cash reserves.
Elle Martinez and Michael Galvis contributed to the reporting for this article.
Our in-house research team and on-site financial experts work together to create content that's accurate, impartial, and up to date. We fact-check every single statistic, quote and fact using trusted primary resources to make sure the information we provide is correct. You can learn more about GOBankingRates' processes and standards in our editorial policy.