Buying Property in These Western Destinations Could Be a Great Investment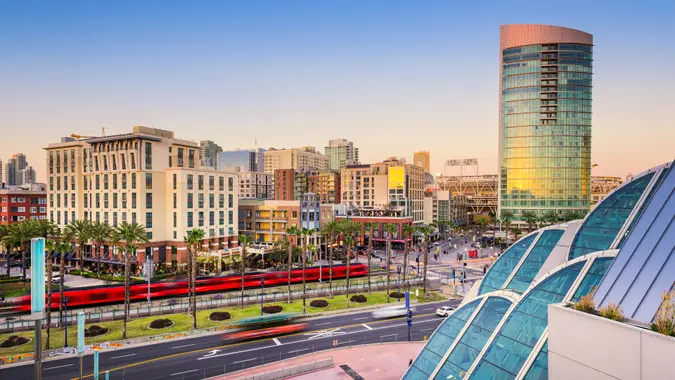 ©Shutterstock.com
Home values continue to rise, rents are at historic highs and the country is mostly maskless and open for business, open for travel and open for tourism. In short, it's a real estate investor's dream. But, with home prices at an all-time high and rising every month, it has never been more important to pick just the right location.
The West Coast is home to some of the most expensive real estate in the country — but it's expensive because it has a way of paying back investors in spades. If you're considering launching or expanding your real estate empire on the West Coast, here's where to start your hunt.
Expert Advice: Best Places To Invest In Property in 2022
Also Find: Tips for Building Generational Wealth Through Real Estate
San Diego
Perched on the border of Mexico's Baja California and the Pacific Ocean, San Diego is known for postcard beaches, cultural diversity, a massive military presence and vast, green oceans of tourist dollars.
Be warned: You'll have to have plenty of dollars, yourself, to get in on the action.
The San Diego housing market is red hot even by the standards of 2021-22. Prices rose by 25% last year, second in the nation behind only Phoenix metro.
But, if you can afford to buy into one of America's priciest markets, San Diego is a real estate investor's paradise. Its 35.1 million visitors spend $11.6 billion annually, according to the San Diego Tourism Authority, and plenty of it goes to Airbnb and other short-term rentals.
For investors looking for longer-term tenants, a full 46.7% of San Diego residents rent, according to Mynd, compared to 36% for the country.
Real Estate Investing Guru Mindy Jensen: Avoid These Types of Properties
North County Property Group recommends that investors check out the following neighborhoods first:
Pacific Beach
University City
Rancho Peñasquitos
Mission Valley
Mission Beach
Talmadge
North Park
Palm Springs, California
Although it's no longer the playground of the Hollywood elite, Palm Springs is no less of a tourism Mecca today — it has just evolved for the modern era.
Located in the Coachella Valley, the region's eponymous music festival generates a six-figure crush of visitors each spring that is nearly unrivaled anywhere in America. In the coldest months, snowbirds from all 50 states and beyond flood into Palm Springs for its stellar winter weather. It remains one of the world's great golf destinations all year long.
Palm Springs is also accessible — at least by California standards. Located inland from the coast — where seven-figure home prices are the norm — the typical home in Palm Springs costs just $657,171, according to Zillow, compared to $758,360 for California as a whole.
There is, however, an important caveat to consider when investing in Coachella Valley real estate. The entire region — not just Palm Springs, but Indio, La Quinta, Palm Desert, Rancho Mirage, Desert Hot Springs and beyond — levies brutal, double-digit transient occupancy taxes (TOT) that discourage short-term rentals. In a region so unkind to Airbnb-type short-term stays, investors would be wise to stick with seasonal rentals, according to Jelmberg Team Real Estate.
Hood River, Oregon
Part of the reason that Hood River is such a draw for real estate investors is the inland city's centralized location. It's less than a four-hour drive from Seattle, an hour by car from Portland and two hours by plane from San Francisco.
Proximity to major cities, however, is only part of the draw.
Discover: Insider Tips To Get Rich in Real Estate
Perched at the crossroads of the Cascade Range and the Columbia River, Hood River is home to the Columbia River Gorge, an 80-mile Cascade Range canyon that stands out as being the country's largest National Scenic Area and one of America's greatest natural wonders.
Real estate investors can bank on an endless flow of visitors from the region and beyond who come to visit Mt. Hood, which is just a short drive away. Hood River also holds the distinction of being the windsurfing capital of the world, but outdoorsy vacationers flock there for world-class sailing, kayaking and bike trails, too.
Chelan, Washington
Chelan is located on the shores of the long, deep, cold and narrow lake that bears its name. At a depth of nearly 1,500 feet, Lake Chelan is the third-deepest lake in America — No. 1 and No. 2 are in Oregon and California.
A tiny town of 4,000 people, Chelan's population explodes to 25,000 in the summer. That's when tourists and part-time residents flood into Chelan for the lake's bounty of outdoor warm-weather activities and natural beauty. But for real estate investors, Chelan is most certainly a four-season opportunity.
The region gets 300 days of sunshine per year, and the crystal clear, glacier-fed lake is surrounded by vineyards that keep rentals full throughout the spring, as visitors converge for weddings, harvest festivals and wine country tours. In the spring, warm but crisp weather is perfect for biking and hiking; and, in the region's cold but sunny winters, the town is just minutes from top snowboarding and skiing destinations.
All of that leads to some very favorable investment stats. According to House Cashin, Chelan has a nearly decade-long trend of population growth, rising property prices, increasing rental prices and consistent upward appreciation.
More From GOBankingRates