1 in 3 Homeowners Spends Over $4,000 Per Year on Maintenance: 6 Clever Ways To Cut Costs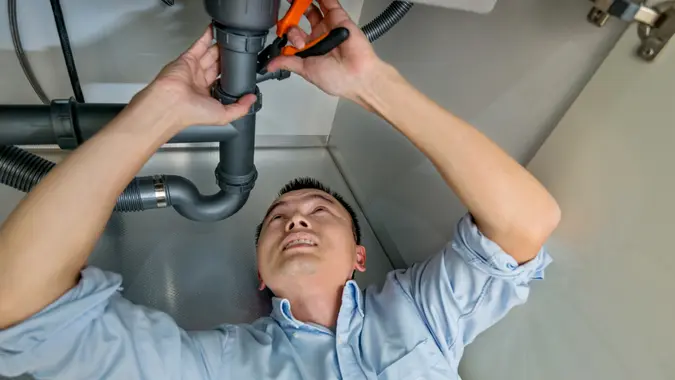 baona / Getty Images
Buying a home is a major financial commitment, one many people aren't quite as prepared for as they would like to be. After all, there's more to think about than just the monthly payment amount or upfront costs like the down payment and closing fees.
One often overlooked cost of homeownership comes in the form of maintenance and repairs. According to a recent GOBankingRates survey, approximately 1 in 3 homeowners spends over $4,000 a year on maintenance alone. An estimated 29.78% of respondents said they spend $2,000 or less, while another 3.29% said their annual maintenance costs are over $10,000.
Around 27.99% of the survey's 1,004 respondents also said that maintenance costs ended up being higher than they expected. Along with this, just over 40% of homeowners indicated that they don't currently have enough money saved up to pay for these costs.
Whether you're a current homeowner or looking to buy, if you're worried about the cost of maintaining or repairing your home, you're in luck. Here are some smart ways to cut maintenance costs and reduce the financial burden of homeownership.
Do Any Repairs Yourself
"There are many ways to reduce maintenance costs as a homeowner," said Sebastian Jania, the Owner of Ontario Property Buyers. "The first thing is to [do] maintenance work yourself if you are currently paying someone to do it for you. If the call is to make things as cheap as possible, do them yourself."
It might not be feasible to do everything yourself. Certain things, like fixing the plumbing or electrical wiring, are often best left to the professionals. You might also need to hire a repair person for things like installing new drywall or upgrading your solar panels.
But you'd be surprised at the number of things you can do yourself. For example, you could repaint the interior or exterior of your home. Or you could replace certain fixtures — that is, things like the kitchen cabinetry or the bathroom faucet. Depending on how handy you are, you might even be able to lay new tile or repair smaller appliances yourself.
Change the Siding on Your Home
Another way to cut maintenance costs is to switch up the siding you have on your home. Many modern homes are constructed with vinyl siding. Not only is it relatively cheap, but it's also durable. With proper care, it could last anywhere from several decades to a hundred years.
However, vinyl siding also requires regular maintenance and cleaning. "Vinyl siding often needs to be pressure washed or painted over time, which results in maintenance costs," said Jania. According to Angi, it can cost anywhere from $195 to $418 to pressure wash a house. The cost of paint varies depending on how much you need and the quality.
"By having a different exterior, many of these maintenance requirements are no longer required," added Jania. Consider, for example, brick. Brick siding tends to cost more upfront, but it can be easier — and cheaper — to maintain.
Think Like a Landlord Rather Than a Homeowner
Landlords know that their properties suffer from wear and tear due to the different tenants they get. As such, they also tend to think smart when it comes to cutting maintenance costs.
"Another great trick is to think more like a landlord does," said Jeremy R. Henley, Founder of TheQwikFix. "There is a reason that lots of rental properties have tile floors. They are very resilient when compared to carpet or laminate flooring that can scratch."
This could mean performing preventative maintenance on things like your smoke detectors, gutters, and Heating, Ventilation, and Air Conditioning (HVAC) systems. It could also mean doing most of the upkeep yourself to save on service fees.
Conduct Regular Inspections and Upkeep
Another great way to reduce costs is to conduct regular inspections. "Doing regular maintenance and inspections of your home is a great way to cut costs," added Henley. If you catch an issue early, you could save a lot of money as opposed to waiting until the situation gets worse.
Say, for instance, you notice a minor leak in one of your drainpipes. If it's something you can fix yourself, you won't have to spend money on a professional service. Even if you need a professional's help, getting it repaired early could prevent later issues like mold. Considering the cost of professional mold remediation can be hundreds or thousands of dollars, this could result in some major savings.
Replace Your Roof
A new roof can last anywhere from 20 to 50 years. However, the exact life expectancy depends on things like the type and quality of the material used in construction.
If your roof needs replacement, consider switching to a cheaper but still durable material like steel. "On traditional roofs, shingles often fall off and require more purchases of shingles and potentially hiring a company, thus increasing maintenance costs," said Jania. Steel rooves, by contrast, tend to have minimal maintenance and upkeep requirements.
Simplify the Landscaping
Take a look at your current landscaping. Having trees, shrubs, and grass in your front or back yard adds a certain aesthetic appeal to your home. However, it also comes with its own set of costs.
Depending on what type of landscaping you have, you might need to pay for things like watering, mowing, dethatching, weed-eating, and aeration. If you have a large property, you may also need to install a sprinkler or irrigation system.
As an alternative, consider cutting back on some of your plants. Only keep the ones you really want, or the ones that add value — perceived or otherwise — to your home. And, if you have real grass, think about switching to artificial turf. Not only can this save you money in the long run, but it can also save you the time needed to maintain your lawn.
More From GOBankingRates