Don't Buy a House on This Day of the Week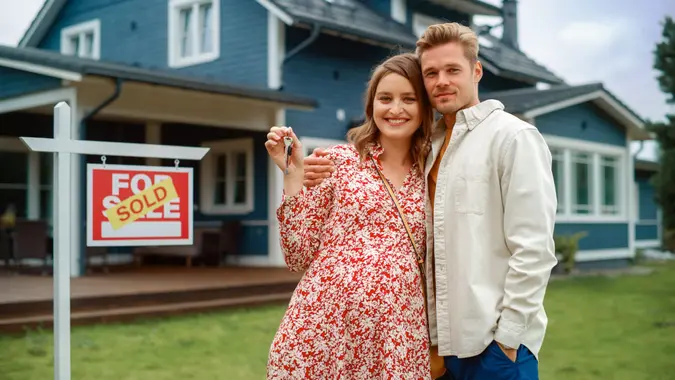 gorodenkoff / Getty Images
On May 5, 2022, real estate industry data curator ATTOM Data published an analysis of 46.3 million home sales over 11 years. It found that buyers pay an average of 18.3% above market price on May 23, the highest average purchaser premium of any day of the year. May is the most expensive month in general, with the closing month of the busy spring selling season claiming all of the year's top 15 highest-premium days.
ATTOM and similar organizations publish compelling data dealing with seasons, months and specific calendar dates. But, is there a worst day of the week to buy a house?
GOBankingRates asked the experts.
What Do You Mean by 'Buy a House?'
Buying a house is a months-long process with many phases and moving parts that can affect both the timeline and the overall price.
So the question about the best day of the week to buy a house depends on which part of the process you're talking about.
Putting in an offer? Going under contract? Locking in your interest rate? Signing the loan? Closing on the property?
The experts agreed that the day of the week is unlikely to determine your experience with those steps or any of the others.
"The price, loan terms, and quality of the house are not dependent on the closing date," said Don Chambers, a real estate investor who owns more than 70 houses and a property management company. "In fact, all of these attributes are decided before the actual closing date. I have bought or sold homes on every day of the week. There are no bad days to buy a house."
Timing Is Indeed Everything, but There's No Magic Day
In the Hudson Valley and Catskills region of New York, the territory of Angelica Ferguson of Four Seasons Sotheby's International Realty, the worst day is any that you waste after a new listing pops up.
"Our market remains a strong seller's market with low inventory, and the most desirable listings are still selling within the first few days of hitting the market," she said. "If a listing goes up on a Thursday or Friday and you plan to view it the following Tuesday or Wednesday, you're probably going to miss the boat. These hot listings get multiple offers right away and the highest and best deadline is usually set on Mondays after the busy weekend of showings. Your best bet as a buyer is to see new listings ASAP and put in your offer right away."
Take Our Poll: Who Has Given You the Best Money Advice You Have Ever Received?
The Holidays Rarely Make It Easy To Get Things Done
As with anything, holidays can drag out the already laborious administrative chores of real estate transactions.
"Major holidays are bad days for real estate," said Fergusen. "Sellers and listing agents may restrict showings because they are celebrating with family. Many agents may be traveling out of town and it just becomes very difficult to secure showings."
Shaun MacDonald of Berkshire Hathaway HomeServices in Nashua, New Hampshire, agrees.
"The worst days on the calendar to buy a home are the year-ending holidays like Thanksgiving and Christmas because lenders, title companies and everyone in between are short-staffed and moving at half speed," he said.
It's not just the big winter holidays, either.
"Buying a house the day after Labor Day, Memorial Day weekend, or July 4th is going to be equally as difficult," said Kurtis Forster of Nu-Vista Premiere Realty. "Everyone will have a pile of work to do, people tend to take their time getting back to work after a holiday, and things just generally take much longer."
Interestingly, Fergusen said Mother's Day has been one of the worst days on the calendar for the last few years.
"It's nice to know that it's a sacred holiday and everyone is out celebrating Mom instead of house hunting," she said.
TGIF? Not When House Hunting
There was widespread agreement among the experts that, aside from the holidays, there is no best or worst day, but that the last day of the week can present unique frustrations.
"In my experience, the worst days of the week to buy a house are always Fridays," said Diana Bereas of Own It Real Estate. "It's so difficult to get deals done on Fridays, especially in the summer. Everyone is in weekend mode, trying to get a hold of all parties is challenging."
It's not just administrative burdens. Fridays and the weekend draw more eyes to new inventory.
"Fridays are generally the busiest days in terms of home showings and open houses, so there may be more competition," said Carmelo Carrasco, an interior designer, realtor and co-founder of Axel Property Management.
The weekends and weekend-adjacent days can be a headache, too.
"For instance, Tuesdays and Thursdays are often considered the best days to list a property, while weekends, when most open houses occur, may instigate bidding wars due to increased visibility," said Shri Ganeshram, the CEO of real estate investing site Awning. "From a buyer's perspective, one might argue that these are the 'worst' days due to increased competition."
If the Time Is Right, the Day Won't Matter
While Ganeshram acknowledged that Fridays or the weekends aren't always ideal, he shared a story that underscores the importance of personal circumstances.
"I once worked with a couple who were first-time buyers and had their hearts set on a property that had just hit the market on a busy weekend," he said. "They were ready to make an offer but were concerned about the competition. We discussed their financial readiness, their emotional attachment to the house and the potential regret if they missed out. They decided to make an offer that same day and their offer was accepted. For them, the 'worst day' according to conventional wisdom turned out to be the best day to buy their dream home."
More From GOBankingRates