Economist Who Predicted the 2008 Housing Crash Says Home Prices Will Drop 15% in 2023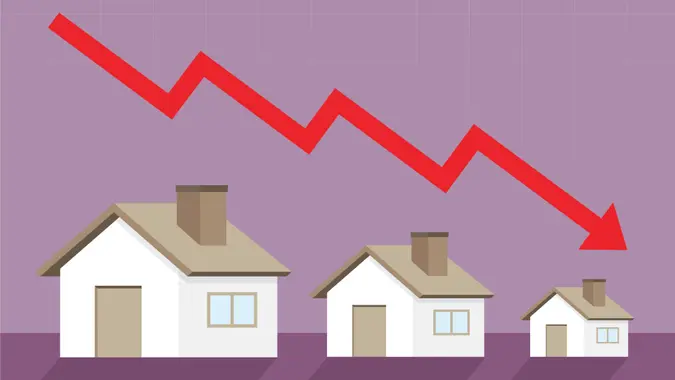 tommy / Getty Images
Citing the large disparity between property costs and buyer incomes, market expert Ian Shepherdson believes that home prices may fall another 15% in 2023.
Shepherdson, the founder and chief U.S. economist of Pantheon Macroeconomics, predicted the eventual housing crash of 2008 in 2005. He recently suggested that the price-income gap, coupled with increased house supply and high mortgage rates, may precipitate a period of continued deceleration of the housing market rather than a significant rebound this year.
In a Jan. 23 analyst note to clients, Shepherdson and Pantheon's senior U.S. economist, Kieran Clancy, wrote that market uncertainty should continue this year as house prices — while declining every month — remain at an unaffordable level.
According to Business Insider, although down significantly from pandemic levels, home prices now are near the unaffordability levels seen in the early 1980s, per National Association of Realtors' Housing Affordability Index data.
As Fox Business reported, house prices rose by 2% year-over-year (YoY) in Dec. 2022, to a median price of $372,700 for an existing home. December was the 11th month in a row that saw home sales decrease and yet, according to the NAR, it was the 130th consecutive month of YOY price increases.
"Mortgage rates have fallen by 93bp [basis points] since late October, and demand looks to be rebounding — modestly — after collapsing last year," read Shepherdson and Clancy's Pantheon note. "To be clear, any rebound in sales from here will be small; monthly payments for a new buyer of an existing home have fallen, but were still up 54% year-over-year in December."
In a client statement written in Oct. 2022, Shepherdson stated he saw "no floor in sight" for declines in house sales but was optimistic that continued price drops would eventually help to balance out the market sometime in 2023.
"But prices have to fall substantially in order to restore equilibrium; the supply curve for housing is not flat, so the plunge in demand will drive prices down," he said. "We expect a drop of 15-to-20% over the next year, in order to restore the pre-Covid price-to-income ratio."
Take Our Poll: What Are Your Financial Priorities in 2023?
Homebuying Amid Inflation Survey: Nearly All Millennials' Plans Upended as They Struggle To Save in New Ways
Other experts have echoed this line of thought, with KPMG analysts suggesting a possible 20% decline in prices and Goldman Sachs and Morgan Stanley predicting 6.1% and 4% drops, respectively, this year.
"The sharpest declines for the US housing market are now behind us," read a Goldman Sachs team research note. With regard to mortgage rates, the team added, "Since reaching 20-year highs of over 7% in October, mortgage rates have fallen by a percentage point, causing our housing affordability index to recover very slightly."
More From GOBankingRates