7 Garden-View Mansions Sure To Grow On You
Read a book, entertain or just relax in your private garden.
Even if you live in a major city, having a garden to escape to can transport you from the hustle and bustle of daily life. Gardens are idyllic settings for reading a book, enjoying a cup of tea (or glass of wine) and entertaining guests. And when the weather isn't cooperating and you can't actually be outside in your garden, you'll still be able to enjoy its beauty from the windows of these garden-view mansions.
Vintage Log Cabin in Chappaqua, New York
When you hear log cabin, you might not think mansion, but this home is surrounded by expansive gardens and outdoor patios, making it a perfect place for outdoor entertaining. The 1900s home is less than an hour away from Manhattan, but it makes you feel like you're far from the city. Outdoor amenities include a brick-enclosed gas grill, a fountain and waterfall, a retractable awning with a heat lamp and a fire pit. The gardens feature five types of hydrangea, roses, hosta and a variety of ferns, and are equipped with irrigation systems and outdoor lighting. There is also a garden shed on the property to keep all the supplies you need to maintain the grounds.
The Interior
Home square footage: 2,800
This one-of-a-kind log cabin home has two bedrooms and a multiuse room that can be used as a bedroom, plus 3 1/2 bathrooms. Other features include an antique log-adorned dining room with a stone fireplace, a living room that overlooks the woods and a kitchen with art deco-inspired custom cabinetry.
Elegant Country Home in Redding, Connecticut
The outdoor pasture-like spaces of this country estate include not only picturesque gardens but also stone terraces, an English greenhouse, a private pond, tennis courts, a heated in-ground pool and a pool house. You have 10 acres all to yourself.
The Interior
Home square footage: 9,200
Get the charm of historic architecture with the convenience of modern amenities in the completely renovated 1907 stone and shingle six-bedroom, 6 1/2-bathroom carriage house. The home has original detail, woodwork and moldings, plus luxurious features including a wine room, heated floors and five fireplaces.
Serene Hilltop Villa in Rancho Santa Fe, California
Known as "La Villa," this impressive property includes over 3 acres of land that house immaculately manicured grounds and multiple gardens — including an organic garden. There's also a tennis court, a pool and spa, a one-bedroom guest home and a two-bedroom caretaker's house.
Up Next: Mansions For Sale Worth More Than $10 Million
The Interior
Home square footage: 12,155
All in all, the villa has eight bedrooms and 7 1/2 bathrooms between the main residence and the two additional on-site properties. The custom interior and exterior living spaces were designed by Charlotte Moss and feature antique mantels, wood floors, and limestone patios and balconies. The main home has a wine cellar that can hold almost 4,500 bottles, a gym and spa, four bedroom suites, a wood-paneled library and a chef's kitchen.
Heavenly Lake Estate in Sagle, Idaho
This 135-acre estate is a nature lover's dream. It's surrounded by national forest and Lake Pend Oreille, and the property itself has its own tranquil gardens complete with numerous pathways and water features. There is also an orchard on-site, plus two private inlets and docks. With so much natural beauty surrounding the home, there is a view from every room of the main house.
The Interior
Home square footage: 6,617
This three-bedroom, 4 1/2-bathroom estate has a gatekeeper's house, workshop and guest cabin on the property in addition to the main residence.
Oceanfront Estate in Manchester, Massachusetts
Beautifully restored 1906 Frederick Law Olmsted Jr. gardens with tranquil lily ponds are one of the main draws of this 28-acre New England estate, located on a bluff above the Atlantic. Sweeping lawns on one side of the home are balanced by private oceanfront on the other — the white-sand beach the home faces is accessible by only seven families.
The Interior
Home square footage: 17,000
The estate's main residence has eight bedrooms and 12 fireplaces, a dining room, a living room, an oceanside porch, a music room, and a custom kitchen with a wood-fired oven and grill. There is also a carriage house on the property, ideal for housing a car collection or for use as an office or party space. There is also a two-bedroom apartment on the second level of the house, ideal for guests or staff.
American Masterpiece in Alpine, New Jersey
Pristine grounds and gardens are just the beginning of what this home has to offer, with outdoor amenities that include a pool house with a kitchen, a 65-foot saltwater pool and a tennis court.
The Interior
Home square footage: 30,000
There's no shortage of places to entertain in this New Jersey mansion, which has a ballroom, his and her libraries, a martini parlor, formal living and dining rooms, two art galleries and a wine tasting room. And if your guests indulge a little too much in the martini parlor or wine tasting area, there's plenty of room for them to crash — the residence has 12 bedrooms.
Grand Urban Estate in Chicago
Located in the desirable Lincoln Park neighborhood, this urban estate takes up more than eight city lots. It has immaculate grounds with multiple fountains, a reflecting pool and an antique garden pavilion that will make you feel like you're far away from city life.
The Interior
Home square footage: 25,000
This unique Chicago mansion has six bedrooms, seven full bathrooms and four partial bathrooms. The home features a spiral staircase with a gold-adorned iron railing, a wood-paneled library, a bar area and fine detailing throughout.
Click through to read how much money you need to own a mansion in every state.
More on Investing in Real Estate
About the Author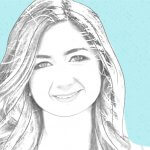 Gabrielle joined GOBankingRates in 2017 and brings with her a decade of experience in the journalism industry. Before joining the team, she was a staff writer-reporter for People Magazine and People.com. Her work has also appeared on E! Online, Us Weekly, Patch, Sweety High and Discover Los Angeles, and she has been featured on "Good Morning America" as a celebrity news expert.