Gen Z Is Putting This Much of Their Income Toward Housing, Study Reveals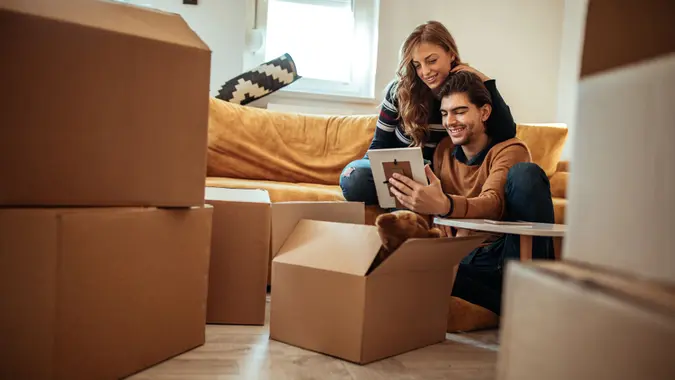 bernardbodo / Getty Images/iStockphoto
As rent and mortgage prices continue to rise, it can be very difficult, or near impossible, for Gen Z to find affordable housing. A huge factor of housing costs depends on where you live, though. Your friends the next state over may be spending hundreds or even thousands less than you per month.
As infuriating as the housing market can be, it's important to remember that there is no "one size fits all" ideal price point when looking for a home or apartment. Before any move, it's important to take stock of your own finances to make the best decision for you.
Look: 9 Bills You Should Never Put on Autopay
More: Should You Still Buy a Home in Today's Market?
First, it's important to establish a financial baseline of how much you can afford to be spending on rent or housing. Read on to discover what Gen Z is spending on housing now, what portion of their income they should be ideally spending and how you can save in this category.
Gen Z Spends More of Their Income on Housing Than Other Gens
In a recent survey conducted by GOBankingRates, we asked over 1,000 Americans how much of their income they were putting toward rent or mortgage payments. Of those surveyed who were members of Generation Z, 12% are putting 10%-20% of their monthly income toward housing and 27% are spending 21%-30%. Additionally, 18% of this generation is shelling out 31%-40% of their income.
The data shifts slightly when looking at trends across all generations, as Gen Z tends to spend more of their income in housing when compared to the general population. Just over 20% of all respondents are putting 10%-20% of their monthly income toward housing, and 24% are disbursing 21%-30%. Finally, 16% of all respondents are putting aside 31%-40% of their income.
While the data follows a similar pattern, it is clear that the general population is able to spend a smaller portion of their monthly income in housing, while Gen Z is contributing a larger portion.
Take Our Poll: Do You Think You Will Be Able To Retire at Age 65?
What You Should Be Spending on Housing
Here's what experts have to say about how much you should be spending on housing in order to live a financially stable life.
"In general, your goal should be to spend less than 25-33% of your take-home pay on housing," said Jay Zigmont, Ph.D., CFP, founder of Childfree Wealth. "The point here is that if housing is one-third of your take-home pay, you will still be able to afford food and utilities and start saving."
In light of current housing price increases, many Gen Zers who are looking to buy a home are finding themselves priced out of the market. For those that can afford to buy a home, some experts say it's OK to go over this general guideline.
Matthew Locke, national mortgage sales manager at UMB Bank, said that while he believes 30% is the most Gen Z should put toward rent, "It is OK to pay a higher percentage when you purchase a home because typically your income goes up while your home payment stays relatively fixed, other than small changes to taxes and insurance."
How To Cut Back on Housing Costs
While Gen Z faces many hurdles when it comes to housing costs, they can still succeed so long as they practice patience and careful budgeting.
If you're willing to make some sacrifices, there are ways around impossibly high housing and rent. Following one or more of these tips may help you set aside more money to build wealth for your future.
Move Back Home or Live With Roommates
"For many, the only answer is staying with their parents for longer, having roommates or other co-housing options," Zigmont said.
Move Out of Major Cities
"In general, housing goes down in price the further from a major metropolitan area you are," Zigmont said. "If you work remotely, you may want to look at some rural areas for cheap housing — just make sure they have good broadband, as not all communities do."
You can build wealth by moving to a location where the cost of living is lower while keeping the same level of income. This strategy of "geographic arbitrage" is a beneficial way to grow your money in order to invest in a home and spend a sustainable percentage of your take-home pay on housing.
"If you can get a remote job, consider moving somewhere much cheaper. Some cities, such as Tulsa, will even pay you to move there!" said Scott Lieberman, founder of Touchdown Money, a site that teaches entrepreneurs how to make money online. "On Tulsa Remote they are offering $10,000 to folks who move to their city while having a remote job."
Whether it's picking up another roommate or getting paid to move somewhere, there are a variety of different ways you can save money on rent or housing.
More From GOBankingRates
Methodology: GOBankingRates surveyed 1,004 Americans aged 18 and older from across the country between July 21 and July 24, 2022, asking six different questions: (1) Where did you learn about personal finance?; (2) How much overall debt do you currently have? (Including student loan debt); (3) How much of your monthly income do you put towards rent/housing?; (4) What is your opinion on remote work/work from home policies at your current or future employer?; (5) Do you invest your money? If so, what do you invest in? Select all that apply:; and (6) What minimum salary would you need to make to be happy?. GOBankingRates used PureSpectrum's survey platform to conduct the poll.