8 Handsome Estates for Horse Lovers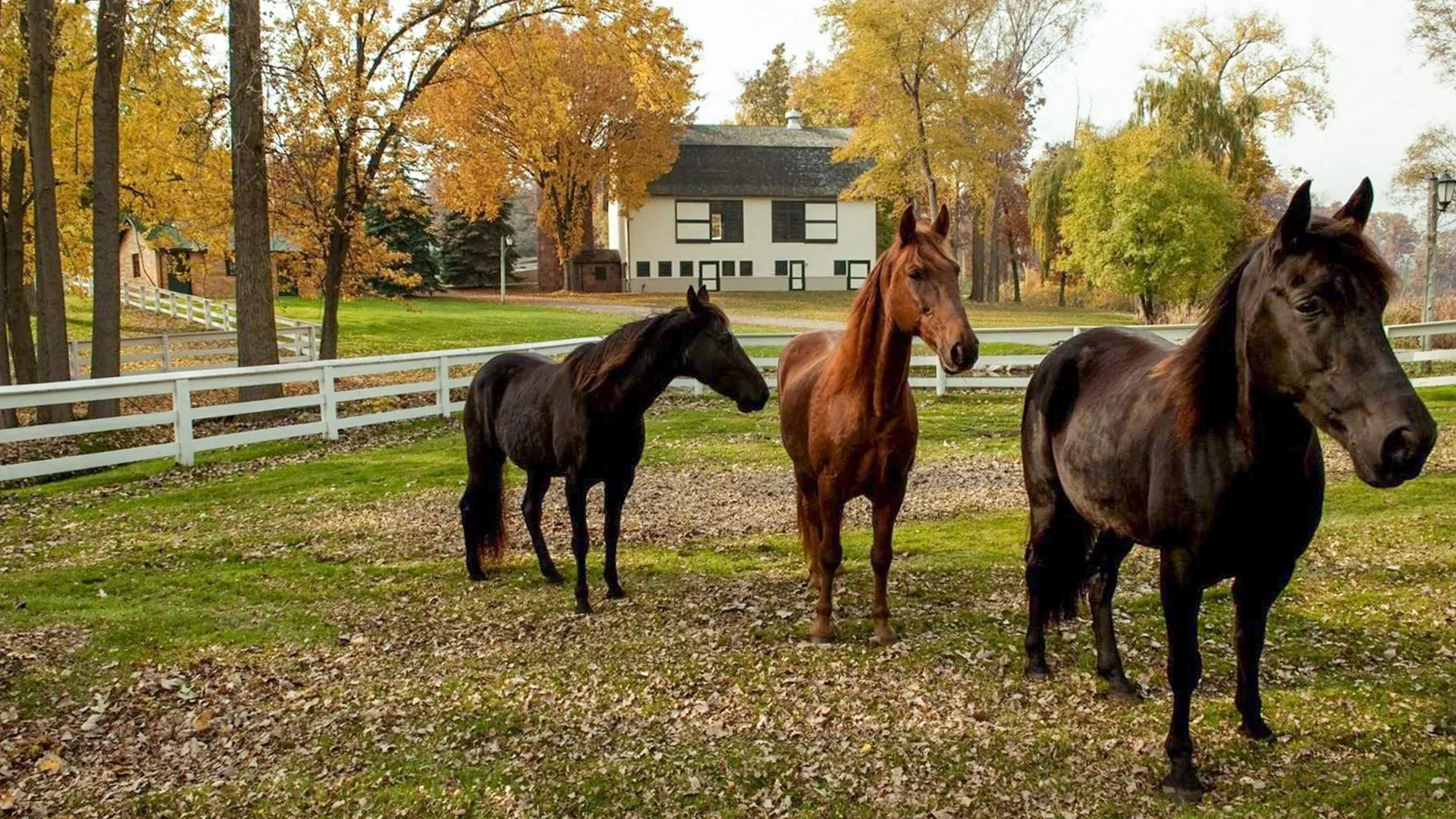 If riding horses on your own property sounds like a dream, you can make it a reality — if you have a few million to spare. But paying up could really be worth it if you've already got or plan to get horses to put on that property.
And after you see these gorgeous homes, you'll realize that the appeal goes far beyond being able to keep your horses there. Take a look at the stunning equestrian estates and one-of-a-kind ranches for sale that GOBankingRates rounded up for those who love to ride and have money to blow.
Updated Farmhouse in Ridgefield, Connecticut
Price: $6 million
Square footage: 7,500
Lot size: 13 acres
A six-bedroom, updated 1937 farmhouse sits on the 13-acre Orchard Hill Farm, which also houses a stone guest cottage, organic gardens, a saltwater pool and spa, an outdoor kitchen, a six-car heated garage, a horse barn, a putting green and an apple orchard. Inside the home, you'll find five full bathrooms, two partial bathrooms, a remodeled kitchen, a play area and a mudroom.
Updated Farmhouse's Equestrian Offerings
A nine-stall barn sits on the property, and it also houses a hayloft, wash stall, heated lounge and tack room. In addition, Orchard Hill Farm has five paddocks and its own Lawton Adams riding ring.
Bluegrass Estate in Simpsonville, Kentucky
Price: $6.7 million
Square footage: 8,294
Lot size: 111 acres
The owner's residence at Covered Bridge Farm is a five-bedroom, 6 1/2-bathroom Georgian manor with a 200-year-old log cabin room, pool and pool house with a guest apartment, and a log cabin guest house that can sleep up to 14 guests. The estate also has a party space for entertaining, and a covered bridge on the property that gives the farm its name.
Bluegrass Estate's Equestrian Offerings
The property's main barn includes horse stalls, and tack and feed rooms, plus a professional riding arena and a 60-by-80-foot equipment shed.
Mountain View Estate in Mapleton, Utah
Price: $7.9 million
Square footage: 7,300
Lot size: 40 acres
Located at the base of Maple Mountain, this three-bedroom, 3 1/2-bathroom gated estate and equestrian facility is located at the end of a private tree-lined lane. There's plenty of outdoor space to ride horses, ATVs and mountain bikes. Inside, you can relax at the gourmet kitchen, formal dining area or game room. There are three bedroom suites total, as well as an exercise facility — so there's no need for a gym membership when you live here.
Mountain View Estate's Equestrian Offerings
Serious equestrians will love the full ranch on the property, which includes 22 heated stalls, a tack room/office, an 18,600-square-foot indoor arena, a 20,000-square-foot outdoor arena, a round pen, 11 outdoor corrals, hay storage, a shavings garage and multiple irrigated pastures with extensive water rights.
Secluded Country Estate in Boulder, Colorado
Price: $8 million
Square footage: 4,617
Lot size: 12.6 acres
This peaceful three-bedroom, 3 1/2-bathroom, two-story contemporary home features a gourmet chef's kitchen, a wraparound porch, a heated pool and spa, and a separate guesthouse. The home is surrounded by more than 12 acres of land with a horse barn — and panoramic views of the Flatirons and foothills.
Secluded Country Estate's Equestrian Offerings
The estate has its own Gardner barn with eight stalls total, including six loafing stalls. It also features hay storage, a tack room, an outdoor arena and two fenced pastures where your horses can roam free.
1800s Farm in Bloomfield Hills, Michigan
Price: $10.25 million
Square footage: 9,260
Lot size: 12.1 acres
The Stables at Turtle Lake was a working farm in the 1800s and can still function as one today, with a horse stable, cow pen, dairy barn and silo on-site. The estate also features a 648-square-foot multiuse building with one bedroom and 2 1/2 bathrooms. What you're really paying for is the view — The Stables has over 1,100 feet of lakefront property and expansive pastures.
1800s Farm's Equestrian Offerings
The horse stable is one of the original 1920s buildings on the property. The stable and cow-pen area is a whopping 9,260 square feet.
Ranch on the River in Steamboat Springs, Colorado
Price: $12 million
Square footage: 5,800
Lot size: 490 acres
Wildlife lovers will want to make this ranch home. You're likely to see elk, fawn, cranes, geese, ducks, herons and other animals roaming the sprawling meadows and hillsides that surround the main house, which is decorated with weathered barn wood, historic beams and reclaimed wooden floors. In addition to the main house, the property has a barn with its own apartment and office, as well as two garages. The Steamboat River Ranch also has its own stream so you can even fish on-site. It's the perfect place to start your own horse or cattle ranch.
Ranch on the River's Equestrian Offerings
The ranch's barn has multiple stalls with turnouts to the many corrals. The barn can remain enclosed, or you can open it up during the warmer months to soak up the sun. 
Rustic Yet Modern Ranch in Austin, Texas
Price: $16 million
Square footage: 12,569
Lot size: 134.9 acres
A main residence and two guest houses sit on this manicured estate just outside downtown Austin. The property also has an office, a climate-controlled five-car garage, a separate workout space and a horse barn. The main home has four beds and 3 1/2 bathrooms, an infinity-edge pool and multiple fireplaces.
Rustic Yet Modern Ranch's Equestrian Offerings
The horse barn on this property has six stalls, and there is also a riding arena. You and your family or friends can easily enjoy a nice ride altogether.
Private Luxury Horse Ranch in Silverthorne, Colorado
Price: $23 million
Square footage: 13,562
Lot size: 254.6 acres
Triple Creek Ranch, located in the Rocky Mountains, is a natural oasis surrounded by woodland, natural ponds and streams, open meadows and mountains. The property features two log homes, the larger of which has four bedrooms, 4 1/2 bathrooms, a two-bedroom, two-bathroom guest apartment and a four-car garage. The other home has four bedrooms,  4 1/2 bathrooms, a two-bedroom, two-bathroom guest apartment and a three-car garage. The smaller home has a horse stable attached to the home through the garage for easy, direct access.
Private Luxury Horse Ranch's Equestrian Offerings
Triple Creek Ranch has its own professional-grade indoor riding arena, a 10-horse stable and multiple maintenance facilities, including a barn with a workshop and apartment for the horse manager, an additional cabin for on-site staff and a ranch manager's home.
Keep reading to see what a $5 million home looks like around the U.S.
More on Homes