Here's What You Can Get in These 5 Smaller Cities for the Price of an Apartment in New York
pidjoe / Getty Images
Millions of people live in New York and swear they would never live anywhere else. Whether it's the bagels, the bodegas or Broadway, there's more to love about the Big Apple than most of us can experience in a lifetime.
Read: Here's Where Home Prices Are Headed in 2022, According To Experts
See: Real Estate Investing Guru Mindy Jensen Says To Avoid These Types of Properties
But when a city is highly desirable, rents are bound to be too pricey for many. In Manhattan, for example, rents temporarily dropped during the pandemic, but that was merely a short-lived reprieve. As of October 2021, the average rent in Manhattan is $4,140, according to RentCafe. For that price, you get a 702-square-foot apartment, on average. And in Manhattan's priciest neighborhood, Battery Park City, average rent tops $5,500 per month.
There is nowhere quite like Manhattan, and no one would try to claim as much. But there's no denying that the premium people pay to live in Manhattan (and other New York boroughs) is steep. Hence, we want to take a look at what your average Manhattan rent will get you in other U.S. cities.
See: Is Your House Not Selling? Here Are 4 Major Reasons Why
Incomes may not be the same in these cities, but the remote work revolution means some people can work in less expensive locales and still make good money. Let's take a look at what your Manhattan rent will get you in some of the country's more affordable (but still desirable) cities.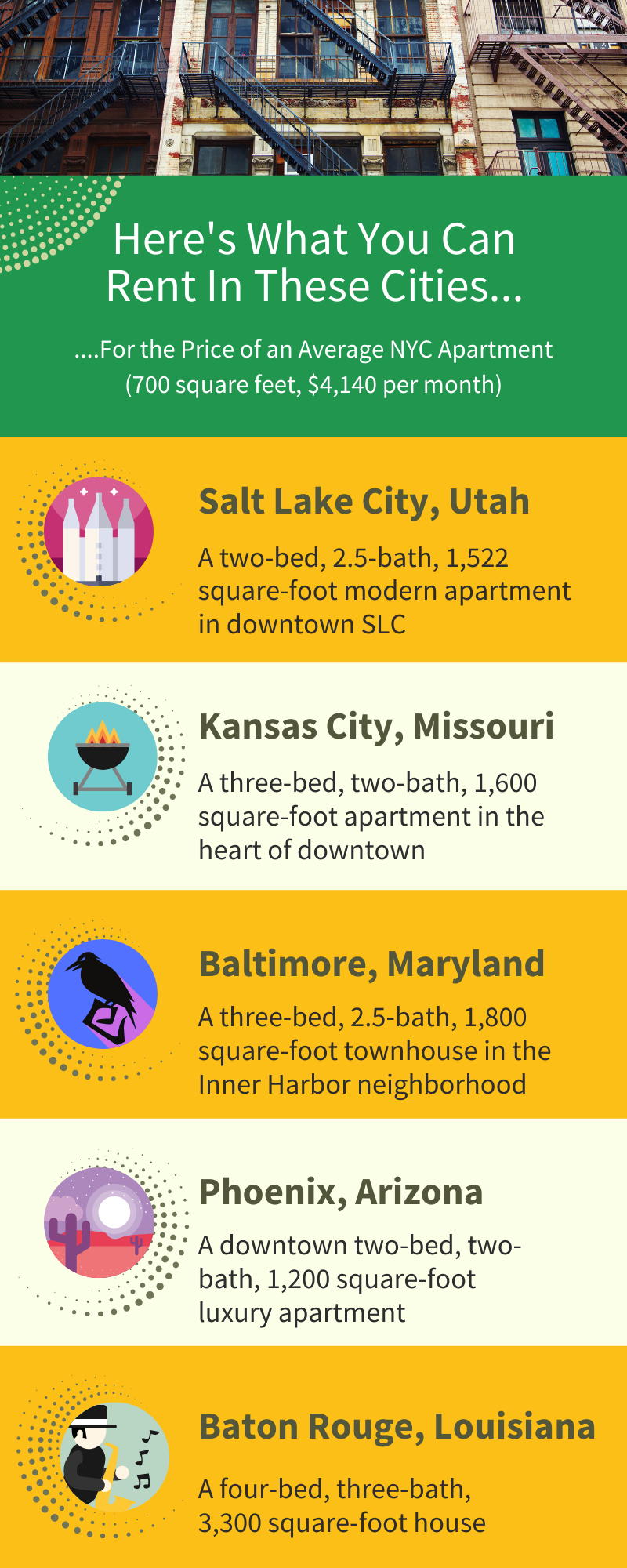 Salt Lake City
Salt Lake City has been a bit of a hotbed in recent years of people looking to escape the high cost of living in cities like San Francisco and Los Angeles. After experiencing population decline in the 1960s, '70s and '80s, Salt Lake City's population increased in the 1990s, 2000s, and 2010s. Today, its combined statistical area (CSA) has more than 2.4 million people.
Despite its sustained, healthy population growth, rent is still quite affordable in SLC. The average rent is $1,478, or just above one-third of the average monthly rate in Manhattan. And yet, the average square apartment is 836 square feet compared to just 703 in Manhattan. For $4,000/month, you can rent a two-bed, 2.5-bath, 1,522-square-foot modern apartment in downtown SLC.
See: Experts Predict the Best Times To Buy and Sell Homes in 2022
Kansas City, Missouri
Kansas City was an important city in its formative years as it sits at the confluence of the Kansas and Missouri Rivers. This made it an important center both for commerce and westward expansion. Kansas City's population has ebbed and flowed over the years, with population declines in the last two decades of the 20th century.
Since then, several improvements, such as more than $6 billion invested in the downtown area, have spurred population growth. However, rents are very affordable in Kansas City. The average rent is $1,133, or barely more than one-quarter of Manhattan's average. The average apartment size is 895 square feet. For $4,210/month, you can rent a three-bed, two-bath, 1,600-square-foot apartment in the heart of downtown Kansas City.
Find Out: 8 Insider Tips To Get Rich in Real Estate
Baltimore
Baltimore is Maryland's largest city and lies just to the northeast of Washington, D.C. In fact, you can go from Baltimore to D.C. by train in as little as 29 minutes. Of course, Baltimore has plenty to offer on its own, including upscale crab shacks, the National Aquarium and other attractions.
While D.C. isn't as costly as Manhattan, rents are still higher there than in Baltimore, which makes the latter an attractive place to live. The average rent is $1,483 in Baltimore with an average size of 823 square feet. For $3,995/month, you can rent a three-bed, 2.5-bath, 1,800-square-foot townhouse in Baltimore's Inner Harbor neighborhood.
Explore: How To Invest In Real Estate With No Money
Phoenix
Phoenix is the most populous city in Arizona and the fifth-most populous city in the United States. As of 2020, the city had more than 1.6 million people and nearly 5 million in its metro area. Unlike some of the other cities on this list, it has never had negative population growth on its 10-year census. In fact, its population more than tripled between 1950 and 1960, from just over 100,000 to almost 440,000.
Despite all this, the city remains affordable with an average rent of $1,477 for an average apartment size is 804 square feet. For $4,100, you can rent a two-bed, two-bath, 1,200-square-foot luxury apartment in downtown Phoenix.
Baton Rouge, Louisiana
Baton Rouge is the capital city of Lousiana and the second-most populous city in the state. In addition to being the state capital, Baton Rouge is home to Louisiana State University as well as Southern University. The city's population has moved up and down over the years with a 0.9% decline between the 2010 and 2020 censuses.
The average rent in Baton Rouge is a modest $1,115 with an average size of 941 square feet. For $3,995/month, you can rent a four-bed, three-bath, 3,300-square-foot house in Baton Rouge.
More From GOBankingRates